Greek Fried Mussels
April 10, 2017 | Updated March 05, 2021
As an Amazon Associate I earn from qualifying purchases.
You've heard of fried clams of course, as well as fried oysters. But what about fried mussels? Yep, they're a thing, too.
Mostly you see fried mussels in the cuisines of the Philippines and the Mediterranean, but there is no real reason you couldn't adapt this recipe, which is Greek, to other cuisines.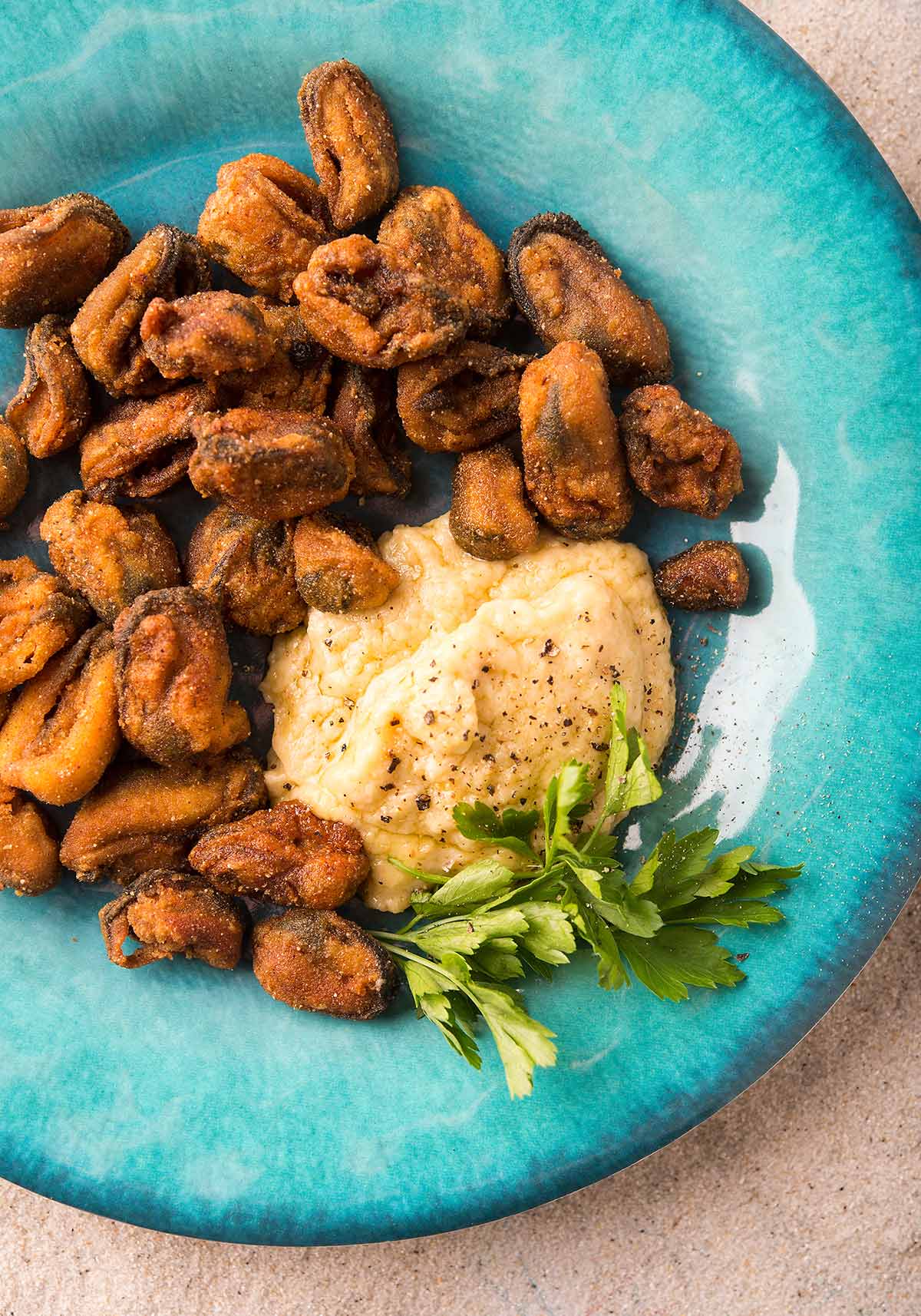 I came across this unusual recipe for fried mussels while reading Diane Kochilas' excellent book The Glorious Foods of Greece: Traditional Recipes from the Islands, Cities, and Villages
. Apparently fried mussels is a thing in Macedonia and Thrace.
They are not something I grew up with. Fried clams are my normal jam. But mussel gathering is easy here in Northern California, and hell, I like fried foods, so why not?
I am glad I tried this. Spicy without being picante, mussels dredged in garlicky skordalia sauce will give you an experience not unlike traditional fried clams in tartar sauce. Same mechanics, different flavors.
There are two ways you can go about getting your mussels out of the shells. You can shuck them raw, but I generally don't like this method because unlike clams or oysters, mussel shells are thin and brittle. I find they break too often.
Better to steam them in a lidded frying pan, removing each mussel the moment it opens. Doing this keeps the mussels tender and is a lot less messy.
A word on the olive oil you fry the mussels in: It should be cheap, refined olive oil, which has a much higher smoke point than extra virgin. Use the extra virgin oil in the skordalia.
As for the spices, it's your call. None, some or all of what I recommend. My mix comes from spices I see in Greek cooking, but is not anything "authentic" so far as I know. Whatever you choose to use, don't put paprika in the mix: Frying it will make the paprika turn bitter.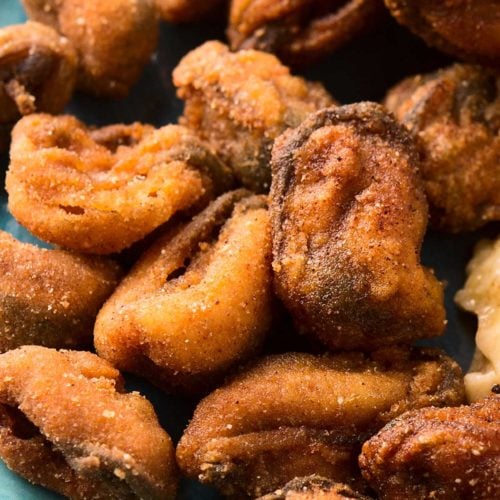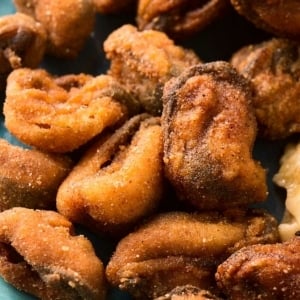 Greek Fried Mussels
Any edible mussel will work here, store-bought or gathered. You can also use this recipe with clams, too. The skordalia sauce is great with any fried food, and will keep in the fridge for a week or so.
Ingredients
4

pounds

mussels

1

cup

white wine

2

bay leaves

1 1/2

cups

flour

1

tablespoon

ground fenugreek

(optional)

1

tablespoon

onion powder

(optional)

1

tablespoon

ground black pepper

2

teaspoons

salt

Cheap olive oil,

for frying
SKORDALIA
5

garlic cloves,

chopped

Salt

1/2

cup

pine nuts or walnuts,

chopped

4

1-inch thick slices of bread,

crusts removed

3/4

cup

extra-virgin olive oil

2

tablespoons

red wine vinegar
Instructions
Make the skordalia first. Dampen the bread with some water, then squeeze it dry. Tear it into pieces and put into a food processor. Add the garlic, salt and pine nuts and pulse a few times. Add the vinegar. Now, with the motor running, slowly pour in the olive oil until you get a mayonnaise-like paste. Set aside.

Pour the white wine into a large, wide pan with a lid. Add the bay leaves and bring to a boil. Add the mussels in one layer and steam with the lid on. As each mussel opens, remove it to a plate. Keep doing this until all the mussels are open.

Remove the mussels from the shells. Remove the wiry beards if they have them; store-bought mussels often don't. Heat enough cheap olive oil in a pot or fryer to be able to deep-fry the mussels. Heat to 350 degrees.

Mix the flour with all the spices and dredge the mussels in it. Shake off the excess and fry in the hot oil until golden, about 2 or 3 minutes. Drain on paper towels. Serve alongside the skordalia.
Notes
Note that if you are trying to stay gluten-free, you can use chickpea flour for the mussels, and mashed potato instead of the bread for the skordalia.
Nutrition
Calories:
634
kcal
|
Carbohydrates:
67
g
|
Protein:
39
g
|
Fat:
18
g
|
Saturated Fat:
2
g
|
Cholesterol:
65
mg
|
Sodium:
1979
mg
|
Potassium:
1058
mg
|
Fiber:
4
g
|
Sugar:
3
g
|
Vitamin A:
370
IU
|
Vitamin C:
20
mg
|
Calcium:
139
mg
|
Iron:
15
mg
Nutrition information is automatically calculated, so should only be used as an approximation.