Braised Turkey Wings
February 11, 2019 | Updated September 03, 2021
As an Amazon Associate I earn from qualifying purchases.
Other than my recipe for smoked turkey wings, braised turkey wings is my favorite turkey wings recipe.
I first saw a recipe like this one in Calvin Schwabe's awesome book Unmentionable Cuisine
, which has become a cult favorite in adventurous gastronomic circles. His recipe calls for the last digit of the turkey wing, which, well, is hardly worth it to my mind. The first two digits, however, are well worth the effort.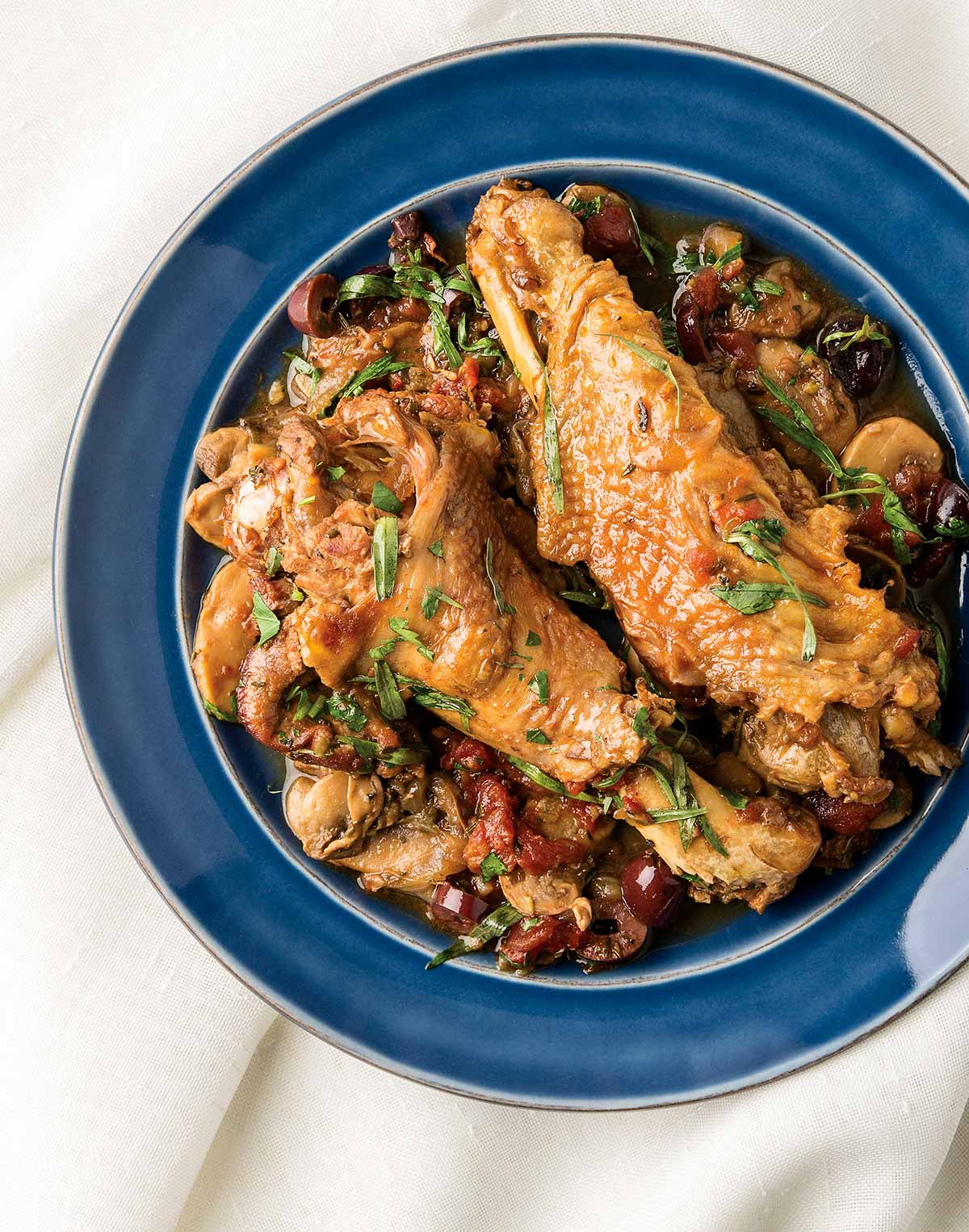 If you've ever had a salade Niçoise, you'll see echoes of that famous dish in these braised turkey wings: olives, capers, tomato, tarragon. It's a lovely meal, and a great way to work with an unloved part of the turkey.
This recipe will work with both wild turkey and store-bought turkey wings. If you happen to have an old gobbler, it might take an extra hour for the wings to get tender. Be patient if that happens: The wings will get tender, eventually.
Figure on two wing pieces per person, unless you are serving lots of other things, and in that case you could get away with one drumette or flat per person.
I prefer to serve this with crusty bread, or you can toss in some potatoes or other starchy vegetables while you are braising the turkey wings, or eat this rice or grits.
If you make a lot of braised turkey wings, you can strip the meat off the bones of the leftovers and mix them with the rest of the recipe, then eat that the next day over rice or with crusty bread. It's not a bad thing to add to eggs in the morning, either.
Could you make this with turkey thighs and legs? Sure, but remember to remove all the tendons out of the drumsticks before serving. Once the meat is tender, simply pull out the tendons from the bottom of the drumstick. The meat should (mostly) stay put. Makes things far easier on the plate.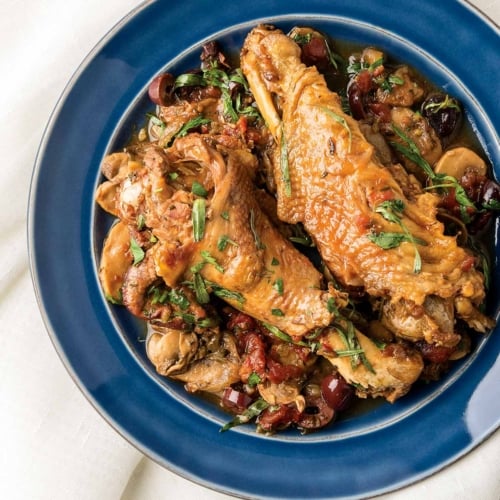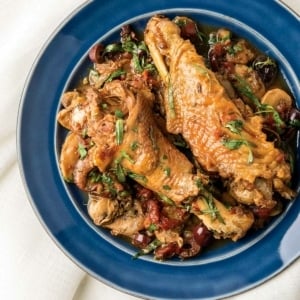 French Turkey Wings à la Nice
I love this with meaty turkey wings, but you can of course do this with either turkey breast or the wings from chickens or a whole rabbit. Don't use the legs or thighs of turkeys, though, as they are a dark meat that doesn't work as well with this recipe.
Ingredients
2

tablespoons

turkey fat,

or butter

2

tablespoons

olive oil

Wings from 2 turkeys,

separated (8 pieces)

Salt

¾

pound

button mushrooms,

sliced

1

large onion,

sliced

1

teaspoon

dried thyme

1

teaspoon

chopped fresh rosemary

I teaspoon chopped fresh sage

2

bay leaves

3

garlic cloves,

sliced thin

1 ½

cup

diced tomatoes

1

cup

white wine

18 to 24

black olives,

sliced

2

tablespoons

fresh tarragon,

chopped

1

tablespoon

fresh parsley,

chopped
Instructions
Heat the fat in a large, heavy lidded pot. Brown the turkey wings in this over medium-high heat. Take your time on this, and get some good browning. Salt them as they cook. Set aside pieces as they brown in a bowl.

When the turkey has browned, add the button mushrooms and sliced onion and brown them; add some more fat or oil if you want. Salt them as they cook.

When the onion and mushrooms are nicely browned, return the turkey wings to the pot and add the thyme, rosemary, sage, bay, garlic, tomatoes, and wine. Scrape up any browned bits stuck on the bottom of the pot with wooden spoon. Cover the pot and simmer very gently for 2 hours.

Check the pot after about 1 hour, and add water if needed; you want the wings to braise, not be in a stew.

When the wings are nearly done, add the olives and cook for another 5 minutes. Mix in the tarragon and parsley and serve with crusty bread, rice, or potatoes.
Notes
Cook time reflects younger turkeys, like those you buy in the store, or jakes if we're talking wild turkeys. An old Tom will take much longer, but it will get tender eventually. 
Keys to Success
Time. This recipe can take a while if you are using wild birds, but it will get tender eventually. 
You can use whatever fresh mushrooms you have on hand, and I really do love using porcini or morels when I have them. 
The wine should be what you drink with this. My preferences are the French whites like chardonnay, viognier, a white Cotes du Rhone or a Chenin blanc. 
Nutrition
Calories:
255
kcal
|
Carbohydrates:
14
g
|
Protein:
5
g
|
Fat:
17
g
|
Saturated Fat:
3
g
|
Cholesterol:
7
mg
|
Sodium:
421
mg
|
Potassium:
637
mg
|
Fiber:
3
g
|
Sugar:
6
g
|
Vitamin A:
407
IU
|
Vitamin C:
16
mg
|
Calcium:
100
mg
|
Iron:
3
mg
Nutrition information is automatically calculated, so should only be used as an approximation.