Elderberry Liqueur
January 05, 2022 | Updated April 19, 2022
As an Amazon Associate I earn from qualifying purchases.
This recipe produces a warm, rich elderberry liqueur that will remind you of a tawny Port wine, only stronger — and better for you.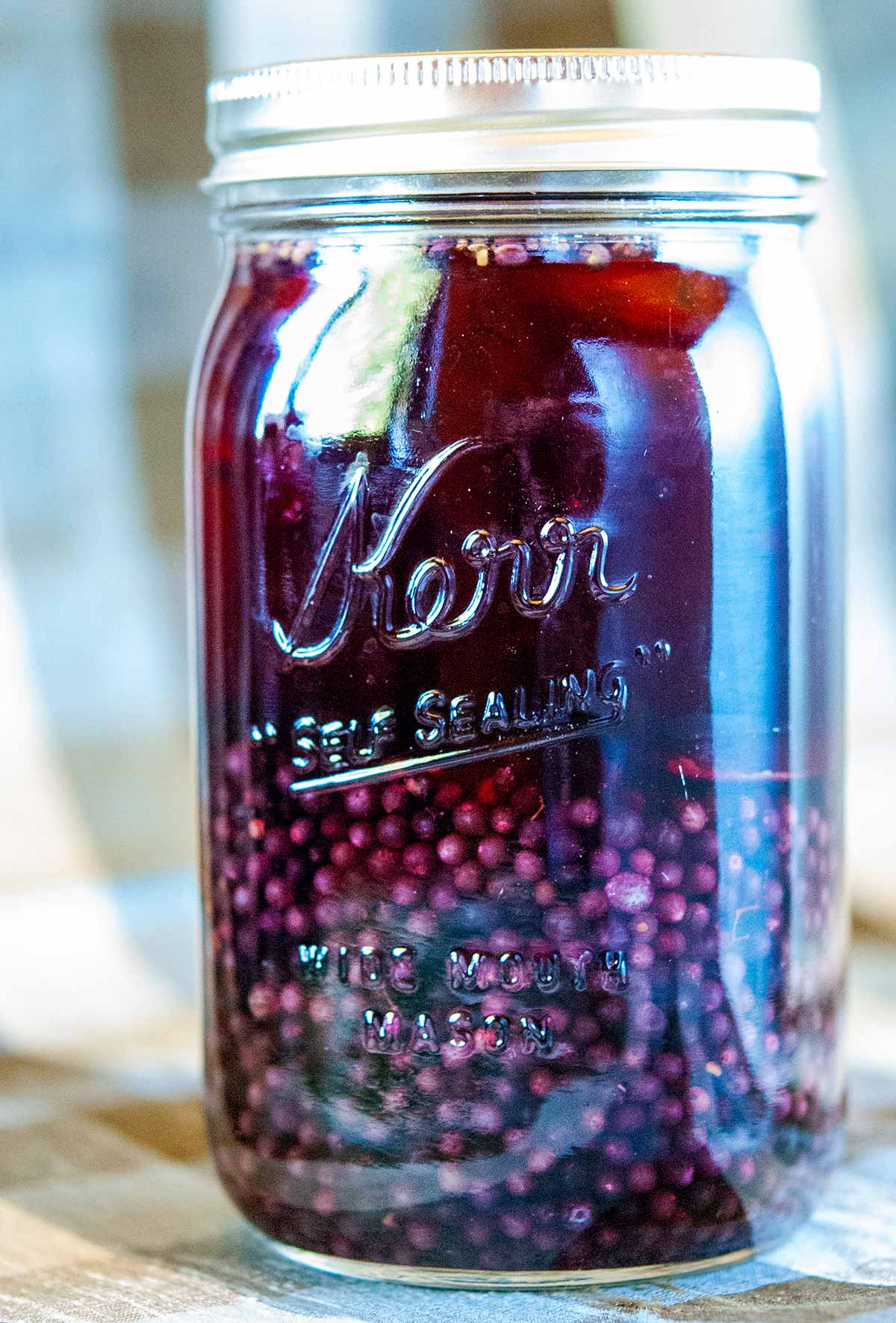 Elderberries are in many ways little grapes, with a similar aroma, bloom on the skin and color; they even have little seeds inside. So I treated them like wine grapes for this elderberry liqueur recipe.
Fresh elderberries are what you want for this recipe. Dried elderberries will work in a pinch, but it will take you a lot longer to make your liqueur, and they have a raisiny flavor I don't love.
And with the fresh berries, remember to destem them all — no stems, as they are slightly toxic. OK, no stems is an overstatement, but only by a little. You want to remove as many as you can, but a couple teeny ones here and there won't hurt.
(Looking for something with elderflowers instead? Here's my recipe for elderflower liqueur.)
Over the years, I've tested two recipes for elderberry liqueur: One where you buzz the berries in a blender, another using whole berries. I vastly prefer the method using whole, fresh berries.
It takes, well… a while to make your elderberry liqueur, at least a month in the jar. And since they are soaking in alcohol, you can leave them there for years. Seriously.
I imagine at some point you will get maximum extraction, however. So I reckon two to three months is enough.
It's up to you whether to add sugar or honey to your liqueur. I do, but only a little. You add it into the jar with the berries, or after you strain them out. It will take a few days for the sugar to completely dissolve in the alcohol. Shake the jar every day until it does.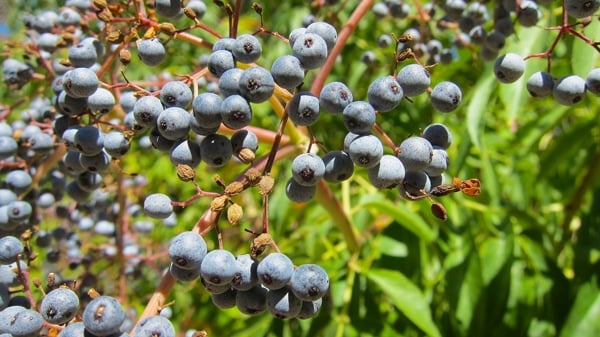 Elderberries are loaded with immune system boosters, and the extremely expensive elderberry tinctures you buy in the health food store, you know, the ones with the eye droppers, are really just this elderberry liqueur in a teeny bottle.
I say make your own, then, when you are feeling a bit under the weather — but not yet actually sick — treat yourself to a shot of homemade elderberry liqueur that you made, and that cost you just pennies. Am I right?
Looking for other things to make with elderberries? Try making elderberry ice cream, elderberry wine, or an old British sauce called pontack.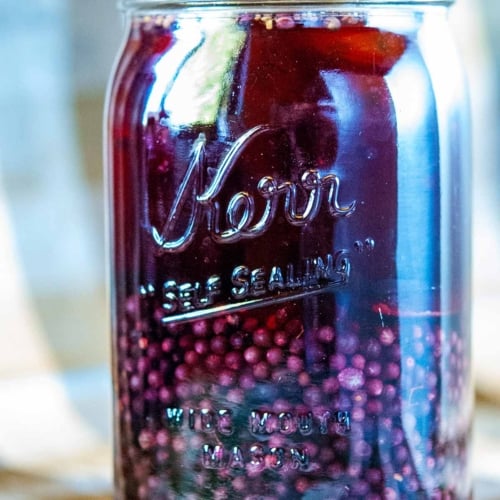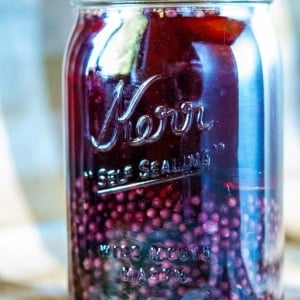 Elderberry Liqueur
This method works with any berries. Blueberries or huckleberries are good alternatives, as are currants. 
Ingredients
1

pint

fresh elderberries

1

quart

vodka

3

one-inch pieces of lemon rind,

white pith removed

sugar to taste
Instructions
Put elderberries into a quart Mason jar and pour over the vodka. Add the lemon rind (make sure the rind has no white pith, as it is bitter.) Seal and put in a dark cupboard for at least a month, or up to a year.

The alcohol will extract flavor from the elderberries over time, so the longer you let it sit, the inkier it will get.

When it is the color you want — anything from a Pinot Noir color to downright black — pour the vodka through a strainer lined with cheesecloth into another jar and add sugar.

How much sugar or honey? At least 2 tablespoons, but to your taste. Shake to combine and put back in the cupboard. After a few days or weeks, the sugar will completely dissolve and the elderberry liqueur is ready to drink. It keeps forever.
Notes
Any sweetener you like will work here, but white sugar has the most neutral flavor. 
Nutrition
Calories:
102
kcal
|
Carbohydrates:
4
g
|
Protein:
1
g
|
Fat:
1
g
|
Saturated Fat:
1
g
|
Sodium:
2
mg
|
Potassium:
53
mg
|
Fiber:
1
g
|
Sugar:
1
g
|
Vitamin A:
114
IU
|
Vitamin C:
8
mg
|
Calcium:
8
mg
|
Iron:
1
mg
Nutrition information is automatically calculated, so should only be used as an approximation.