Elderberry Ice Cream
May 30, 2021 | Updated May 30, 2022
As an Amazon Associate I earn from qualifying purchases.
I love ice creams. They are my main weakness when it comes to sweets, and I specialize in weird ice creams — herbs like yerba buena and fruits like this elderberry ice cream.
Elderberries live in most states, and are ripe from June to September, depending on where you live. Only use ripe berries, as the green ones are slightly toxic. Take them off the stems (tedious but necessary) and make a syrup out of them first.
This is my elderberry syrup recipe, and this is the base for elderberry ice cream. And yes, you can absolutely use store-bought elderberry syrup if you want to.
Keep in mind I am talking about black or blue elderberries, not red elderberries. While technically edible, the red ones aren't very good, and don't make a nice ice cream.
Once you have your elderberry syrup, you then use this syrup to flavor a standard custard-based ice cream. But wait! I'll add one more flavor dimension in: buttermilk. I love the idea of a slightly sour, tangy edge to an ice cream, and even just a little bit adds a lot to the flavor.
Can you use this recipe for other berries? You bet. Some you can try include: Highbush cranberries, chokecherries, currants, gooseberries, mulberries, beach plums — really any seedy fruit. Think fruits you would not sit there and eat, although the recipe works for even those fruits.
Serve elderberry ice cream with a drizzle of leftover fruit syrup and you are good to go!
Once made, the ice cream will keep a few months in the freezer before it starts to get a little icy.
Looking for more unusual ice creams? I have recipes for wintergreen ice cream, paw paw ice cream, pine nut ice cream and mint leaf ice cream.
If you liked this recipe, please leave a ⭐️⭐️⭐️⭐️⭐️ rating and a comment below; I'd love to hear how everything went. If you're on Instagram, share a picture and tag me at huntgathercook.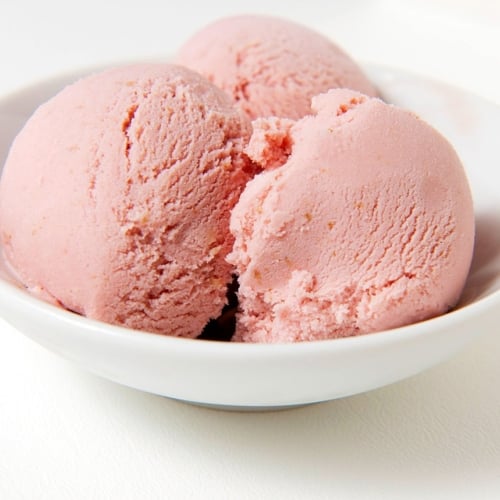 Elderberry Ice Cream
You can also make this ice cream with more typical fruit, such as strawberries, raspberries and blueberries. Serve with a drizzle of honey, molasses, chocolate sauce or some leftover fruit syrup.
Ingredients
2

cups

elderberries,

stripped off the stems

1

cup

water

Sugar to taste

2

cups

heavy cream

1 1/2

cups

milk

3

to 4 tablespoons buttermilk

5

egg yolks

1

tablespoon

elderberry liqueur,

cassis or other dark fruit liqueur (optional)
Instructions
First make the syrup. To make a syrup out of a seedy fruit like an elderberry, add about 2 cups of the elderberries to a pot and pour 1 cup of water over them. Heat slowly until it simmers and the berries begin bursting. Keep the berries at a slow simmer and begin pouring in sugar. Start with 1/2 cup and stir it in well. Taste and add more if you want. Don't go higher than 1 1/2 cups of sugar. Simmer for 5 minutes or so and then take off the heat.

Let the syrup cool a bit, then push it through a food mill with the finest setting, or a medium-meshed sieve. Elderberry seeds tend to be small, so you will need to account for that. Use a mesh that prevents them from getting through. Try to get as much pulp in as you can — it adds body to the syrup, and later the ice cream. Pour the syrup into a jar and chill it in the fridge. A syrup like this will last for weeks in the fridge, so you can make it far in advance.

When you want to make the ice cream, pour the cream and milk into a heavy pot and put it over a medium-high flame. Add the syrup. How much? I use 1 1/2 cups of elderberry syrup, but it will depend on your taste. Use as little as 1/2 cup, or as much as 2 cups. Just add and taste, and do it bit by bit, tasting as you go.

Bring the mixture to about 160°F, which is steaming but not simmering. Lower the heat a bit for now. Get a bowl and beat the egg yolks.

Now comes the tricky part: With a ladle in one hand and a whisk or fork in the other, slowly pour some hot cream into the egg yolks. Do this very slowly at first, whisking the eggs all the time with your other hand. Pour in another ladle, which can go in a little faster, then one more ladle, just to be sure. You are tempering your egg yolks, so they do not scramble in your cream mixture — this is making a custard. Pour the hot egg-cream mixture into the pot and whisk well.

Add the buttermilk – you can add more if you want, but use your taste as a guide. Whisk everything really well. Bring the mixture to 160°F, then take it off the heat. Again, this is not quite a simmer. Let it cool on the counter for 15 minutes or so, then add the liqueur. You use this both for flavor and to prevent the ice cream from setting up like a rock in the freezer. Put the mixture in the fridge to chill thoroughly, even overnight. Once it's cold, pour into your ice cream maker and follow its directions.
Notes
This recipe makes about 1 quart. 
Nutrition
Calories:
242
kcal
|
Carbohydrates:
9
g
|
Protein:
4
g
|
Fat:
21
g
|
Saturated Fat:
13
g
|
Cholesterol:
167
mg
|
Sodium:
42
mg
|
Potassium:
176
mg
|
Fiber:
2
g
|
Sugar:
2
g
|
Vitamin A:
1063
IU
|
Vitamin C:
11
mg
|
Calcium:
96
mg
|
Iron:
1
mg
Nutrition information is automatically calculated, so should only be used as an approximation.