Game Terrine
December 20, 2018 | Updated January 22, 2021
As an Amazon Associate I earn from qualifying purchases.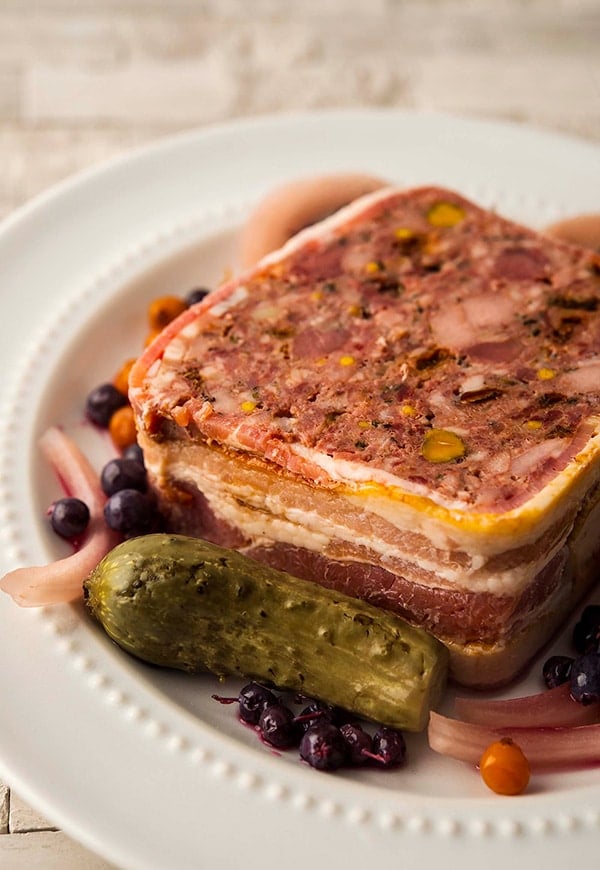 No lie, making a game terrine, or really any terrine, is a project. But it is a project well worth it.
A terrine is basically a fancy pâté, which is itself a fancy meatloaf. The difference is that pâtés and terrines are cooked very gently in a water bath, where meatloaf is just baked. And pâté is typically simpler in design, where terrines are where you flaunt your charcuterie skills.
Game terrines often have more than one meat, meats that are cut to different finenesses, as well as "interior garnish," which basically means stuff like berries or nuts tossed in, or even things like roasted red peppers and such. Terrines are often surrounded with thin strips of bacon or pastry, too.
Pâtés and terrines are eaten cold (normally), with some pickled things and often mustard. Bread and/or crackers is a good accompaniment.
I hear ya. "Hank, I don't have much in the way of charcuterie skills." Let me walk you through the process, which isn't terribly hard.
First, you need pork. Yep. Even a game terrine needs pork. Pork is magic, and no, you can't make one without it. Sorry.
Second, you really ought to have a nice terrine pan. I use this Le Creuset 2-quart terrine pan, but there is a cheaper version here. You want a 2-quart pan for this recipe. If you don't have a terrine pan, all is not lost. You can, in a pinch, use a regular 9 x 5 x 3-inch loaf pan. But yes, you need a pan of some sort.
You then need game for your game terrine. I used a fairly random collection of stuff in my freezer:
Some skinless grouse breasts.
A lot of dove hearts. Yes, dove hearts.
A bunch of snipe breasts. Again, yes, I have a weird freezer selection.
A half dozen or so fatty livers from wild ducks.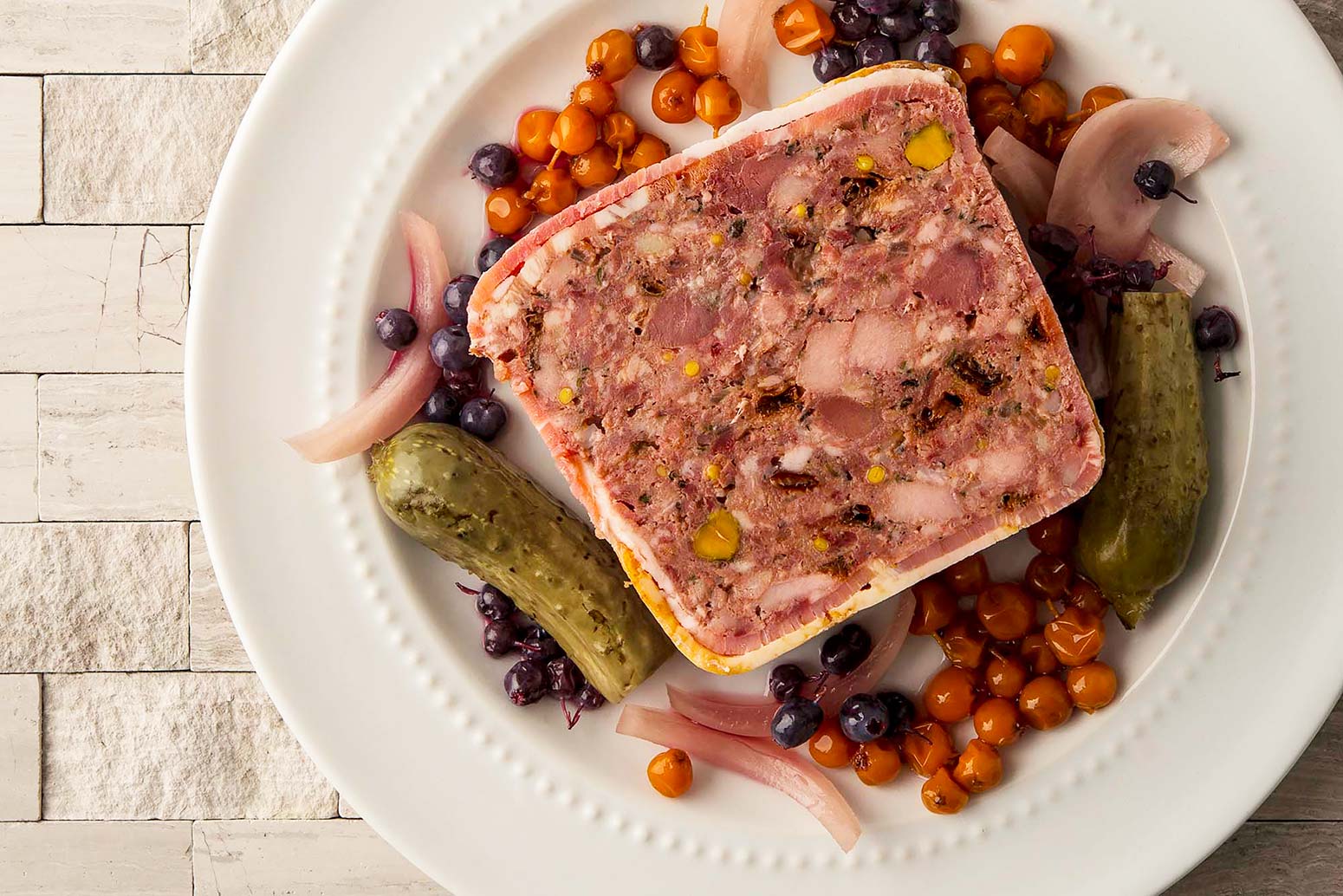 By no means do you need this oddball collection of meats. But it is a very good idea to include a little of this, a little of that, some offal is always a good call, as is a combo of light and dark meats. As you'll see in the recipe, you do need a certain weight, however.
It really helps to have a meat grinder, too. Most of you reading this will have one (I use the Weston Butcher Series 8 Electric Meat Grinder (½ HP)
, but you can use whatever you want.) If you don't have a meat grinder, a food processor will do in a pinch, but it's definitely not as good.
Finally, you will want a tiny bit of No. 1 curing salt, which you can buy online or in good butcher shops. You don't absolutely need it, but it will give you that nice pink color.
Armed with all this, you can now make your game terrine. It's going to take you an hour or two, even if you are good at it, so allocate a bit more time than that if you are a newbie.
Everything in the following recipe is pretty straightforward, except for the bacon wrapping. You want cheap, skinny bacon — not thick cut — and you need to use whole slices, not slices cut in half. You will likely need to snip off about 1/4 of each slice after you have wrapped your terrine. Fry and eat those tidbits. This is how you lay out your bacon: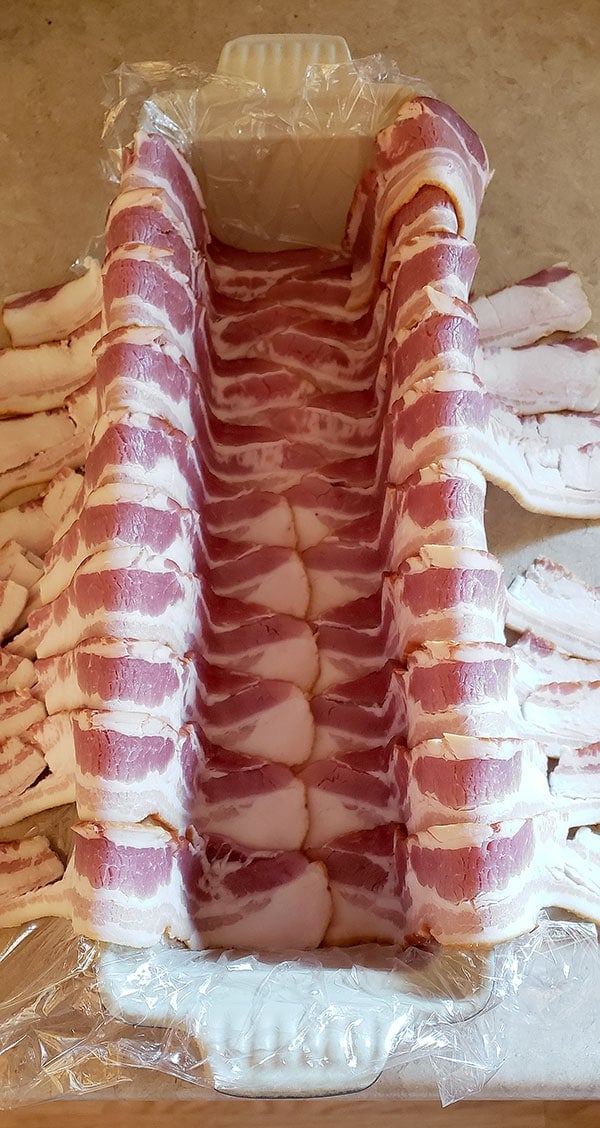 Oh, and one more thing: A good terrine needs to be pressed, and chilled, before eating. So it must be made at least a day before you eat it. Happily, once made, terrines will keep between a week and 10 days in the fridge, and a year in the freezer.
Enjoy!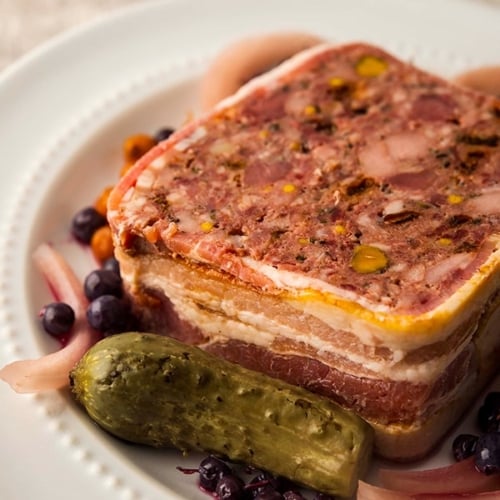 Wild Game Terrine
The total weight of meat is important here, not the selection -- anything you have or want to use is fine. Also, the grind is important: You want it varied, so everything from big chunks of tender stuff to finely ground meat, and everything in between. It makes for a more interesting terrine.
Ingredients
1/2

cup

dried small berries: lingonberries, blueberries, cranberries, etc

(optional)

1/2

cup

brandy or whiskey

2

slices

bread, crusts removed

3/4

cup

half and half

2

eggs, lightly beaten

1

tablespoon

butter

1

large shallot, minced

3/4

pound

bacon ends or pork fat

1.6

pounds

assorted game meats

30

grams

kosher salt

3

grams

curing salt No. 1

1

tablespoon

mustard seeds

2

teaspoons

freshly ground black pepper

1

teaspoon

dried thyme

1 or 2

teaspoons

chopped dried juniper berries

(optional)

1/2

cup

shelled, roasted & salted pistachios

1

pound

thinly sliced bacon
Instructions
Start by soaking the dried berries in the brandy. Set that aside while you work. Get a large roasting pan and fill it halfway with water. Set that in the oven and set the oven to 225F.

Wet down the insides of your terrine pan and carefully line it with plastic wrap. Leave enough extra plastic wrap so you can cover the top of the finished terrine later.

Tear the bread into bits and mix with the half-and-half and beaten eggs. Blend or mash this into a cohesive paste. Set it in the fridge.

Saute the shallot in the butter over medium heat until translucent and just beginning to color, about 4 to 6 minutes. Turn off the heat, let it cool a bit, scrape the shallots into a little bowl and set that in the fridge.

Now, the meats. Select some to be in large-ish pieces -- I did this with snipe breasts I pounded thin. Any other small bird breast would be good here -- some to be diced, some to be ground coarse, and some to be ground fine.

In this terrine, I left the breasts of 4 snipe whole (so 8 pieces), diced about 1/4 pound grouse breast and another 1/4 pound snipe breast, ground the remaining snipe and grouse coarse, along with half the bacon, and the liver and dove hearts fine, along with the remaining bacon ends.

You want at least 1/4 of the total mixture ground fine. About 1/2 ground coarse, and the rest in chunks or whole.

When you have done this, set it all in the freezer while you clean up.

Get a large bowl and add the egg-bread-cream mixture, the shallots, the meats and the salt, curing salt and spices. Mix this well with your (very clean) hands until it comes together as one mass. Add the brandy and berries and nuts and work them in now, which should take another minute or so. Set all this in the fridge while you clean up and lay down the bacon slices.

Get your thinly sliced bacon out and carefully line the terrine pan in the way you see in the picture above. Lay a slice across the bottom of the pan, roughly halfway across, and drape it over the side. Press gently to make sure the bacon is flat against the terrine pan. Set the next slice going the other way, slightly overlapping the previous slice. Do this until you have the whole pan set up. Take your time, as you need to get the hang of it.

Take your meat mixture and firmly press it into the terrine pan. Do this bit by bit, pressing down to make sure there are no air pockets. Fill the terrine up to the top, or even mound it slightly -- it shrinks as it cooks. Fold the bacon over the meat and close the plastic wrap on the bacon. Put the lid on the terrine pan. Or, if you are using a bread loaf pan, cover it in foil.

Gently set the terrine pan in that roasting pan with water that 's been sitting in your oven since you started. The water should come up to about 2/3 of the way up the sides of the terrine pan. If not, boil some water and add it.

Cook the terrine gently for about 2 hours, 15 minutes, or until the interior reaches about 145F to 150F.

Carefully take the terrine out of the oven. To press, use scissors to cut a piece of cardboard that fits over the top of the terrine -- minus the edges -- and wrap the cardboard in tin foil. Remove the terrine lid and place the foil-wrapped cardboard on top. Set bricks or heavy canned goods on it. Let this come to room temperature.

When cooled, set the terrine in the fridge to chill overnight. To eat, remove the weights and cardboard, then open the plastic wrap. Lift gently on the edges to free the terrine, and carefully pop it out of the pan onto a cutting board. Remove the plastic wrap and slice.

You can store your terrine in its pan in the fridge for a week or so. After that, wrap in plastic wrap and freeze.
Nutrition
Calories:
328
kcal
|
Carbohydrates:
11
g
|
Protein:
21
g
|
Fat:
19
g
|
Saturated Fat:
7
g
|
Cholesterol:
106
mg
|
Sodium:
1239
mg
|
Potassium:
406
mg
|
Fiber:
2
g
|
Sugar:
4
g
|
Vitamin A:
145
IU
|
Vitamin C:
0.5
mg
|
Calcium:
45
mg
|
Iron:
3
mg
Nutrition information is automatically calculated, so should only be used as an approximation.