Duck Liver Pate
January 11, 2021 | Updated June 06, 2022
As an Amazon Associate I earn from qualifying purchases.
I need to start this post by stating that I am not normally a liver lover. As an avid duck and goose hunter, for decades I'd searched for a duck liver pâté recipe I really, honestly enjoyed. To no avail.
Until now. I've finally cracked the code, and I'll walk you through how I learned to love liver… at least in pâté.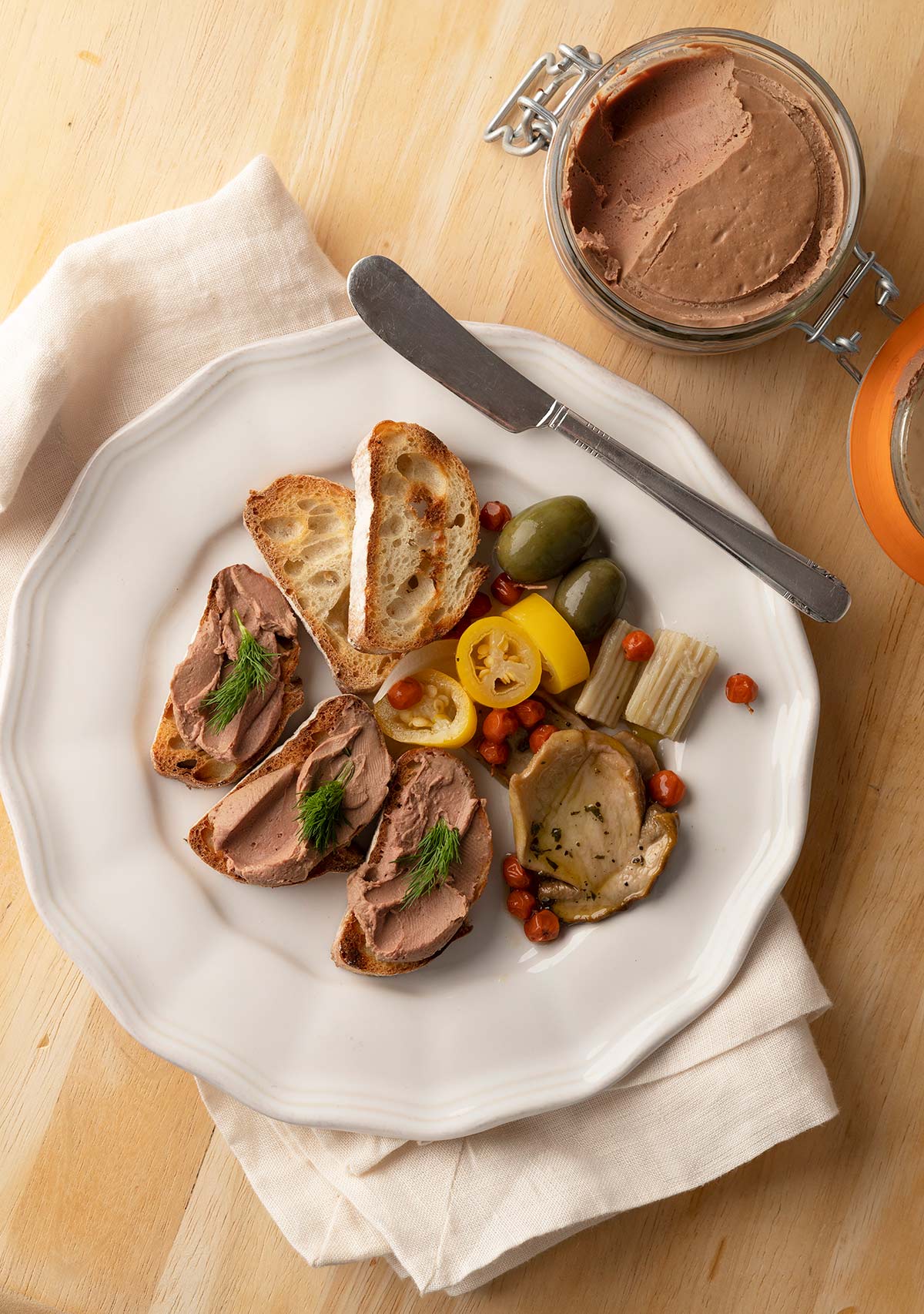 Keep in mind this recipe works for pretty much any liver. I normally use wild duck and goose livers, but chicken livers, farmed duck livers and even the livers from larger animals will work, to a point.
If you do use mammal livers, my advice is to brine them overnight in a ratio of 1/4 cup kosher salt to 1 quart water, and/or another night's soak in milk. This will strip some of the smell from, say, a deer or pig's liver.
Now if you are using wild duck livers for your pâté, some are better than others.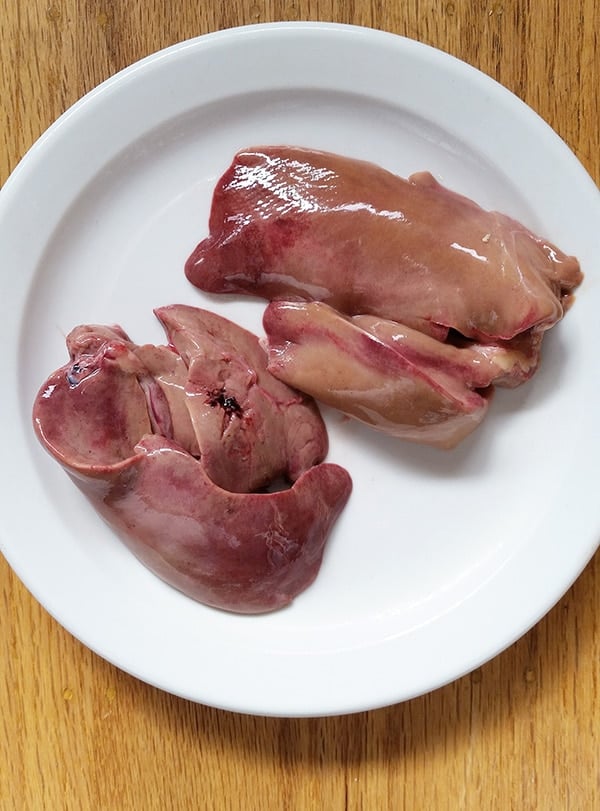 See these? See how tan they look, compared to a normal, burgundy colored liver? This is what you want. This is the equivalent of wild foie gras, and yes, wild foie gras is real. I've seen similar livers in turkeys, pheasants, quail and even pigeons and doves.
You can make duck liver pâté out of any duck's liver that is safe to eat, however. If you make it with lean livers, the color of the finished pâté will be darker, and you might want to double the amount of cream.
(Another great option for bird livers is my easy seared liver recipe.)
Now I did just use the phrase "safe to eat," and I did because in some places, they are not. Where I live, there is a health warning against eating the livers of diver and sea ducks in the San Joaquin Valley and San Francisco Bay; it's a mercury and selenium thing. These health warnings are rare, however, so chances are you'll be fine. But if you are a hunter, it's worth a check with your state health department.
Anyone using farmed bird livers is in the clear.
So, you may be asking yourself, what is so different about this duck liver pâté from all the other ones? Why is Hank so keen on this one? In a word, butter.
Yep, this is not a low fat pâté. No good one is. It requires a stick of butter, which is 1/2 cup. You'll also want some lovely, flavorful strong wine or brandy, but that's about it. This is very simple, and easy to make.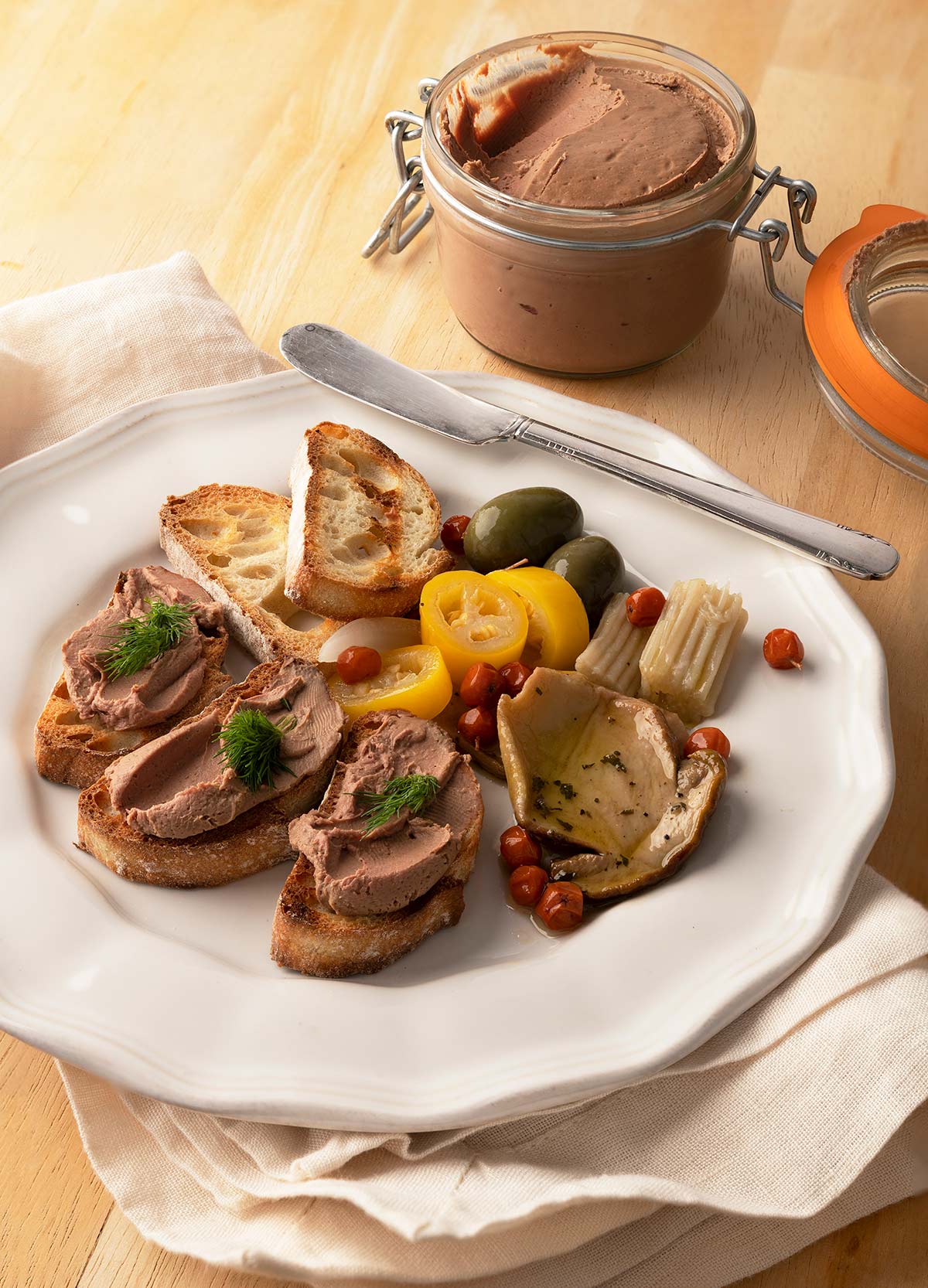 Once made, pack your duck liver pâté in glass jars or ramekins and they'll keep in the fridge for a couple weeks. If you want to keep them longer, melt some butter over the top of the pâté and let it set like a cap over the pate.
And yes, you can freeze pâté. Definitely do the butter cap, and then put a lid on the jar and freeze. It will keep a few months that way, maybe 3 or 5. After that things could go downhill. When you want to eat it, thaw slowly in the fridge for a day or two first.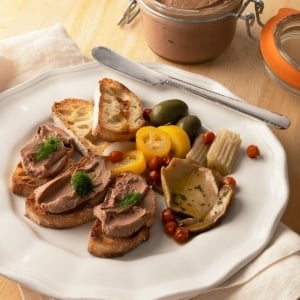 Duck Liver Pate
This is a simple, accessible liver pate for those who normally don't like livers. See the headnotes for options and substitutions.
Ingredients
1

stick

butter, divided

(1/2 cup)

1

large shallot or small onion, minced

1/2

pound

duck livers

(see above for other options)

Salt

1

tablespoon

flour

3

tablespoons

Marsala or brandy

(or something similar)

1/4

teaspoon

white pepper

1/4

cup

heavy cream
Instructions
Sweat the shallot in a pan over medium-low heat with 1 tablespoon of the butter. You want it soft, but not browned. Add the livers and cook, stirring often, just until browned on the outside, maybe 3 minutes.

Sprinkle salt and the flour over everything and toss to combine. It'll get a bit gunky, but that's OK. Cook this gently over medium-low heat for about 3 to 4 minutes, just to cook out the raw flour taste. Add the brandy or Marsala and use a wooden spoon to scrape up any browned bits.

Move all this into a blender, along with the white pepper. Let this cool for a minute or three, then pour in the heavy cream and start to puree the pate. Once it's going, drop the rest of the stick of butter in one tablespoon at a time, waiting for it to incorporate before adding the next one.

Pack the pate into jars or ramekins immediately, while the pate is still hot. You will want to chill it thoroughly before serving.
Notes
This recipe makes about 1 pint.
Nutrition
Calories:
123
kcal
|
Carbohydrates:
2
g
|
Protein:
4
g
|
Fat:
10
g
|
Saturated Fat:
6
g
|
Cholesterol:
124
mg
|
Sodium:
96
mg
|
Potassium:
54
mg
|
Fiber:
1
g
|
Sugar:
1
g
|
Vitamin A:
7850
IU
|
Vitamin C:
1
mg
|
Calcium:
8
mg
|
Iron:
6
mg
Nutrition information is automatically calculated, so should only be used as an approximation.