Sicilian Dried Zucchini
August 08, 2013 | Updated October 29, 2020
As an Amazon Associate I earn from qualifying purchases.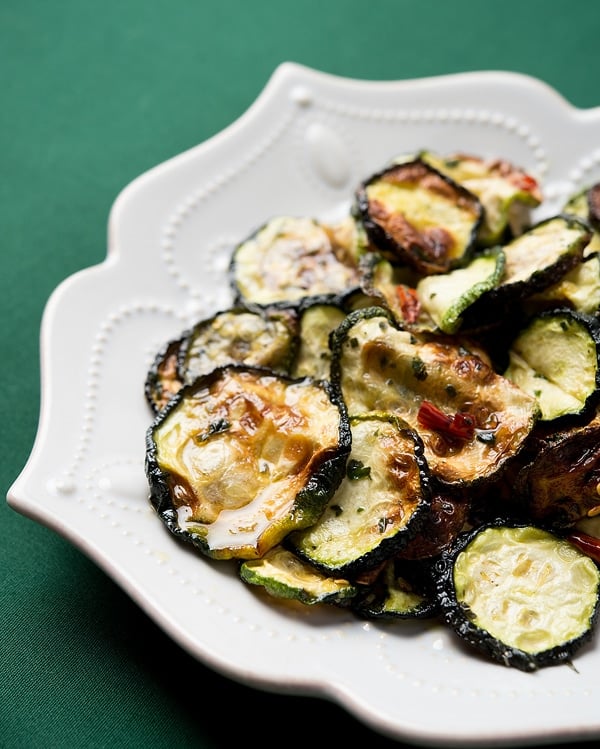 It's zucchini time in California. The annual Overrunning of the Squash has arrived. Yes, fresh zucchini are good — excellent, if you get them before they're as big as truncheons — but anyone who grows zukes always has too many. And don't get me started on zucchini bread. Not a fan.
I pickled some zucchini last year and they were good, but not as good as cucumber pickles. How else could I preserve them? Drying.
I'd read somewhere that the Southern Italians sun-dried their zucchini to keep them through the year. I've even seen a web page offering dried zukes from Sicily jarred in olive oil — at $10 plus shipping. Seriously?
But, try as I might, I could find no recipe or method for sun-drying zucchini anywhere on the web, or in my not insubstantial cookbook library. So I improvised.
I began by slicing the squash into disks. I then sprinkled salt on a large cookie sheet and set the disks down on them, and when the cookie sheet was filled I sprinkled the tops with salt.
I let this sit an hour. Now zucchini are basically squash-flavored water, so I was pretty sure an hour would draw out a lot of moisture and get the salt all the way into the slice — to preserve it from mold. It worked. Too well, in fact. Now I only "cure" them for 30 minutes if I am not going to put them up in jars. After an hour, the zucchini is borderline too salty to eat fresh, but works well as a preserved product.
How to dry them? Couple of ways. I have a really nice Excalibur dehydrator, which can dry the zucchini in anywhere from 2 to 8 hours. But there's a low-tech method, too. After salting, arrange the zucchini disks on a metal or wooden skewer. But you still need to hang dry them. At first I hung these by attaching the skewer to the clips on the kind of coat hanger designed to hold skirts or pants. Nice, but then Holly couldn't dry her clothes. I then switched to using our sausage/pasta drying rack.
A perfect place to do the drying is a hot, dry garage. Our garage in summer can reach about 120°F in a heatwave, "cooling" to 70°F or so at night. At that rate, the zucchini only took 36 hours to get to the soft, quasi-dried apple texture I wanted.
Could I have dried them all the way? Sure, but then I'd need to reconstitute them, and why bother? I might have dried them another 12 hours if I wanted to preserve them in oil. Kept like this in the fridge, they last for a month.
In this state, zucchini are still pliable and soft, but feel more like soft leather than watery squash disks. Chewy instead of crunchy. Savory instead of thirst-quenching, as a raw zuke can be on a hot day.
If you want to preserve them, do this: Salt the whole hour, press the zucchini gently with a cloth towel. Dredge them in vinegar (white wine would be ideal), dry until they are very leathery and store in a glass jar submerged in olive oil.
I prefer to just cook my dried zucchini as the Sicilians do: In olive oil, with mint and chiles.
The dish couldn't be easier, although there is one tip I can offer: Dried zucchini lack the water that normally causes that pleasing sizzle in a hot pan, so you might think you're not heating the squash enough at first. Trust yourself, they will brown nicely. Keep turning them over until you get the look you want. I like a combination of well-browned bits with those just kissed by flame.
Make more of these than you think you need — Holly and I ate four zucchinis' worth at one sitting with no trouble.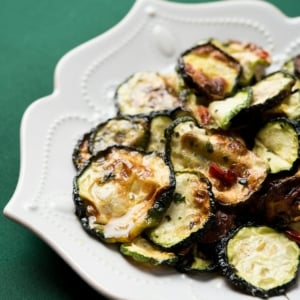 Sicilian Sun-Dried Zucchini
Southern Italians sun-dry their zucchini, and then either put them up in jars covered in olive oil, or saute them as a side dish. I never did find an Italian recipe, so this one is entirely mine. I think it works pretty well, and make it all summer long. Why? It's a textural thing: The dried zucchini concentrate what flavor they have, and with less water, become meatier — if I had to serve a vegan dinner in summer, this would be on the menu. Use a dehydrator if you are in a moist climate, but here in Sacramento I just strung these on skewers and let them dry in our blazing hot garage for 36 hours.
Ingredients
4

zucchini,

about 3 pounds

Salt

Skewers

if you are not using a dehydrator

2

tablespoons

olive oil

1/2

teaspoon

cayenne

2

tablespoons

fresh mint,

chopped

1

large garlic clove, sliced very thin

(optional)

Juice of half a lemon
Instructions
Slice zucchini into disks about 1/4 inch thick. Sprinkle salt on a large cookie sheet or two, then lay the zucchini on them. Sprinkle more salt on top. Leave at room temperature for 30 minutes if you are going to eat them in the next couple days, or for up to an hour if you plan on preserving these in jars.

Pat dry with a towel and either dehydrate at 120°F or skewer. Dehydrate until pliable but leathery, about 3 hours or so in my dehydrator. Or, hang the zucchini in a hot dry place for 24 to 48 hours, depending on the temperature. In either case, you want them to be dry, but not hard. Think soft dried apricots…

When ready to cook, heat the olive oil in a large saute pan over high heat until almost smoking. Add the zucchini rounds and garlic (if using) and toss to coat with oil. Turn the heat down to medium and cook until browned, about 3 minutes.

In the final minute, add the cayenne and toss to combine, then do the same with the mint. Turn off the heat. Squeeze the lemon juice on the zucchini when you are ready to serve.
Nutrition
Calories:
66
kcal
|
Carbohydrates:
5
g
|
Protein:
2
g
|
Fat:
5
g
|
Saturated Fat:
1
g
|
Sodium:
11
mg
|
Potassium:
351
mg
|
Fiber:
1
g
|
Sugar:
3
g
|
Vitamin A:
401
IU
|
Vitamin C:
24
mg
|
Calcium:
25
mg
|
Iron:
1
mg
Nutrition information is automatically calculated, so should only be used as an approximation.