As an Amazon Associate I earn from qualifying purchases.
Most of us gather chanterelle mushrooms in summer, so this chanterelle sauce celebrates that with fresh herbs and corn. It's great over fish, poultry, pasta or just good, crusty bread.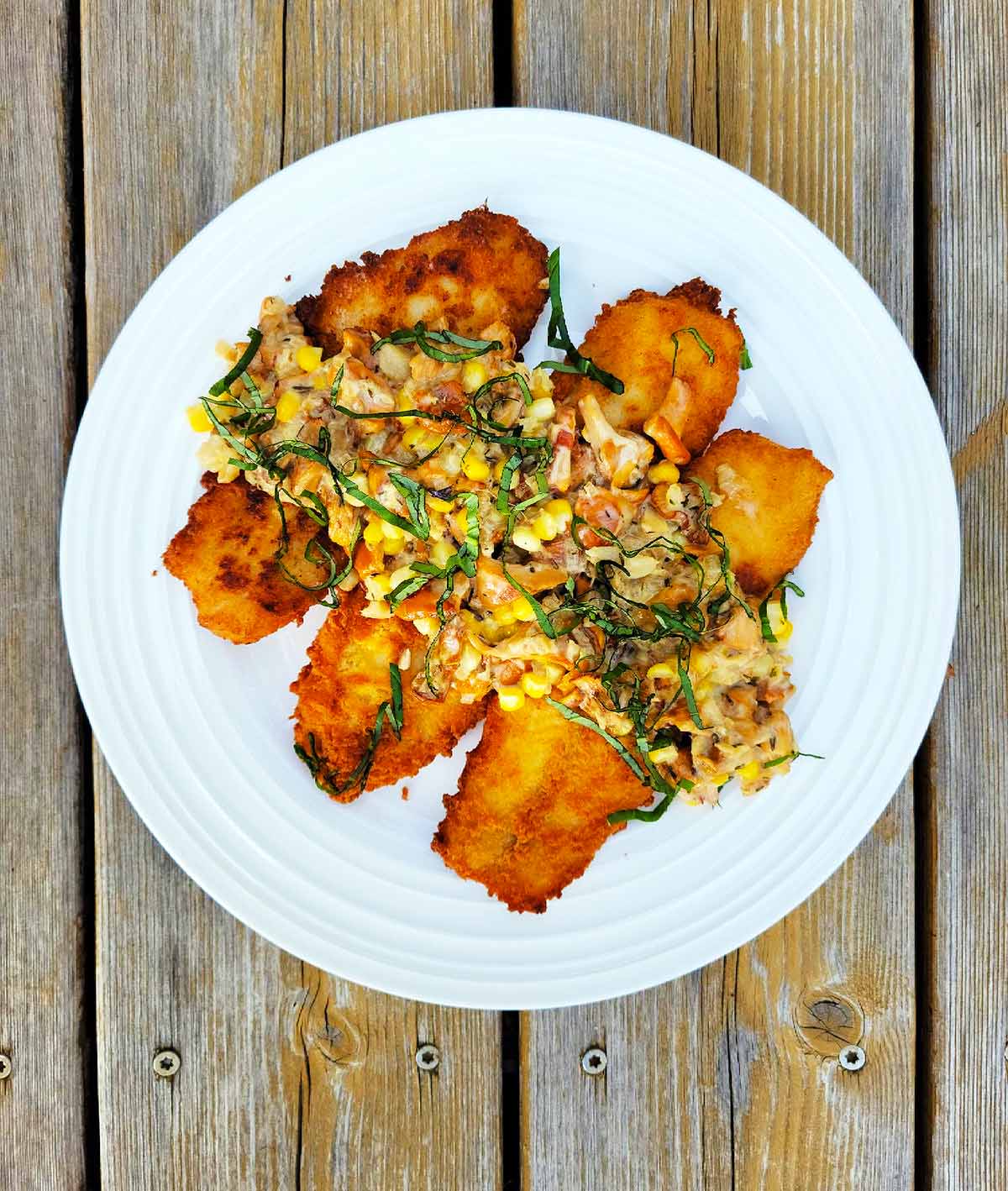 Chanterelles are a summer classic, arriving as early as May in the South, popping all summer in most of the country, then kicking into high gear in August in places like Minnesota and Canada. They're a winter mushroom along the Pacific Coast.
Many species of chanterelle mushroom exist, but most people collect Cantharellus cibarius, the common golden chanterelle. They're bright apricot, aromatic, resistant to bugs and easy to identify. I have a whole guide to collecting and cooking chanterelles here.
When I designed this chanterelle sauce, I was torn between a smooth sauce and a chunky one. I decided on the chunky one because, frankly, I wasn't going to make a smooth one any better than my smooth chanterelle soup. If you want to make a smooth chanterelle sauce, make that soup but thin it only to the consistency of gravy. It's amazing and elegant.
This sauce is chunky, with lots to hold your interest: chanterelles, shallots, roasted garlic, corn and fresh herbs. I am partial to a chiffonade of basil.
My recipe for chanterelle pasta is vaguely similar, and this sauce would indeed go great with pasta or polenta.
You get creamy richness, lots of savory notes from the chanterelles and roasted garlic, a sweet crunch from the fresh corn, balanced with the herbal aroma of the basil. It's a winner.
cooking chanterelles
Generally speaking, chanterelle mushrooms are watery. Not always, but often. This can be a problem in other recipes, but you can use this to your advantage with a chanterelle sauce: Once the chanties release their water as you sauté them, that liquid helps make the sauce better.
You can dice your chanterelles if you want, like a classic duxelle, but I prefer to pull them apart. Chanterelles will cleave along natural fiber lines and I like that. But you do you.
A note on this: I, along with many other chanterelle gatherers, like to sauté a batch, let it cool, then vac seal it in the freezer for the rest of the year. This chanterelle sauce works very well with thawed out, pre-sauteed chanterelles.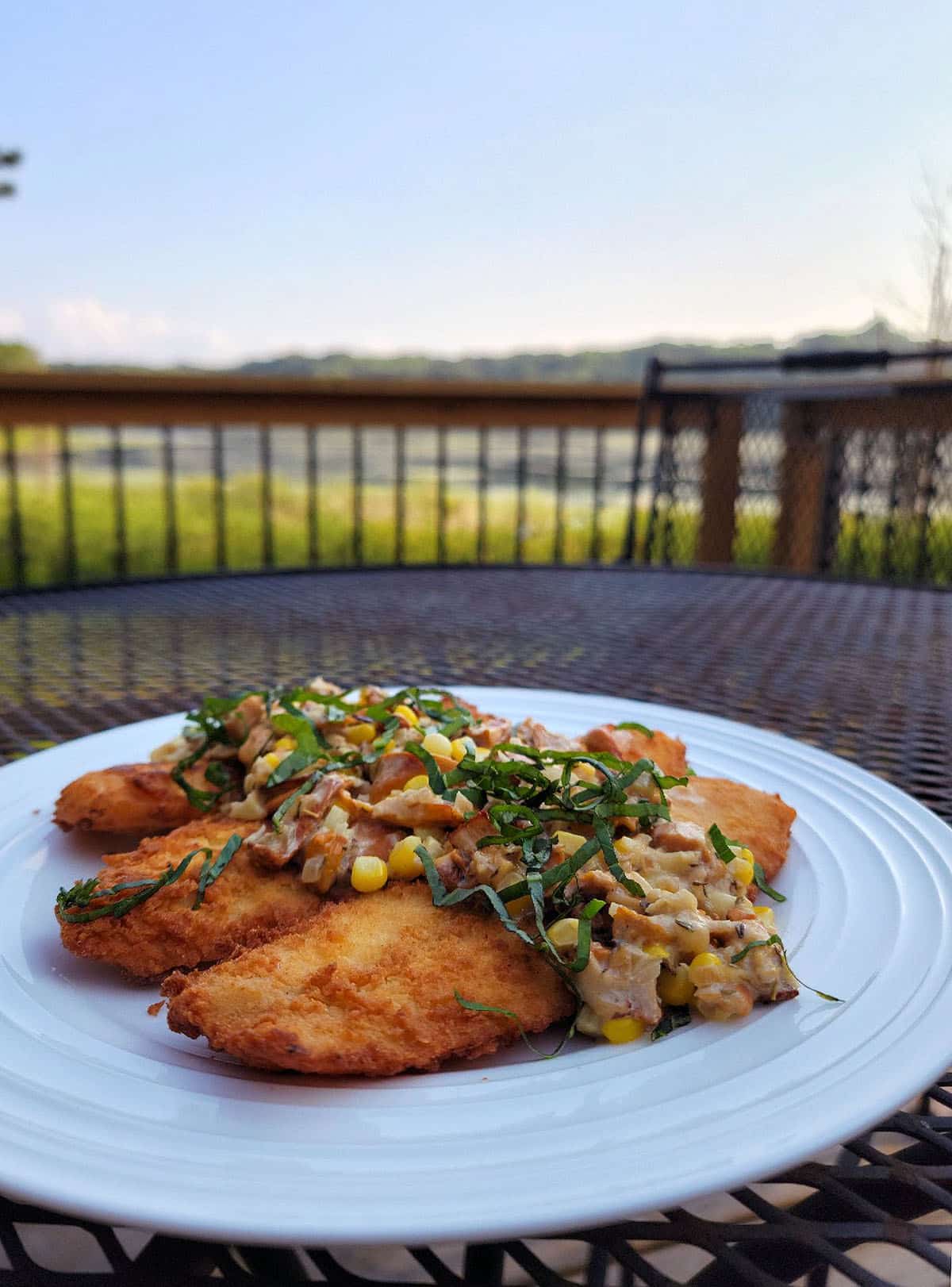 Chanterelle sauce variations
To me, what makes my chanterelle sauce different is that I use roasted garlic in it — a whole head. I love roasted garlic, so I think it works, but if you're worried about the amount, roast a whole head and only use half; save the rest for toast.
This is the only time-consuming bit of my recipe, and it can be done ahead of time. If you hate garlic, I am very sorry for you, but yeah, you can skip it.
I prefer shallots as the onion element in this sauce, but you could use yellow onions if shallots are really expensive or you can't find them. Butter is a must, unless you have a very good reason for not using it.
I slice kernels off a fresh ear of corn because chanterelles and corn are in season at the same time. But there's no reason you can't use thawed frozen corn instead. You'll want to do this if you're in California or the Pacific Northwest, where the two ingredients are not in season simultaneously.
Basil is my herb of choice here. It's sweet aroma really brings the chanterelle sauce up, and it's summery. But rosemary, thyme, summer savory, parsley, maybe cilantro, also would work.
serving chanterelle sauce
As you can see, I went full Minnesota and serve my Minnesota-gathered chanterelles with walleye cooked "shore lunch" style. Chanterelle mushrooms work very well with fish of all kinds, as well as light meats like chicken, turkey, pheasant, quail or rabbit.
This sauce also makes a great vegetarian supper when paired with pasta, polenta or good crusty bread.
Once made, it will keep in the fridge a few days.
If you liked this recipe, please leave a ⭐️⭐️⭐️⭐️⭐️ rating and a comment below; I'd love to hear how everything went. If you're on Instagram, share a picture and tag me at huntgathercook.
Chanterelle Sauce
An easy, delicious chanterelle sauce with roasted garlic, shallots, corn and fresh herbs.
Ingredients
1

head

garlic

1

tablespoon

olive oil

1/4

cup

unsalted butter

1

large shallot,

minced

1/2 to 1

pound

fresh chanterelles,

chopped or pulled into small bits

salt

1/4

cup

Madeira, sherry or brandy

(optional)

1/2

teaspoon

dried thyme

(or fresh)

1

cup

corn kernels,

or cut from 1 ear

2/3

cup

heavy cream

3

tablespoons

fresh basil,

minced or sliced thin
Instructions
Preheat the oven to 400?. Slice off the top quarter of the head of garlic. Set it in a nest of foil, cut side up. Drizzle a little olive oil on the cut side. Close the foil over the garlic and set in the oven to roast for 1 hour. Remove, let it cool a little, then squeeze out the garlic from the paper. Set aside.

Heat the butter in a large sauté pan over medium-high heat. When the butter is hot, add the minced shallot and sauté until soft, about 3 minutes.

Add the chanterelles, salt everything in the pan well, and sauté until the mushrooms release their liquid. Add the reserved roasted garlic and mix it into the liquid until combined. Add the brandy, if using, and bring to a boil.

Stir in the thyme, corn kernels and heavy cream. Drop the heat to medium-low. Let this cook a minute or three. Sprinkle the herbs over and serve.
Notes
If you roast the garlic ahead of time, you will save an hour off prep. 
Nutrition
Calories:
367
kcal
|
Carbohydrates:
14
g
|
Protein:
4
g
|
Fat:
30
g
|
Saturated Fat:
17
g
|
Polyunsaturated Fat:
2
g
|
Monounsaturated Fat:
9
g
|
Trans Fat:
0.5
g
|
Cholesterol:
75
mg
|
Sodium:
104
mg
|
Potassium:
437
mg
|
Fiber:
3
g
|
Sugar:
4
g
|
Vitamin A:
1041
IU
|
Vitamin C:
4
mg
|
Calcium:
59
mg
|
Iron:
3
mg
Nutrition information is automatically calculated, so should only be used as an approximation.