Cardoon Gratin
March 30, 2017 | Updated January 28, 2022
As an Amazon Associate I earn from qualifying purchases.
If you're looking for one great cardoon recipe, this is it.
This is what I do with my cardoons, which grow all over my yard, uncontrollably. If you've never heard of them, cardoons, Cynara cardunculus, are a relative of the artichoke — only you eat the stalk, not the flower. They taste like a cross between celery and artichoke heart, with a little bitterness thrown in for good measure. The texture is like burly celery.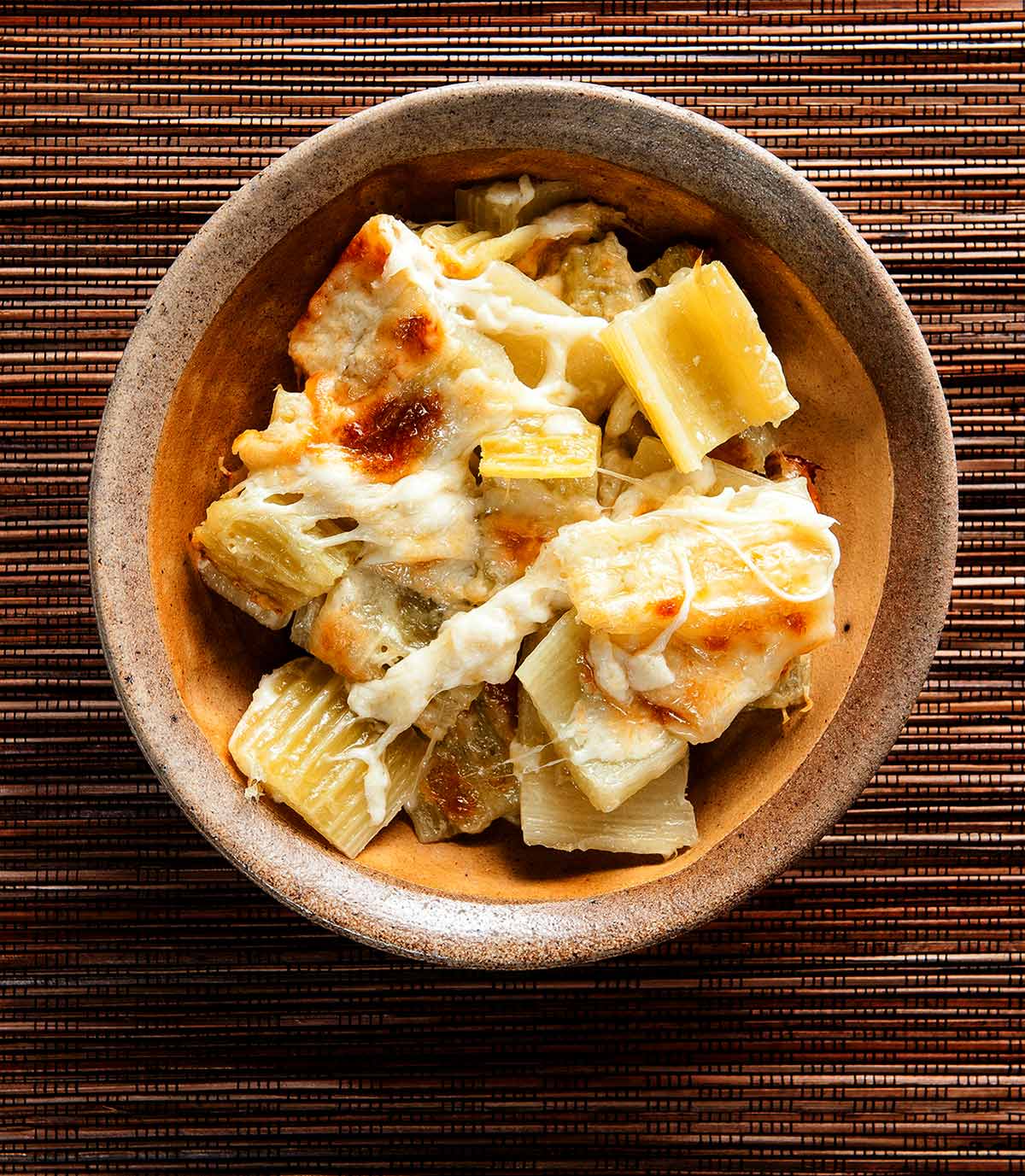 I've grown cardoons since I moved to California nearly 20 years ago — or, more accurately, cardoons have taken hold of my garden ever since I planted that first one. If you let them bloom, a cardoon is a majestic plant with a flower stalk that can grow 10 feet tall. Once those flowers fade, they send out hundreds of seeds on parachutes that fly all over your yard.
This is a good thing. I let a few live each year, and those that are settled in the garden are perennial. I get two crops, one in spring and one in fall. The spring one is better, as the stalks are less bitter then. Once temperatures get beyond about 70°F, the plant will be unpleasantly bitter.
Actually eating these giant thistles can be a bit of work. And pretty much every cardoon recipe requires this prep work. I learned my method from Paula Wolfert in her Mediterranean Grains and Greens, a hard-to-find, yet excellent cookbook. If you can get this book, you will not be disappointed. In it, Wolfert goes into some of the deepest lore on unusual grains and plants eaten in the region. Fascinating.
Finding cardoons has become much easier in recent years. I've seen them at my local Raley's, as well as in Whole Foods in early spring, and any good Italian grocer will be able to get them. In Italy, they're often called gobbi, the hunchback. And, as you may have guessed, cardoons grow easily from seed. You can buy cardoon seeds here.
This particular cardoon recipe is my all-time favorite. Cardoons gratin. After the cardoons are boiled for a while, you finish them in the over with lots of melty cheese — that cheese offsets the slight bitterness in just the right way.
Serve this as a vegetarian dinner, or as a side dish for, say, ossobuco or a pot roast.
If you are looking another good cardoon recipe? Try my cardoon risotto or my recipe for honeyed cardoons. I have a whole article on how to cook cardoons, too, which goes into growing, prepping and many different ways to cook them.
I like them all, but again, this is my favorite cardoon recipe.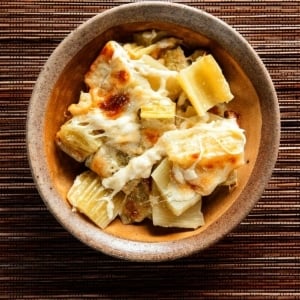 Cardoon Gratin
You need a large cardoon to feed four, as you cut away the tops of the plant and pick off the outer ring of stalks, which are always punky and bitter. Look for stalks with a white bloom on them that comes off when you rub it with your fingers. In stores, cardoons are typically pre-cut and trimmed, so you can use whatever you buy.
Ingredients
1

large cardoon

2

lemons

Salt

1/4

cup

all-purpose flour

2

tablespoons

bacon fat or olive oil

1/2

cup

coarsely grated provolone or mozzarella

1/2

cup

finely grated pecorino or parmigiana

Freshly ground black pepper
Instructions
Bring a large pot of salty water to a boil and preheat the oven to 400°F. While the water is heating, use your fingers to zip off the little strings on the ribs of the cardoon stalks. You don't have to get them all, just do your best. Don't dig too deep or you will break the stalk.

Juice one lemon and pour the juice into a large bowl of cold water. Chop the cardoon stalks into batons of whatever length you like; I like 2-inch batons. Put the cut cardoons into the lemon water to keep them from discoloring.

Toss the already squeezed lemon pieces into the boiling water, then whisk in the flour. Let this boil for a minute or two. The lemon-salt-flour combo affects the cardoons in some way that keeps them a pretty light green and removes some of the bitterness. (This is author Paula Wolfert's trick.) Toss in the cardoons and boil for 40 minutes.

Smear butter, olive oil or bacon fat all over the inside of a casserole just large enough to hold the cardoon pieces in one layer. When the cardoons are done, arrange them in the casserole. Sprinkle over the mozzarella, then the pecorino. Bake for about 35 minutes, or until the cheese begins brown.
Notes
Serve with a wedge of lemon and freshly ground black pepper. Eat this with a malty beer or a shot of grappa or ouzo -- it's not a very wine-friendly dish.
Nutrition
Calories:
128
kcal
|
Carbohydrates:
8
g
|
Protein:
6
g
|
Fat:
9
g
|
Saturated Fat:
3
g
|
Polyunsaturated Fat:
1
g
|
Monounsaturated Fat:
4
g
|
Cholesterol:
15
mg
|
Sodium:
165
mg
|
Potassium:
88
mg
|
Fiber:
1
g
|
Sugar:
1
g
|
Vitamin A:
118
IU
|
Vitamin C:
19
mg
|
Calcium:
175
mg
|
Iron:
1
mg
Nutrition information is automatically calculated, so should only be used as an approximation.