Beer Can Pheasant
July 11, 2010 | Updated November 06, 2020
As an Amazon Associate I earn from qualifying purchases.
It's hot. I don't feel like cooking outside much. And I have lots of wild game in the freezer still. What to do?
BBQ! I've been doing a lot of grilling and barbecue over at Simply Recipes with Elise, and nearly everything I do there with domestic meats translates well with wild game. Elise and I played around with a beer can chicken recipe, and it was so good I knew I had to try to make beer can pheasant, using my last remaining whole pheasant.
If you've never eaten beer can chicken before, you are missing out. It may be the second greatest thing the NASCAR crowd has brought to American cooking, behind true barbecue itself. Done right, you get a crispy skin, meltingly tender breast meat, and the legs and thigh meat practically falls off the bone. It's the perfect chicken. But would it work for pheasant?
First problem: Pheasants have slim hips. Too slim to jam a regular beer can up inside them. Hmmm… what sort of can might fit in a pheasant? I got it! Red Bull. Now I detest this stuff — tastes like sweet tarts — so I poured it all out and washed the can well to get rid of the Red Bull taste, then I filled the can up halfway with beer.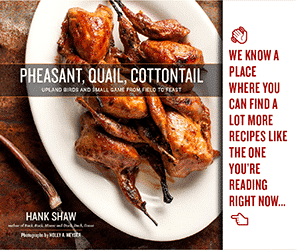 I just managed to get the Red Bull can up into the pheasant, as even it was slightly too wide. But it works.
Oiled up and dusted with salt, black pepper and thyme leaves, I closed the lid on Mr. Pheasant and set the burners to keep the temperature up at about 500 degrees for the first 10 minutes or so. I then dropped the heat to roughly 450 for the next 20 minutes, then dropped it again to about 400 degrees for another half-hour.
Turns out a pheasant cooked this way needs only about 45 minutes. I overcooked mine by thinking it would need an hour. But, the skin was crackling crispy, and the legs looked fine. I let the pheasant rest for 10 minutes before cutting into it.
The moment of truth: When I sliced into the breast, it was, miraculously, still juicy! Definitely cooked more than I wanted it to be, but it was not dry at all. All the steam coming out of the can kept the breast moist. Thank you, Red Bull can!
Could this work for other game birds? Maybe. The key is the can. I'd try a Foster's Lager "oil can" for a wild turkey, and I bet the Red Bull can would work on a large grouse. Not sure who makes cans small enough for partridges or quail, however.
Hunters out there: Do you grill or barbecue your game birds? If so, care to share any tips and tricks?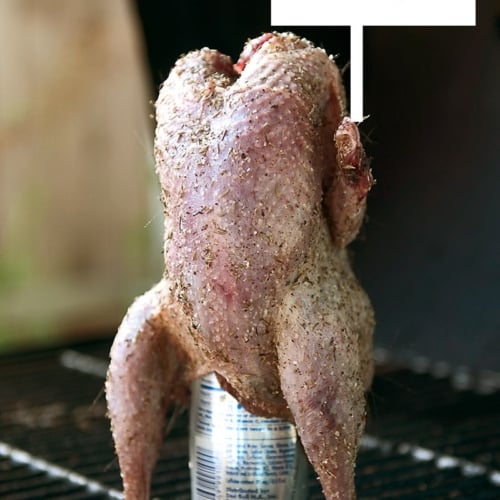 Beer Can Pheasant
Beer can chicken is one of the best ways I know to roast a chicken, especially in summertime, when you can do this recipe on the grill. But, while you can jam a regular beer can into a pheasant, the birds are generally too small. But a Red Bull can will fit. Fill it halfway with beer.
Ingredients
2

empty Red Bull cans

Enough beer to fill half the cans

(use any beer you want)

2

whole pheasants

1/4

cup

olive oil to coat birds

Salt and black pepper

1

tablespoon

dried thyme
Instructions
Take the pheasants out and let it rest at room temperature for about 30 minutes. Bring the beer out, too, as you don't want cold beer in the can.

Prepare your grill for indirect heat. If you are using charcoal, put the coals on one side of the grill, leaving another side free of coals. If you are using a gas grill, fire up only half of the burners.

Rub the pheasants all over with olive oil. Mix the salt, pepper, and thyme in a bowl and sprinkle it over the pheasant.

Fill the Red Bull can halfway with beer; it doesn't matter what kind. Drink the rest of the beer. Put the can inside the pheasants' cavity and place the pheasants on the cool side of the grill. The legs and the can will act like a tripod to keep the pheasant upright.

Cover the grill and come back in 40 minutes. After that time, check the pheasants and add more coals if needed. Stick a thermometer into the thickest part of the pheasant's thigh — you want it to read 160 degrees. If it's not there, close the grill lid and come back in 15 minutes. Keep checking this way until the pheasant is done. If you don't have a meat thermometer, poke the spot between the leg and breast with a knife and look for the juices to run clear, not pink.

Carefully move the pheasants to a pan. Let them rest for 10 minutes. Carefully lift it off the can and carve up into serving pieces.
Notes
Consider brining your pheasants first, especially if it was a wild bird. Mix 1/4 cup of kosher salt with 4 cups of water and add some seasonings: I like bay leaves, rosemary and cracked black pepper. Submerge the pheasant in this brine for 4 to 8 hours, then drain and let sit in the fridge uncovered the next day — this helps you get a crispy skin. After that, you can do this like a regular beer can chicken. 
Nutrition
Calories:
620
kcal
|
Carbohydrates:
1
g
|
Protein:
78
g
|
Fat:
32
g
|
Saturated Fat:
9
g
|
Cholesterol:
242
mg
|
Sodium:
137
mg
|
Potassium:
829
mg
|
Fiber:
1
g
|
Sugar:
1
g
|
Vitamin A:
642
IU
|
Vitamin C:
19
mg
|
Calcium:
60
mg
|
Iron:
5
mg
Nutrition information is automatically calculated, so should only be used as an approximation.