As an Amazon Associate I earn from qualifying purchases.
Every spring, I steal away from the house quietly. An uncontrollable urge sends me out, looking for my illicit love. I am gone for long days, and I often come back tired and smelly but very, very happy. Mostly this happens to me a few days after a rain, when the sun has begun burning the dew off the lurid green than is Northern California in March and April. The days are lovely, and so is the object of my lust. She is the ultimate California girl. Her name is Velosa.
Amanita velosa to be exact. She is lithe and beautiful, with honey-brown skin. She often wears a little white hat, and is as fond of hanging out under oaks as any dryad of the Elder Times.
She is a mushroom. And she has me firmly under her spell.
I know what you are thinking: I am hanging out with a dangerous girl. Amanitas can be a rough crowd, deadly even. And you'd be right. I have seen Velosa's cousins, A. ocreata and A. phalloides, the Destroying Angel and the Death Cap, at the same time I find velosa. I've even seen the Angel under the same tree as Velosa.
That element of danger, that requirement that you be very aware of your surroundings and have your wits about you, makes it more exciting. I've been hypnotized picking hundreds of morel mushrooms, a gray army in a battered landscape. Do this with Amanita velosa and you can wind up in the hospital waiting for a liver transplant. Or worse. Velosa may be beautiful, but loving her is flirting with danger.
Not that A. velosa is impossible to safely identify. If you are careful, and you follow every one of the following guidelines, and only pick Amanita velosa when she is at her freshest and most perfect, you should be fine. Note I said "should." Messing with amanita mushrooms is absolutely not for beginners. I picked them for a full two years before I ate one. "Pick many before eating any" is the appropriate aphorism. Got it? Good. Now, on to some ID…
First, Amanita velosa only comes out in springtime, mostly in California and, once in a while, Oregon and Baja California. (Sorry, rest of the world.) I've never heard of velosas flushing earlier than February. I've seen them as late as early May, and March seems to be the prime month. A cool April will bring her out, too.
There is a similar mushroom, the Amanita vernicoccora, that also comes up in spring, but it is larger and will grow more in the Sierra Nevada.
Second, she hangs out with oaks. I find velosa mostly with our Central Valley scrub oaks, but occasionally with blue, valley or other oaks, too. Coastal live oak is another good one to look for, too. And look around young trees. I seem to find more around patches of saplings or single young trees more than the great big old ones. Look a bit away from the trunk of the tree, near the drip line and beyond. Destroying angels tend to like to be closer to the trunk.
As an amanita, she will emerge from an "egg," an orb of mycelial tissue underground. The bottom of the "egg" will remain at the base of the mushroom. When you pick velosas, you want to use a knife or somesuch to dig the whole mushroom out because the shape of that "egg" is very important. Look at the picture to below and to the right: See how the "egg" is conical, not round? Look for that.
Now, take the remains of the "egg" off and look at the stem: It should not be bulbous. It should be the same width as the rest of the stem, called a stipe in mushroomer jargon, or even tapered. Cut the bottom of the stem and look at the center: It should be hollow, with a mix of cottony stuff and gelatinous stuff in the hollow space.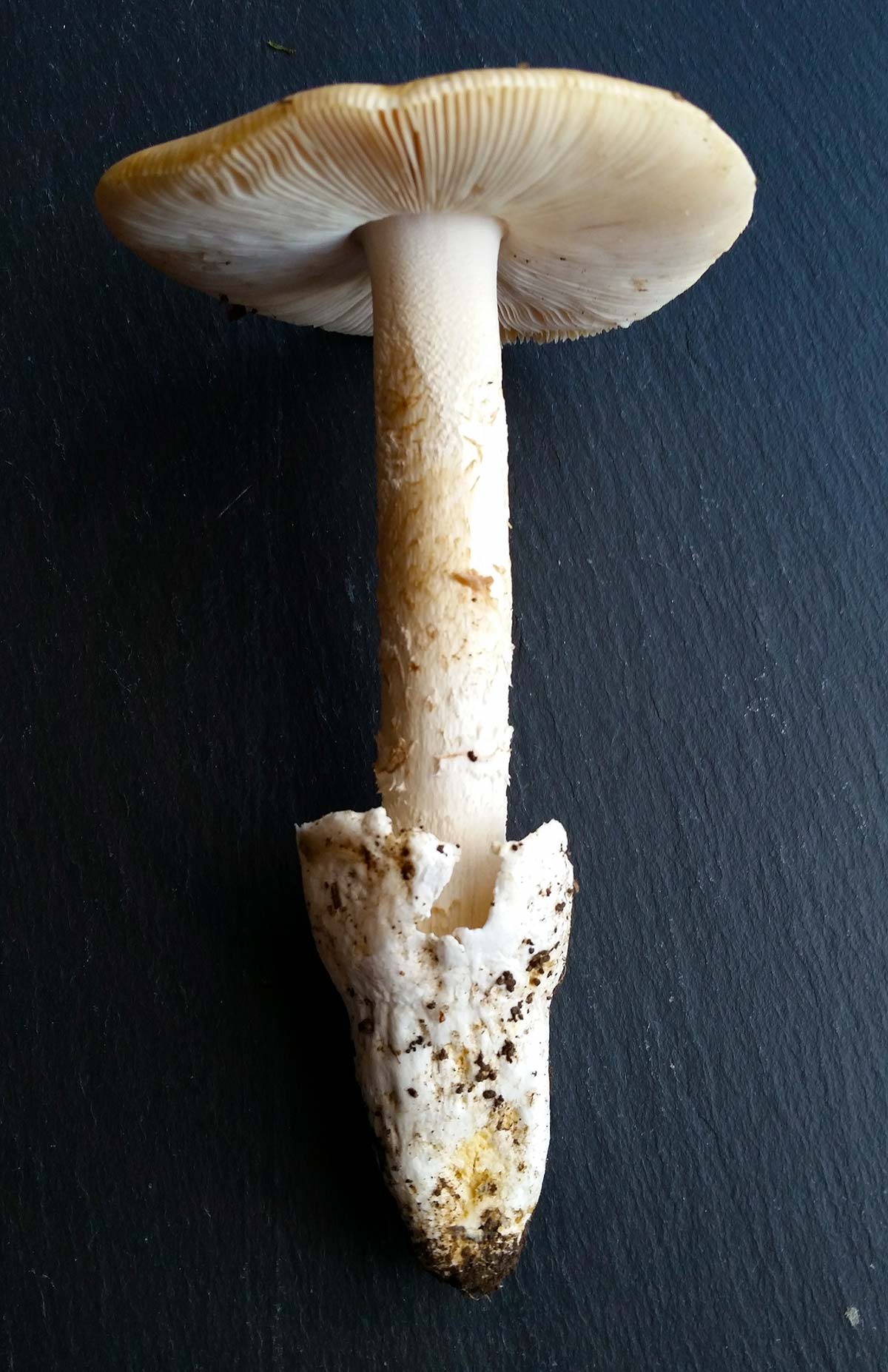 Note that there is no gossamer ring around the middle of the stipe; this is called an annulus in mushroom-speak. Many other amanitas have one. Velosa does not.
The cap is also distinctive. It should be a pretty hen's egg brown. If it is anything other than this pretty color, don't pick it. Velosas can be white, but so are destroying angels. Avoid the white ones. Washed out velosas and death caps can look similar, too. Death caps are a bit more greenish, but color is not a great indicator of species. You need to look at more.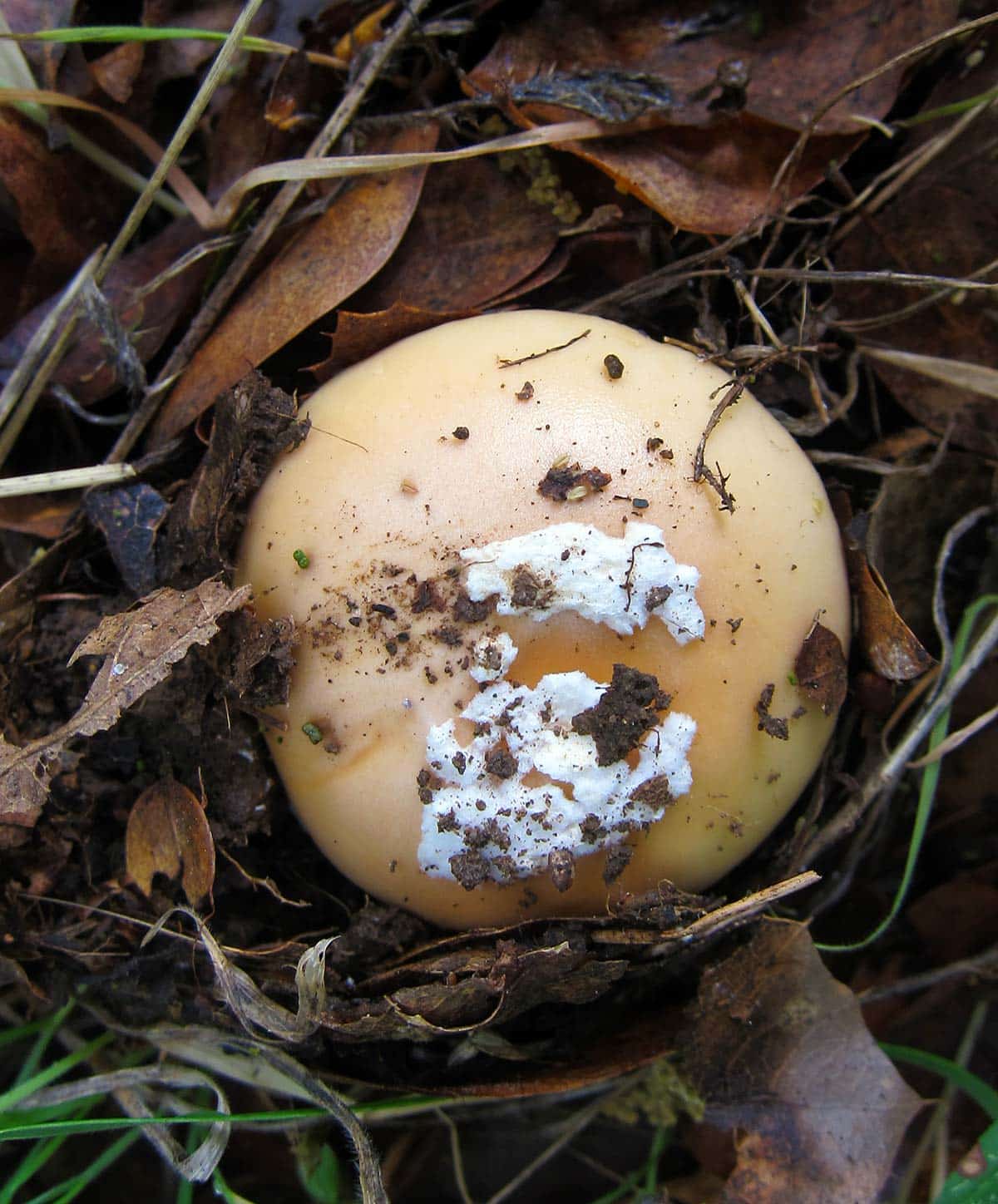 Notice the white "hat." This is the remains of the top of the mycelial "egg." Amanita velosa's hat comes off easily by wiping it with your finger. On many other amanitas, it does not. The hat on velosa is almost always one piece, in the center of the mushroom. Not flecked or polka-dotted like many other amanitas, although I have seen this happen occasionally.
Finally, look at the rim of the cap: It must have striations on it. Both death caps and destroying angels have smooth edges to their caps. But beware: Age can make the caps of other amanitas look as if they have those striations. The best way to tell is when the mushroom has not fully opened. When the cap is still bell-shaped, the presence or absence of striations will be obvious. If they're not obvious, don't eat the mushroom.
It bear repeating one more time: If the mushroom doesn't meet every one of these criteria, chances are it's not Amanita velosa. Don't eat it.
Once you have your stash of velosas, you are in for a thrill. They are, to my mind, the best-tasting mushroom in North America. Better than morels, better than porcini, better than black trumpets or chanterelles. The flavor is almost sweet, yet fully savory, a bit nutty, clean-tasting and mild.
Reportedly they are one of the few mushrooms that is good to eat raw, although I've never done this. I always sauté them in butter or duck fat, with a little salt and black pepper. They need nothing more to enjoy them, although the slightest squeeze of lemon juice can brighten things up. And I always share them with Holly, my girlfriend. If I didn't, then I'd really be in the doghouse…
What is it about Amanita velosa's allure? Taken together, it has all the elements of a torrid, brief affair. She is beautiful, for sure. And part of the allure is her rarity. I've never found more than a pound at a time, and there are years when she simply doesn't show up at all. I've long since gotten over the danger element, having picked this mushroom for the better part of a decade now, but every time I see one it still sends a shot of adrenaline through me.
And picking Amanita velosa is also one of the most intense forages of the year: They are often only up for a few days, and each mushroom can go from perfect to ruined in one hot day. You walk and walk and walk for them, finding one here, one there, each one buoying you for another mile, another hour.
And then, just like that, she's gone. A sweet memory that will linger until she again decides to return to your life.