Acorn Muffins
February 05, 2018 | Updated June 16, 2020
As an Amazon Associate I earn from qualifying purchases.
I have no idea why it took me so long to post a recipe for acorn muffins. Actually, I do. Most recipes I've tried bored me to tears.
After all, you spend so much time making your own acorn flour, why make a muffin that's dry and dreadful… "healthy." Ew. Nope, my acorn muffins would be memorable.
As a conceptual base I decided on a fruit-nut bran muffin, adapted for my forager's life. So I'd use my acorn flour, some frozen red huckleberries, which are very small, as well as acorn grits for texture and interest. Acorn grits are just bits of acorns larger that have had their bitter tannins leached out.
I also gilded the lily with the last of my acorn oil I got from my friend Sam Thayer. (Alas, it's out of stock now.) So use something similar, like walnut, hazelnut or pecan oil instead. Or you could use butter.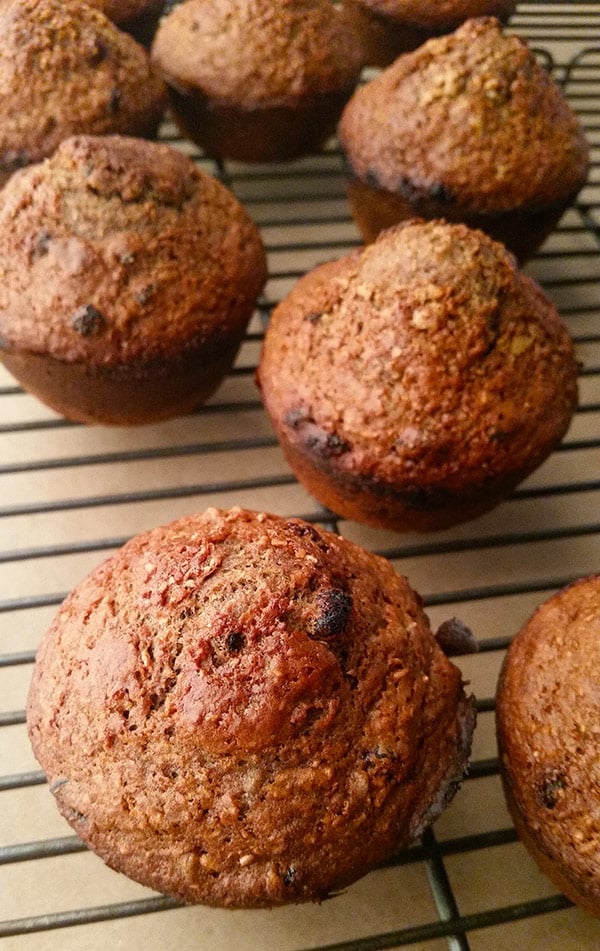 The result is a real muffin — not cake in the shape of a muffin — that is a little bit sweet but not cloying, tender but not so loaded with fat you feel sloggy after eating one, and interesting enough in texture to make you reach for more.
Aside from the obvious breakfast, these are good as trail snacks, a handy pick-me-up for road trips, or just to munch on between meals.
Once made, these acorn muffins will keep in a closed container at room temperature for about five days before getting stale. But I'd eat them within two or three days, and hot out of the oven is best of all.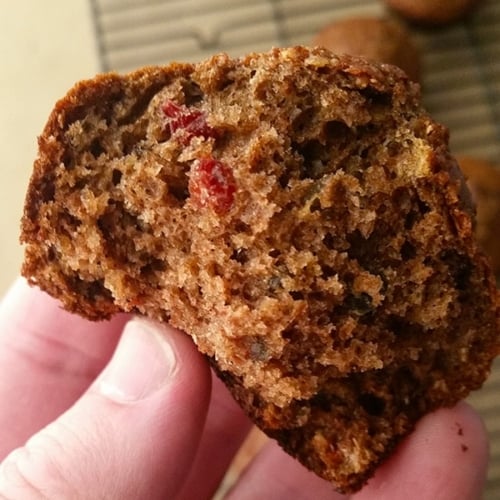 Acorn Muffins
This is my favorite acorn muffins recipe, and I've tried lots of them. If you don't have all the ingredients, you can sub in quite a lot -- even the acorn flour. You can easily make these chestnut muffins by using chestnut flour and bits of shelled, cooked chestnuts.
Ingredients
1 1/3

cup

buttermilk

1

egg, lightly beaten

1/3

cup

melted butter or nut oil

(walnut, hazelnut, pecan)

1/4

cup

brown sugar

1

teaspoon

vanilla extract

(optional)

1/2

cup

wheat bran

1/2

cup

acorn flour

1 1/2

cups

All-Purpose flour

1 1/2

teaspoons

baking powder

1 1/2

teaspoons

baking soda

1/4

teaspoon

salt

1/2

cup

acorn grits or minced chestnuts, pecans or walnuts

1/4

cup

fresh or frozen berries

(lingonberries, blueberries, etc.)

2

tablespoons

caster or maple sugar

(optional)
Instructions
Preheat the oven to 425F. Grease a muffin tin with butter or something similar.

Whisk together the buttermilk, egg, oil, brown sugar and vanilla extract in a bowl. Whisk together the wheat bran, acorn flour, all-purpose flour, baking powder, baking soda, and salt in a larger bowl.

Pour the wet ingredients into the dry ones and add the acorn grits and berries. Stir to combine. You want a thick, sticky batter. Add a little buttermilk if it's too tight, one tablespoon at a time.

Fill the muffin tin with the batter evenly, then sprinkle the maple sugar over them as a topping. Bake for 15 to 18 minutes, until a toothpick comes out cleanly when poked into a muffin. Remove from the oven and let sit for 10 minutes before turning out onto a cooling rack.
Nutrition
Calories:
195
kcal
|
Carbohydrates:
30
g
|
Protein:
4
g
|
Fat:
7
g
|
Saturated Fat:
4
g
|
Cholesterol:
30
mg
|
Sodium:
224
mg
|
Potassium:
150
mg
|
Fiber:
2
g
|
Sugar:
10
g
|
Vitamin A:
227
IU
|
Vitamin C:
4
mg
|
Calcium:
69
mg
|
Iron:
1
mg
Nutrition information is automatically calculated, so should only be used as an approximation.