Well into my adulthood, all I knew about prickly pears was that they are the fruit of a cactus, the Sicilians eat them, and that according to Baloo, they are a bear necessity. I'd filed them in the back of my mind to the "someday I'll get to it" list, along with perfecting bechamel and giving a crap about edible foams.
But when I moved to California I saw them everywhere. Prickly pears are a common landscaping plant, one I've taken to growing in my own yard. They come in all sizes and colors, ranging from teeny to larger than an orange. The larger ones are worth eating as a fruit, but the little ones are best for prickly pear syrup, which is what I first made with this fantastic cactus fruit.
The first time I brought some home, life intervened and they sat in my fridge in that paper bag for nearly a month. Apparently prickly pears store really well in the fridge.
To make a syrup, you need to get these little flavor grenades out of their spiky skins. Second lesson learned: It's not the big, seemingly vicious spines you need to worry about. It's the hairlike "glochids," which cover the fruit, that you need to worry about. Hated, evil glochids. Even the name sounds like some monster in a George Romero film.
With much cursing, I sliced off the skins and dropped the magenta centers into a bowl. I later learned that I was supposed to torch the pears briefly, which burns off the glochids. My friends Elise and Garrett have a method for skinning prickly pears that works well, too.
Once skinned, you now need to separate the seeds from the pulp. Garrett and several others say the seeds are edible, but they are either high or have far stronger teeth than I do; it's like eating a wood chip. Now I've dealt with removing seeds for a syrup before, no time worse than with the fig syrup. Fortunately prickly pear seeds are about 100 times larger than fig seeds, so this step was no biggie.
I buzzed the pulp in a blender, then through a food mill with the coarse die — just large enough to block the seeds. You could stop here, but I am something of a fanatic when it comes to clarity; I developed this particular neurosis from making wine. So I passed the pulpy juice through a fine-meshed sieve and then through cheesecloth.
After that, I added an equal volume of sugar and brought it to a simmer to thicken a little. Prickly pears are loaded with vitamin C, and this is a vitamin that's destroyed by heat, so I wanted to limit the heat as much as possible. Once the sugar was good and dissolved, I turned off the heat and added some citric acid.
Why? Third lesson learned: Prickly pears, which taste like a combination of bubble gum, watermelon and strawberries, are mostly lacking in tartness. An exception is the variety the Mexicans call xoconostle. Without tartness, fruit is not very tasty. Why citric acid? I wanted a neutral acid, not lemon juice. They're close, but not the same. Lemons bring other flavors to the party, and I wanted this to be prickly pear's show.
The result? Pure magenta power.
This stuff rocks. The citric acid gives it just the right tang, and it brings out the watermelon-bubblegum elements and holds the color; it's also a good preservative.
My initial use: Mixed with tequila, of course. Cactus and Cactus. Duh! After that obligatory start, I made a sorbet, a vinaigrette for a salad, a souffle, and a glaze for game birds.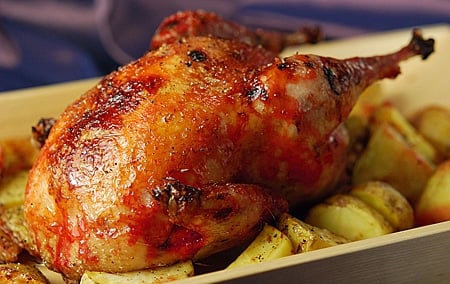 Here is the full glazed pheasant recipe, and keep in mind it works just fine with a regular chicken, and with other glazes such as maple syrup, honey or another fruit syrup.
What's the takeaway? Stretch a bit. Expand your horizons and work with new flavors. Some, like this one, will become new staples for your personal kitchen.
[recipe_name]Prickly Pear Syrup[/recipe_name]
[summary]This is a pretty standard syrup recipe, but using the brilliant magenta fruits of the prickly pear cactus as the fruit. Commercial versions of this syrup are used for fancy margaritas or are poured over pancakes; two excellent ideas.
I strongly advise you to buy citric acid for this recipe. You can often find it in the canning aisle of the supermarket under names like "Fruit Fresh" and the like. You can also buy it at homebrew supply stores. Prickly pears lack any sort of acid tang and need something to keep them from being insipid. Lemons work fine, but I want base ingredients like a syrup to be pure in flavor.
This recipe is a guide: Prickly pears come in all sizes and sweetness levels, so use your taste buds and common sense. My pears were small, mostly about the size of limes. And they were sweet, but not overly so.[/summary]
[yield]Makes 1 quart of syrup.[/yield]
Prep Time:[preptime time=45M] 45 minutes[/preptime]
Cook Time:[cooktime time=30M] 30 minutes[/cooktime]
[ingredient] [amount]5 pounds[/amount] [item]prickly pears[/item] [/ingredient]
[ingredient] [amount]3 cups[/amount] [item]sugar[/item][/ingredient]
[ingredient] [amount]1 tablespoon[/amount] [item]citric acid[/item] or the juice of 2 lemons[/ingredient]
[instructions]
After the pears have been peeled, puree them in a food processor. There will be lots of seeds that you'll need to filter out. For a clear syrup, push everything through a coarse food mill grate or colander — something just large enough to catch the seeds. Take your time and get all the pulp you can. Now run the pulp and juice through a fine mesh sieve. If you really want to get fancy, run the sieved juice through cheesecloth. This is what I did. You should have about 3 cups of juice. Pour this in a heavy pot and add the sugar — whatever your juice volume is, add that much sugar.
Bring it to a simmer over medium heat. Let it simmer for 5 minutes. Turn off the heat and let it cool for 15 minutes. Add the lemon juice or citric acid. Add a little at a time and taste it. Stop adding when it is tart enough for you.
Pour while still hot into clean Mason jars and seal. This should keep for months in the fridge, or you could probably process it in a boiling water bath for 10 minutes and keep it in the pantry; the citric acid helps preserve the syrup.
[/instructions]