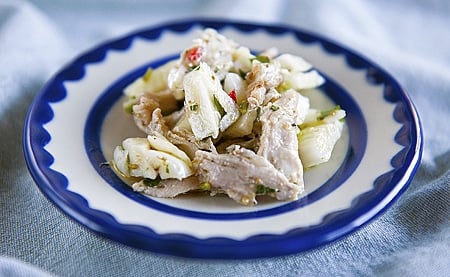 It is high summer, and it is hot, hot, hot. Most of the country right now is suffering from triple-digit heat, and no one wants to be in the kitchen. Thus, this cooling summertime salad that relies on a very gentle poaching method that makes the pheasant (or yes, chicken, if you are not a hunter) breast perfectly tender without allowing it to dry out. A touch of fennel makes things even cooler. Enjoy! ~Hank
pheasant salad with fennel
Cooling salads are the way to go in summer, especially here in Northern California, where 100 degrees is pretty normal. Fennel has the same cooling properties as cucumbers, so I decided to base a pheasant salad on it, adding some fennel pollen and some fresh, green fennel seeds, too.
You can buy pheasant breasts online from MacFarlane Pheasants, and you can also buy fennel pollen online, but the green seeds are not sold, to the best of my knowledge; I grow fennel, so I get them naturally. If you live in the West where wild fennel is common, you can forage for green fennel seeds in July and August. No worries if you can't find the seeds, though — the salad is good without them.
The method for cooking the pheasant — and yes, you can use chicken, partridges, turkey or grouse — is special, and results in very tender meat. You don't use the skin here, either. If you have the skin on your bird breasts, fry it up and eat it as a treat. You poach the skinless breasts in broth very, very gently. It is foolproof.
Let this salad marinate for at least an hour or two before you serve it, so the flavors will all meld. It's good made the day before, too. I like to eat it with a crisp white wine and some crusty bread as a light summer supper.
Serves 2, and can be doubled
Prep Time: 15 minutes
Cook time: 20 minutes
1 whole pheasant or chicken breast, or a half of a turkey breast

1 quart pheasant, turkey or chicken broth

1 medium fennel bulb, chopped

2 teaspoons

fennel pollen

 

1-2 tablespoons green fennel seeds (optional)

1 tablespoon mint leaves, chopped

1 small, red hot chile, minced

Zest and juice of a lemon

1/4 cup good olive oil

Salt and black pepper to taste
Bring the broth to a simmer in a lidded pot. Turn the heat off and drop the pheasant breasts in. Make sure they are submerged. Cover the pot.
Meanwhile, chop the fennel bulb into pieces you'd want to eat. I like them about the size of my thumbnail. Add all the remaining ingredients and set aside.
The pheasant breasts should be fully cooked in 20 minutes. Turkey and chicken breasts are larger and will take longer. A turkey breast might require a full 45 minutes in the warm broth. (Save the broth for soup or something else. It will keep in the fridge a week or so.) When the pheasant is cool enough to handle, shred it into pieces with your hands. I like the texture and appearance of shredded meat, but if this skeeves you out I suppose you can chop it.
Mix everything together and let this sit, covered, at room temperature for an hour or so before eating. You can also store it overnight in the fridge.