Unsmoked Bacon
May 27, 2021 | Updated May 27, 2022
As an Amazon Associate I earn from qualifying purchases.
This is a recipe for basic, unsmoked bacon, Called 'green bacon,' it is an unsmoked lightly cured pork belly made with just salt and spices, no nitrates.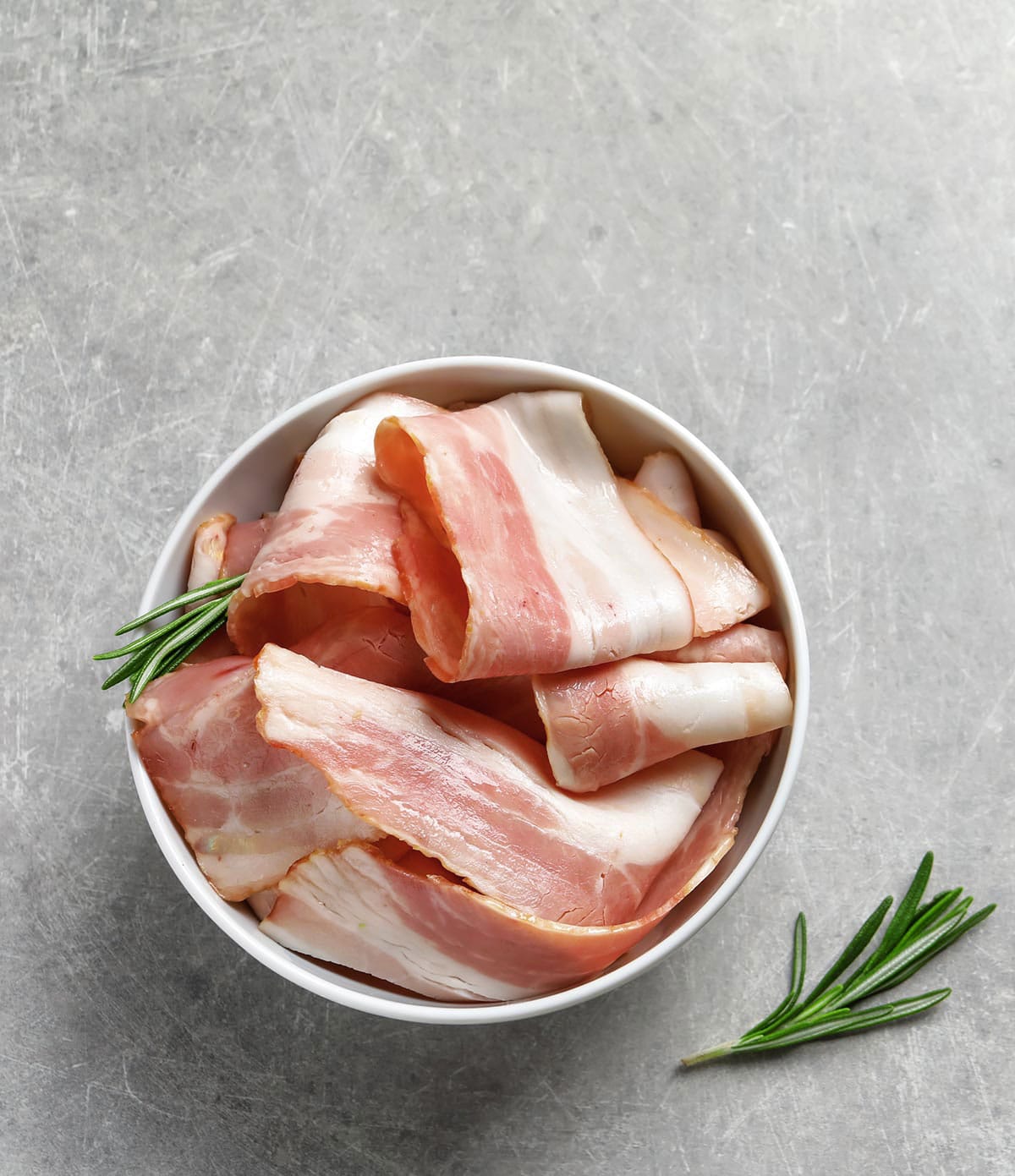 It's not that I am against nitrates, but sometimes I like a lightly cured, fresher-tasting bacon with my sautéed greens, pasta or beans.
A quick word on "uncured" bacon. It's a lie. This product is a ruse by manufacturers exploiting a loophole with the USDA that states that if you make cured meat products with celery concentrate, not traditional sodium nitrite, it is somehow not considered cured.
Um… celery concentrate contains at least as much sodium nitrite as the traditional cure, and it is not always regulated — so you could be ingesting more nitrite with a so-called uncured product than with a traditionally cured one.
But I digress. This unsmoked bacon has neither.
I adapted my recipe from Victoria Wise's American Charcuterie, which is one of my favorite charcuterie books; Wise was one of the first chefs at Chez Panisse in Berkeley back in the early 1970s.
My unsmoked bacon really hinges on juniper berries, which are available in some good supermarkets, or you can order them online. If you can't find them, rosemary is an OK substitute.
I use an equalization cure here. That means you need a kitchen scale. You measure the slab of pork belly, then measure out 2 percent of that weight in sea or kosher salt. Massage it into the meat and fat, then ideally you vacuum seal it and cure it in the fridge.
Because there is no smoke, no nitrate and such a short cure, unsmoked bacon only lasts about 10 days in the fridge, tightly wrapped. But it freezes fine.
Note: This is, essentially, weakly cured salt pork. If you want to make salt pork double the salt or even bury the pork belly in salt. Salt pork is meant to be very stable over time, and it's never really eaten on its own; it's usually added to salt something else, like clam chowder or beans.
If you are looking for other sorts of bacon and bacon-like things, here are all my various bacon recipes for you to browse.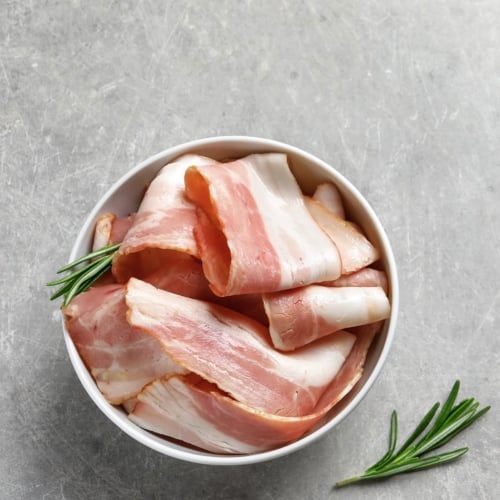 Unsmoked Bacon
A word on the pork belly: Buy the best quality you can find, preferably from a local farmer who raises high-quality pork. Older pigs make better bacon, and it goes without saying that fatter pigs make better bacon.
Ingredients
1

kilo

pork belly

(2.2 pounds)

1/4

cup

brown sugar

20

grams

sea salt,

about 2 rounded tablespoons

3

tablespoons

black pepper

3

tablespoons

of crushed juniper berries

(optional)

2

tablespoons

crushed dried rosemary

1

tablespoon

dried thyme
Instructions
Get a lidded container just about large enough to contain the pork belly. Cut the belly into a nice rectangular shape to fit. Use the trimmings in sausage, or slow-cook them.

It is your choice to leave the skin on the belly or cut it off. If you are planning to slow-cook your finished bacon, like with beans or by itself, leave the rind on: It is delicious once cooked. But if you plan on this with sautéed greens or in place of commercial bacon, slice the rind off carefully with your sharpest knife.

Mix the salt and all the herbs and spices and rub them into the pork belly. Coat the belly with any remaining spices.

Put the belly in a large freezer bag, or wrap in plastic wrap, or vacuum seal it, then put it into the fridge. Keep the bacon in the fridge for 5 to 7 days. Turn over the slab every day. It will weep moisture; this is a good thing. Just leave it in the container.

After the bacon is cured, take it out and rinse it off with cold water. Pat the bacon dry with a paper towel and set it on a wire rack to dry a bit. You can leave it on the counter for a few hours, or overnight in the fridge.

Cut it into pieces you think you'll use within 10 days and freeze the rest.
Notes
Note that the prep time does not include curing time. 
Nutrition
Calories:
373
kcal
|
Carbohydrates:
4
g
|
Protein:
7
g
|
Fat:
36
g
|
Saturated Fat:
13
g
|
Cholesterol:
49
mg
|
Sodium:
410
mg
|
Potassium:
144
mg
|
Fiber:
1
g
|
Sugar:
3
g
|
Vitamin A:
31
IU
|
Vitamin C:
1
mg
|
Calcium:
17
mg
|
Iron:
1
mg
Nutrition information is automatically calculated, so should only be used as an approximation.