How to Make Green Salt
August 15, 2013 | Updated May 10, 2022
As an Amazon Associate I earn from qualifying purchases.
It seems "green salt," salt made from various species of salicornia, is having a moment. I've been making it for a decade, and I learned the general idea from the Tlingit of Alaska, who have been using dried sea beans, as they are most commonly known in the US, for millennia.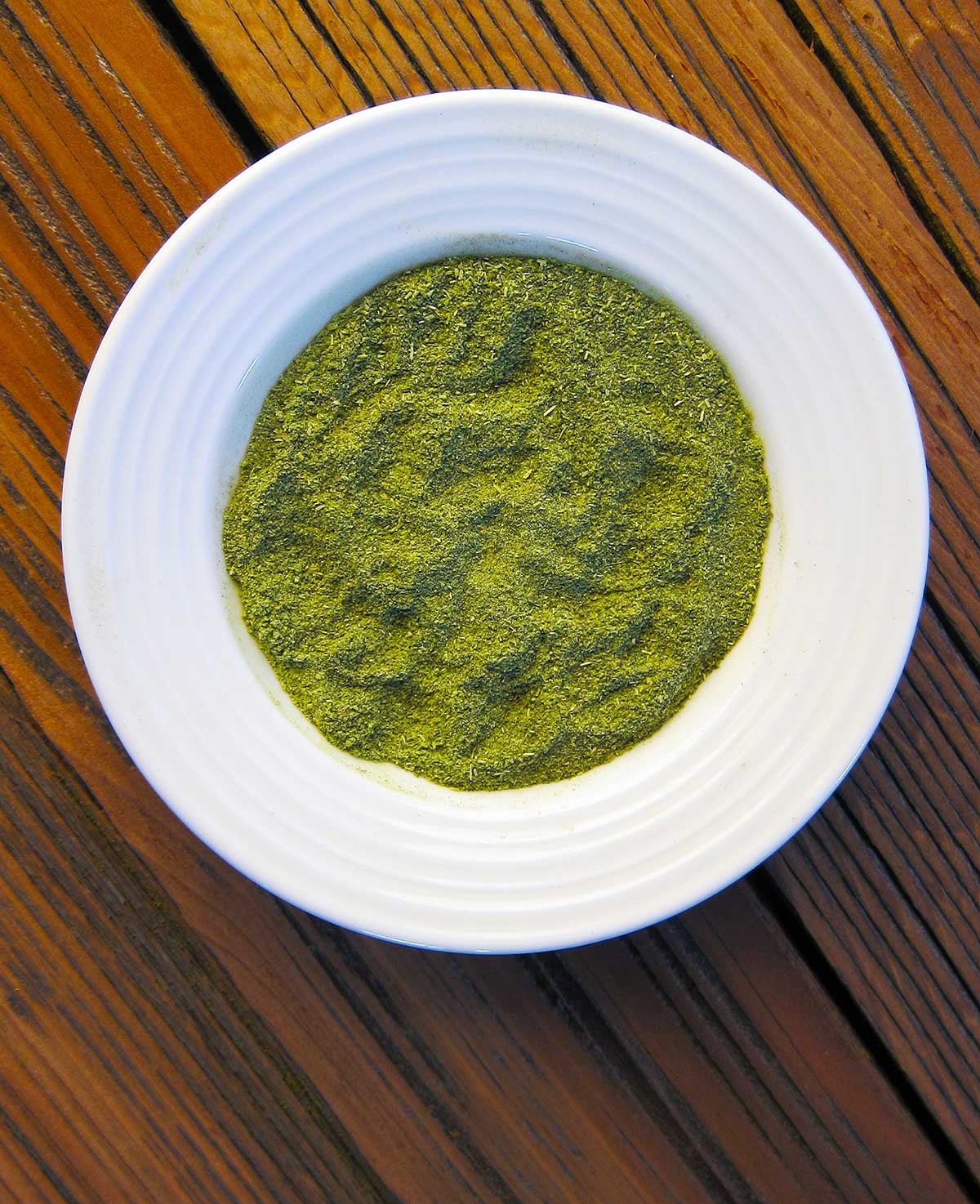 Recently, I've seen publications like the New York Times write about green salt, and I actually saw some for sale in Monterrey, Mexico, where it was labeled sal verde, which is just "green salt" in Spanish. The main seller of this stuff appears to be a company in Ensenada, Mexico. Nice to see a business in Baja taking off.
Apparently green salt is lower in sodium than regular salt, with added nutrients and fiber. Yeah, cool, cool. I just like the stuff because a) it's pretty, and b) I can make it easily. And so can you.
Making green salt at home is super simple — if you live near the ocean, or where its only ingredient, salicornia, lives. There are many species of this plant, and most live along the ocean. But not all. It will live in the alkali areas of the Great Basin, Manitoba and elsewhere.
I wrote a tutorial on how to find, harvest and prepare sea beans here.
I've been eating salicornia, which I grew up calling saltwort — samphire, glasswort, pickleweed, sea beans, sea asparagus, and chicken feet are just some of this plant's other names — since I was a toddler. They are one of my all-time favorite vegetables: Briny and crunchy, they are by far the best thing to add punch to a tuna or seafood salad, and they make great pickles, too. (There's a recipe for pickled sea beans in my first book.)
But it wasn't until 2013 when I thought about drying them.
I was up in Kake, Alaska with my friend Tyson Fick, and we went to the home of a Tlingit woman named Kim Moler; Kim showed us a variety of traditional ways to preserve native foods. One of the things she showed us was a little jar of dried sticks.
Only they weren't sticks. They were dried sea beans. Kim said she used these dehydrated sea beans as a seasoning all winter. I tasted some. Very crunchy (salicornia has a lot of silica in it), briny and fun to eat. Interesting… It immediately occurred to me that you might be able to make a green salt from them, if you could grind the dried sea beans into a powder.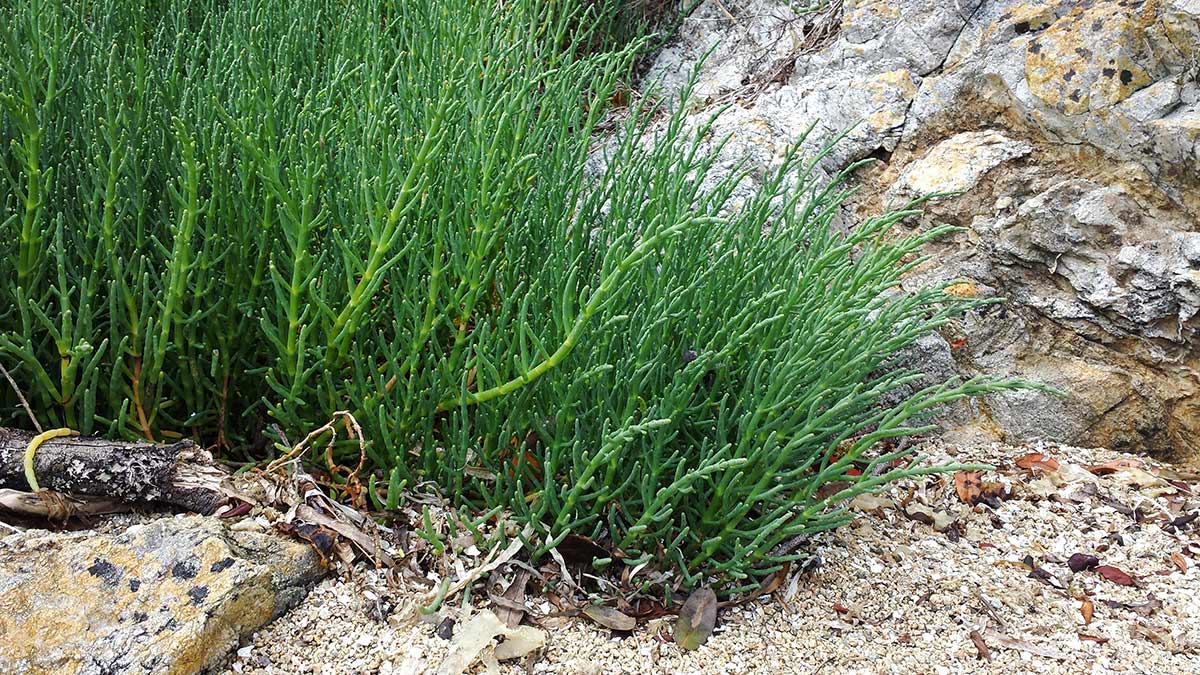 I couldn't wait to give it a go once I returned home. I started with about 12 ounces of fresh sea beans.
Kim's dried sea beans had turned olive drab, so I decided to blanch mine by boiling them in salty water for 2 minutes, then shocking them in an ice water bath. This set the color pretty well.
Then I put them in my dehydrator set to 105°F overnight. I wanted them completely dried out and crunchy. When they came out they looked like this:
This is basically what Kim's looked like, albeit a little greener. Not sure if blanching did any good, but I'd like to think it did. From there, I had to figure out how to grind them. I started by breaking the sea beans into little pieces by hand and then stuffing them into a standard spice grinder. That worked well, and by using a fine-mesh strainer I started to get some pretty green powder.
But I noticed there was a hard core that was not grinding very well. This I took care of the old-fashioned way: With a big ole' mortar and pestle.
It took a good 4 to 5 minutes to grind everything to a fine powder, but it worked. Green salt. Voila!
Nowadays I have a spiffy Vitamix blender with a dry bowl attachment that does the trick in about 2 minutes. But the regular spice grinder + mortar and pestle works really well if your blender isn't fantabulous.
The result is a unique, salty, vegetal powder that works beautifully sprinkled on white fish. I poached some rockfish in butter, then sprinkled the green salt on top. Super pretty!
Green salt will keep at room temperature, in a dark place, for years. It will brown over time, though, so if you don't plan on using it a lot, keep some in the freezer.
The only drawback: A very low yield. Just about 12 ounces of fresh sea beans ground down into less than 1/4 cup of sea bean salt. But it was totally worth the effort, and salicornia often grows in swaths larger than football fields, so you can make more — just check your local regulations to make sure it's legal to pick in your area.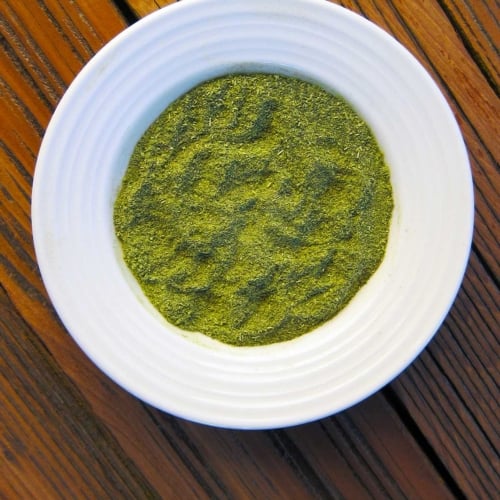 How to Make Green Salt
Remember you have a low yield with dried salicornia, but since it's basically a salt substitute, a little goes a long way.
Ingredients
12

ounces

sea beans

(salicornia species)
Instructions
Wash your sea beans well to remove any sand they might have on them.

OPTIONAL STEP: Boil your sea beans in salty water for 1 to 2 minutes, then shock them in a bowl of ice water. This is only for color. The blanching step keeps the salt greener.

Dehydrate between 90°F and 105°F until hard and brittle, about 8 to 12 hours.

Break up the dried sea beans with your fingers, then grind in a spice grinder or a strong blender with a dry blade attachment. Sift the powder to remove any larger bits, and regrind those either in the grinder, or with a mortar and pestle.

Store in a closed container in the dark indefinitely. It will brown slowly over time, so if you don't use it often, keep it in the freezer.
Notes
This recipe makes about 1/4 cup and can be scaled up infinitely. 
Nutrition
Calories:
2
kcal
|
Carbohydrates:
1
g
|
Protein:
1
g
|
Fat:
1
g
|
Sodium:
357
mg
|
Fiber:
1
g
|
Sugar:
1
g
Nutrition information is automatically calculated, so should only be used as an approximation.