Polish Fermented Mushrooms
January 31, 2013 | Updated June 06, 2022
As an Amazon Associate I earn from qualifying purchases.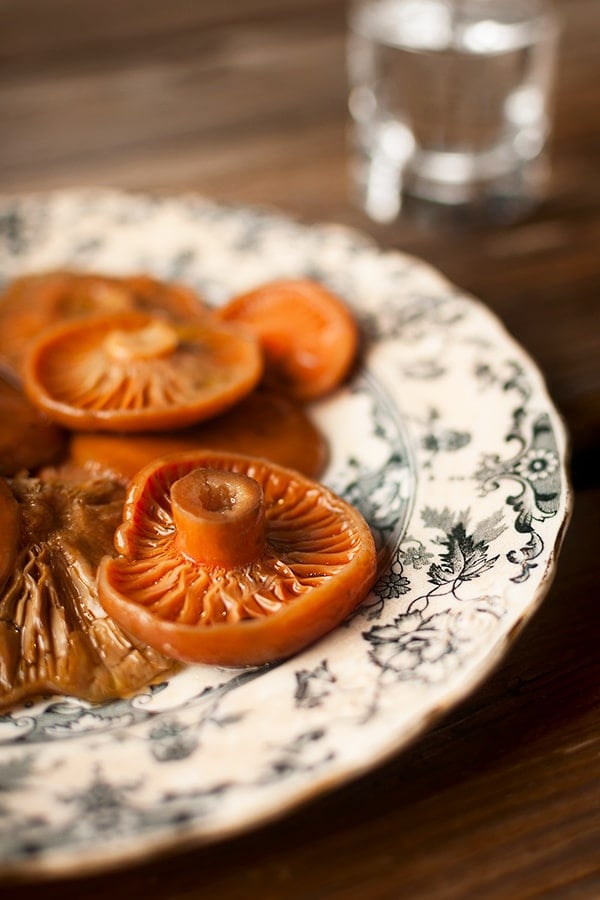 If you think fermented mushrooms sounds, well, unappetizing, think again. Walk with me a moment…
Every time I take a newcomer out mushroom hunting, we come across various quasi-edible mushrooms, notably members of the russula family. "Are these edible?" they ask. Well… the Russians eat 'em, I'll say, usually salted and then pickled. Even the well-named "emetic" russula mushrooms can be rendered edible by this method, I'll say.
"Well, are they good that way?" That's when I had to admit that um, well, actually I'd never done it.
Now I have. Turns out fermented mushrooms is a popular way to preserve them all over the Slavic world, but I'd always been a little leery of it for vague reasons, mostly having to do with fears of listeria or heat-volatile mycotoxins that salting won't denature.
A little research turned up that there indeed have been several poisonings related to the Russian method of salting mushrooms. Even my colleague Sandor Katz in his mega-awesome book The Art of Fermentation hesitates when writing about lacto-fermented mushrooms.
Because so little research has been done on mushroom fermentation, I would recommend cautious experimentation.
Not exactly a ringing endorsement from the usually enthusiastic Katz.
I knew about a Russian salted mushroom recipe before I read Katz's book, and in fact he cites it: It's from Anne Volokh's The Art of Russian Cuisine. I started with that recipe.
But which mushrooms to use? I didn't want to start with russulas. But I didn't have to. As it happens, there is another mushroom that is prized for this method above all others: Lactarius deliciosus, the saffron milk cap.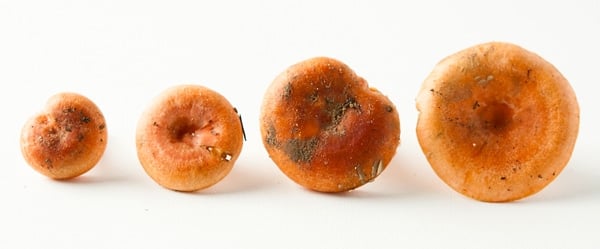 Mostly I find this mushroom after its aged to the point of nastiness. When they get old or are bruised, this mushroom stains puke green. Blech. But fresh and young, they are a sunny, welcoming orange with pretty concentric rings on their caps. Eaten like a regular store-bought mushroom, however, saffron milk caps are pretty disappointing: They are grainy and not terribly flavorful. Maybe they'd improve once salted down?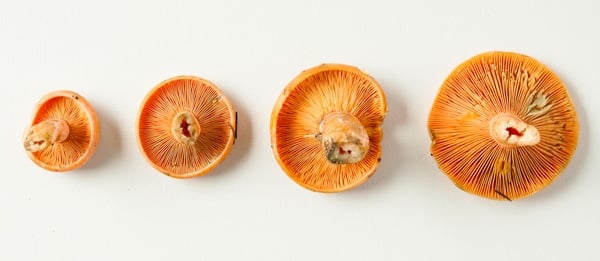 So one day, after I came home with a pound or so of pretty milk caps, I made Volokh's recipe. You basically salt down the mushrooms with garlic and other spices, then put a plate over them and weigh it down. Doing this squashes the mushrooms and that, combined with the salt, pulls out their water and forms a brine. They then ferment for a week or two before you eat them.
I did this, but the first thing I noticed was that the mushrooms turned a dingy brown.
I was still pretty leery of them, so just to be sure I boiled some brine and poured the boiling brine over the mushrooms. There they sat in my fridge uneaten. A few days later, I bought another book, Polish Heritage Cookery. Paging through it, I noticed that it too had a salted mushroom recipe, grzyby kwaszone. Unlike the Russian version, this one requires you to boil the mushrooms for a few minutes first. Aha! This seemed far more sensible.
So I went out and got some more milk caps. This time, when I boiled them, their pretty orange color held! I fermented them in the same way as I did with the Russian ones, but once these were done they kept their color. I don't know if it was the color or the boiling that made me want to eat these mushrooms, but I suddenly felt more at ease.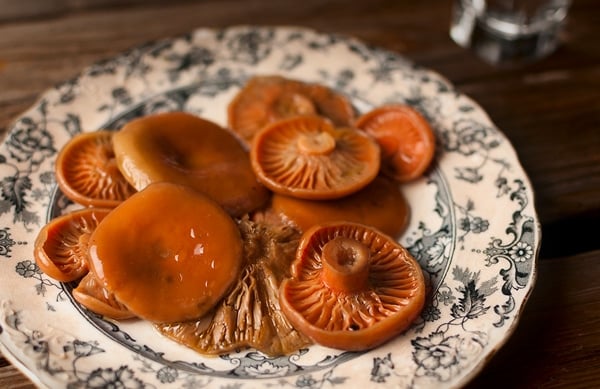 Slavs typically eat their salted mushrooms with bread and vodka. I know, this must shock you, but really, they do drink vodka on occasion. So I got some good rye bread and poured myself a shot of vodka. Here goes…
Wow! While the grainy texture of a sautéed saffron milk cap is nasty, once salted and fermented, the texture become meaty and pleasant. You can definitely taste the garlic and juniper, but the mushrooms were salty. Really damn salty. Volokh says they are often soaked in fresh water for a few minutes before they're eaten, and I see why.
This recipe is definitely worth trying, especially if you combine the mushrooms with good dark bread and some beer, vodka or akavit.
Na zdrowie!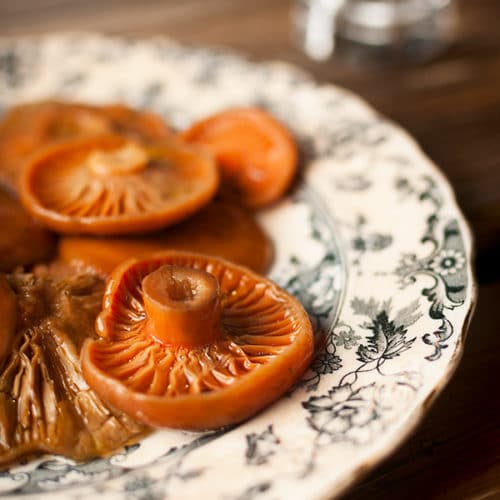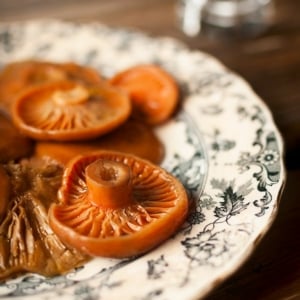 Polish Fermented Mushrooms
I think it is pretty much impossible to buy Lactarius deliciosus, but the Russians and Poles also use porcini, honey mushrooms, chanterelles, russulas and, yes, regular button mushrooms. Not sure why, but most sources say to ferment only one variety of mushroom per batch. I pickle my mushrooms in a one-gallon stoneware crock, but you could use any non-reactive container. Store them in brine in a quart mason jar in the fridge for several months.
Ingredients
3

to 4 pounds fresh mushrooms,

cleaned and stems removed

Kosher or pickling salt

6

to 10 juniper berries, crushed

(optional)

1

teaspoon

dried dill,

or 2 tablespoons fresh

1

teaspoon

caraway seed

2

teaspoons

cracked black pepper

2

garlic cloves

smashed
Instructions
Boil the mushrooms in salted water for 5 minutes. Drain and let them cool in one layer on a paper towel or tea towel.

Mix all the herbs and spices in a small bowl. Lay down a thin layer of pickling or kosher salt at the bottom of a crock or other non-reactive container, then lay down a layer of mushrooms. Sprinkle with some of the herbs and spices. Add a bit more salt. Keep layering like this until you have all the mushrooms in the crock. Finish with another layer of salt.

Place a clean plate or other top on the mushrooms and weigh it down. I use a quart Mason jar filled with water. Let this sit in a cool, dark place (no need to refrigerate) for 4 days. After the first day, check to see that the mushrooms are submerged in their own brine. If not, boil 1 pint of water with 2 tablespoons kosher salt and let it cool. Pour over the mushrooms and continue fermenting.

After 4 days, move the mushrooms and brine and spices to clean Mason jars and refrigerate. They will keep for several months.
Notes
Note that prep time does not include fermenting time. 
Nutrition
Calories:
33
kcal
|
Carbohydrates:
6
g
|
Protein:
4
g
|
Fat:
1
g
|
Saturated Fat:
1
g
|
Sodium:
8
mg
|
Potassium:
615
mg
|
Fiber:
1
g
|
Sugar:
2
g
|
Vitamin C:
1
mg
|
Calcium:
29
mg
|
Iron:
1
mg
Nutrition information is automatically calculated, so should only be used as an approximation.