Pickled Chanterelle Mushrooms
August 16, 2012 | Updated May 19, 2020
As an Amazon Associate I earn from qualifying purchases.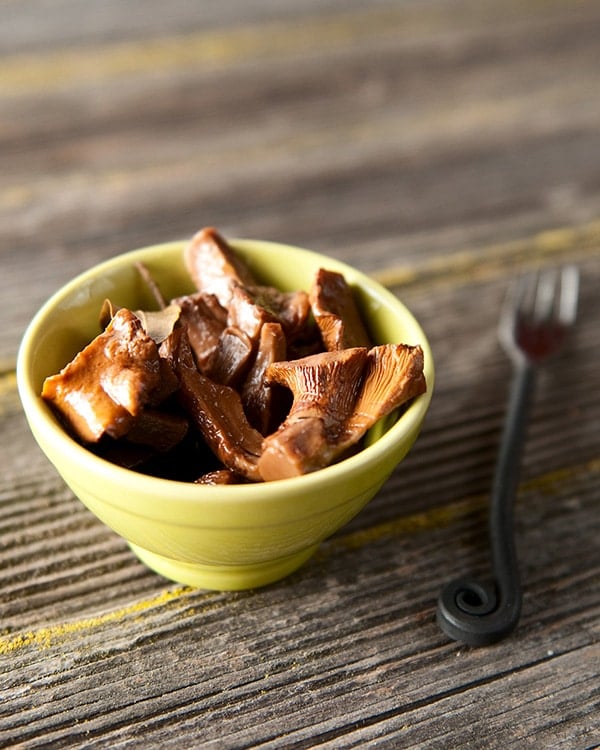 Chanterelle mushroom season is almost the entire year, depending on where you live. It starts in the Deep South, where you can have chanterelles as early as May. Summertime is when most of the country gets its chanties, and early autumn they show up in Canada. One real fall hits, our Pacific chanterelles come in, and they can stick around until March.
When the season is on, you can rack up big numbers of these pretty golden treasures. Dealing with abundance is usually a matter of drying. Most mushrooms are perfectly good dehydrated and stored in the pantry.
Not chanties. Chanterelles lose almost everything that makes them special once they've been dried out. The only thing I've ever successfully done with dried chanterelles was infuse them with vodka. Weird, but good.
Now pickled chanterelle mushrooms are an entirely different story. When I first delved into pickling mushrooms, I wasn't too optimistic about the results. I grew up in an era of canned mushrooms, which are slimy and so unpleasant I am certain it is a reason that most Americans won't eat any mushrooms to this day.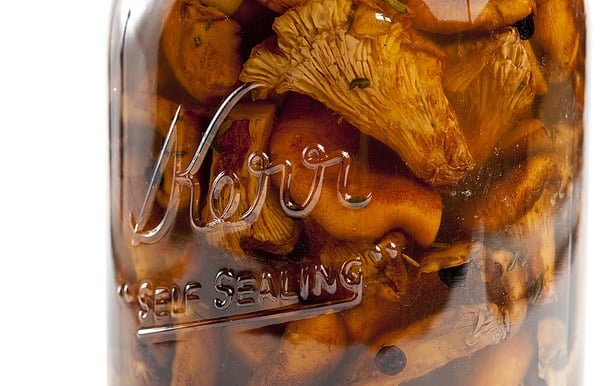 Little did I know that pickled mushrooms are a classic appetizer in Eastern Europe. I use a Polish recipe for salted, fermented mushrooms mostly with saffron milk caps. But that works with chanterelles, too. You can find pickled mushrooms on the antipasti plates of Italy as well (Here is my Italian method of preserving mushrooms).
Far from being limp and slimy, pickled chanterelle mushrooms are firm and zingy — a great addition to a pickle plate, or alongside cured meats.
Once made, these will keep for a year on the shelf, although you should refrigerate the jars after opening.
Can you do this with other mushrooms? You bet. I've done it with blewits, hedgehogs, Amanita velosa, porcini and honey mushrooms. Even button mushrooms are good this way — just be sure to dry saute. It makes all the difference.
Pickled Chanterelle Mushrooms
The key to these pickles is to dry saute your chanterelles first. You clean your 'shrooms, cut them into large pieces (leave small mushrooms whole) and put them into a hot frying pan dry. Shake them around as they heat and soon the mushrooms will give up their water. Doing that helps both the flavor of the mushroom and their ability to absorb the vinegar. If you don't want to can these mushrooms, they will be perfectly fine in the fridge for up to 6 months.
Ingredients
1

to 1 1/2 pounds chanterelles or other mushrooms

2

cups

white wine vinegar

1/2

cup

water

1/3

cup

sugar

2

tablespoons

kosher salt

2

bay leaves

2

teaspoons

dried thyme

1

teaspoon

black peppercorns
Instructions
Get your canning gear ready and a large pot of water hot. Clean your mushrooms of any dirt, mold or wet spots. Cut large ones in half and keep small chanterelles whole.

Dry saute the mushrooms in a large frying pan. When they give up their water, sprinkle 1 tablespoon of salt on them, along with the thyme. Once the chanterelles have given up most of their water, pour over the rest of the ingredients and bring to a boil. Turn the temperature down to a simmer and cook for 5 minutes. Turn off the heat.

Fish out the mushrooms and pack firmly into jars, leaving at least 1/2 inch headspace. Make sure each jar gets a bay leaf and some peppercorns.

Ladle in the cooking liquid. Make sure it covers the mushrooms. Add more white wine vinegar or distilled vinegar to top off if necessary. Wipe the rims of the jars and seal. Process in a boiling water bath for 15 minutes.
Nutrition
Calories:
15
kcal
|
Carbohydrates:
3
g
|
Protein:
1
g
|
Fat:
1
g
|
Saturated Fat:
1
g
|
Sodium:
583
mg
|
Potassium:
10
mg
|
Fiber:
1
g
|
Sugar:
3
g
|
Vitamin A:
3
IU
|
Vitamin C:
1
mg
|
Calcium:
4
mg
|
Iron:
1
mg
Nutrition information is automatically calculated, so should only be used as an approximation.