Venison Merguez Sausages
January 05, 2015 | Updated December 23, 2020
As an Amazon Associate I earn from qualifying purchases.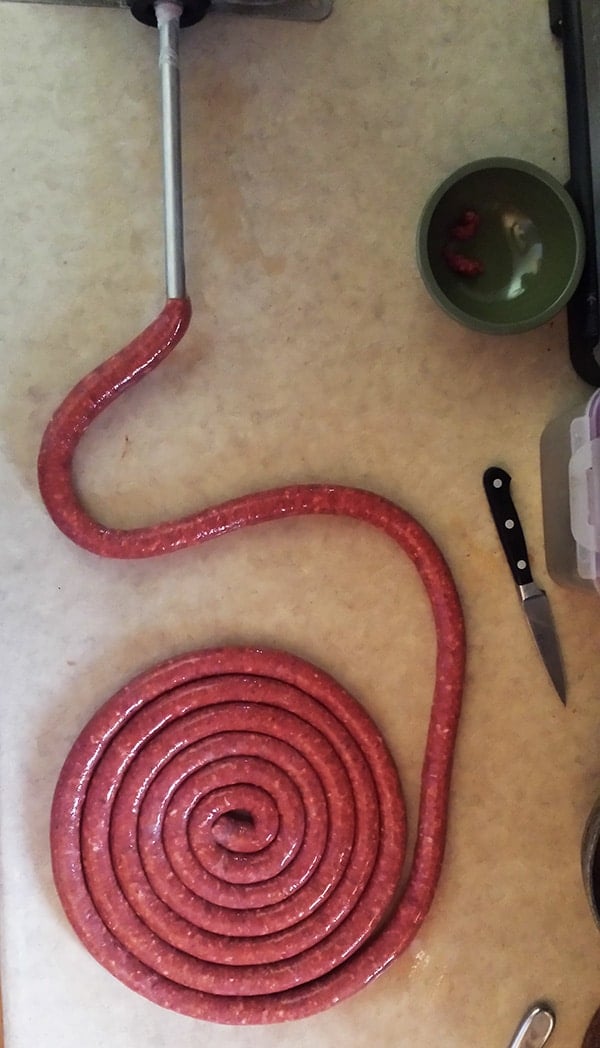 Merguez sausage is the signature sausage of North Africa, especially Morocco and Tunisia. It is normally made with lamb (or mutton) and lamb fat, but in this case I am using venison; either works, and you can use beef or, untraditionally, pork.
Tunisian merguez sausages are spicy, almost exotic tasting. I've made merguez off and on for years, an was in fact featured in Food & Wine for my merguez back in 2010. This recipe is my latest rendition of that one.
Merguez hinges on harissa, a chile paste they use in North Africa that's a combination of sweet and hot chiles, garlic, coriander, caraway, mashed with a little lemon and olive oil. I buy it in tubes imported from Tunisia. It's easily available in supermarkets now.
Harissa is vital to the flavor here, and you can buy it in specialty shops, big supermarkets, you can buy harissa online, or you can make it yourself.
Interestingly, while merguez turns out bright red when uncooked, it loses a lot of that color when grilled. Oh, and if you are worried that these links will blow your head off with heat, think again. Yes, they are spicy, but it's not really a hot spicy, just interesting.
Merguez is a grilling sausage, but I've fried them in clarified butter, and put them in braises and stews, too. They also make one helluva hot dog substitute!
One interesting trick would be to smoke them over oak or fruit wood, as cool and as slowly as you can to partially dry them out. Then hang in the fridge a few days before storing or serving. This makes them a little like kabanosy, my favorite meat stick.
New to making sausage? You can find my detailed tutorial on how to make sausages at home here.
Merguez Sausages
So there are all kinds of ways to vary this recipe. Let's start with the meat. Traditionally merguez is 100 percent lamb, so you can do that if you want. For venison, you can use 100 percent venison if the animal was fat (read this article on venison fat if you are nervous about using it), or 4 pounds lean venison with 1 pound pork fatback or beef fat, or 3 pounds venison with 2 pounds fatty pork shoulder. Sheep casings make this sausage, and you can sometimes get them in good butcher shops, or you can buy sheep casings online from The Sausage Maker. Yes, you can do merguez in hog casings, but it's obviously not traditional.
Ingredients
4

pounds

venison

1/2

pound

venison fat

1/2

pound

pork fatback

34

grams

kosher salt,

about 3 rounded tablespoons

1

tablespoon

minced garlic

1

tablespoon

sweet paprika

2

teaspoons

black pepper

2

teaspoons

ground cumin

2

teaspoons

ground coriander seed

1/4

cup

harissa

2

tablespoons

red wine vinegar

1/3

cup

water

Sheep casings
Instructions
Get out about 20 feet of sheep casings and soak them in warm water. If you don't trust your source, run water through them to check for punctures or weak spots.

Make sure all your equipment is cold; freeze your grinder's grinding plate and blades, and the bowl you will put the meat into for 30 minutes to an hour. Do the same for the meat and fat. When everything's nice and cold, mix the meat and fat with the salt and all the dry spices.

Grind it all through a coarse plate; I use a 10 mm plate. Test the temperature of the mixture, and if it's 35°F or colder, go ahead and grind it all again through a fine die, like a 4.5 mm or thereabouts. If it's warmer, put the mix back in the freezer to chill until it hits 35°F or cooler.

Once the sausage has been ground twice, test the temperature again to make sure it's cold. I prefer to chill the mix down to 28°F to 32°F for this next stage. Chill the mix and when it's cold enough, take it out and add the harissa, vinegar and water. Now, mix and knead the mixture in a big bin or bowl with your hands for a solid 2 minutes — your hands will ache with cold, which is good. You want everything to almost emulsify.

Stuff the sausage into sheep casings rather loosely. It's pretty important that you have a narrow stuffing tube for your stuffer, or the sheep casings will break. I like my merguez to be about 6 to 8 inches long, but it's your choice. To twist them into links, tie off one end of the coil you just made. Pinch off links with your two hands and roll the link between them forward a couple times. Move down the coil and repeat, only this time roll backwards a few times. Repeat until you do the whole coil. (This video shows how I do it.) Now look at the links, which will probably have air pockets in them. Use a sterile needle or sausage pricker (set it aglow in your stovetop flame) to puncture the casing over all the air pockets. Gently compress the links together to squeeze out the air pockets and rotate the links a bit more to tighten; this takes practice.

Hang your links for at least 1 hour if your room is warm, and up to overnight if you can hang them in a place that's 40°F or cooler. Don't let them freeze yet. If you are not hanging overnight, let the sausages continue to dry uncovered in the fridge overnight before you seal them up and freeze. Merguez will keep a week in the fridge and a year in the freezer, if you have vacuum-sealed them.
Nutrition
Calories:
167
kcal
|
Carbohydrates:
1
g
|
Protein:
17
g
|
Fat:
10
g
|
Saturated Fat:
4
g
|
Cholesterol:
67
mg
|
Sodium:
603
mg
|
Potassium:
260
mg
|
Fiber:
1
g
|
Sugar:
1
g
|
Vitamin A:
160
IU
|
Vitamin C:
0.6
mg
|
Calcium:
9
mg
|
Iron:
2.7
mg
Nutrition information is automatically calculated, so should only be used as an approximation.