Italian Salsa Verde with Halibut
As an Amazon Associate I earn from qualifying purchases.
Long before I ever cooked Mexican food, the only salsa verde I knew was Italian salsa verde — and since I've been cooking Mexican food for close to 20 years, that goes back a ways.
Salsa verde just means "green sauce," and that is what this is: A mix of chopped green herbs, mostly parsley, olive oil, lemon juice, and, sometimes, things like mashed anchovies, capers, garlic, black pepper and red pepper flakes.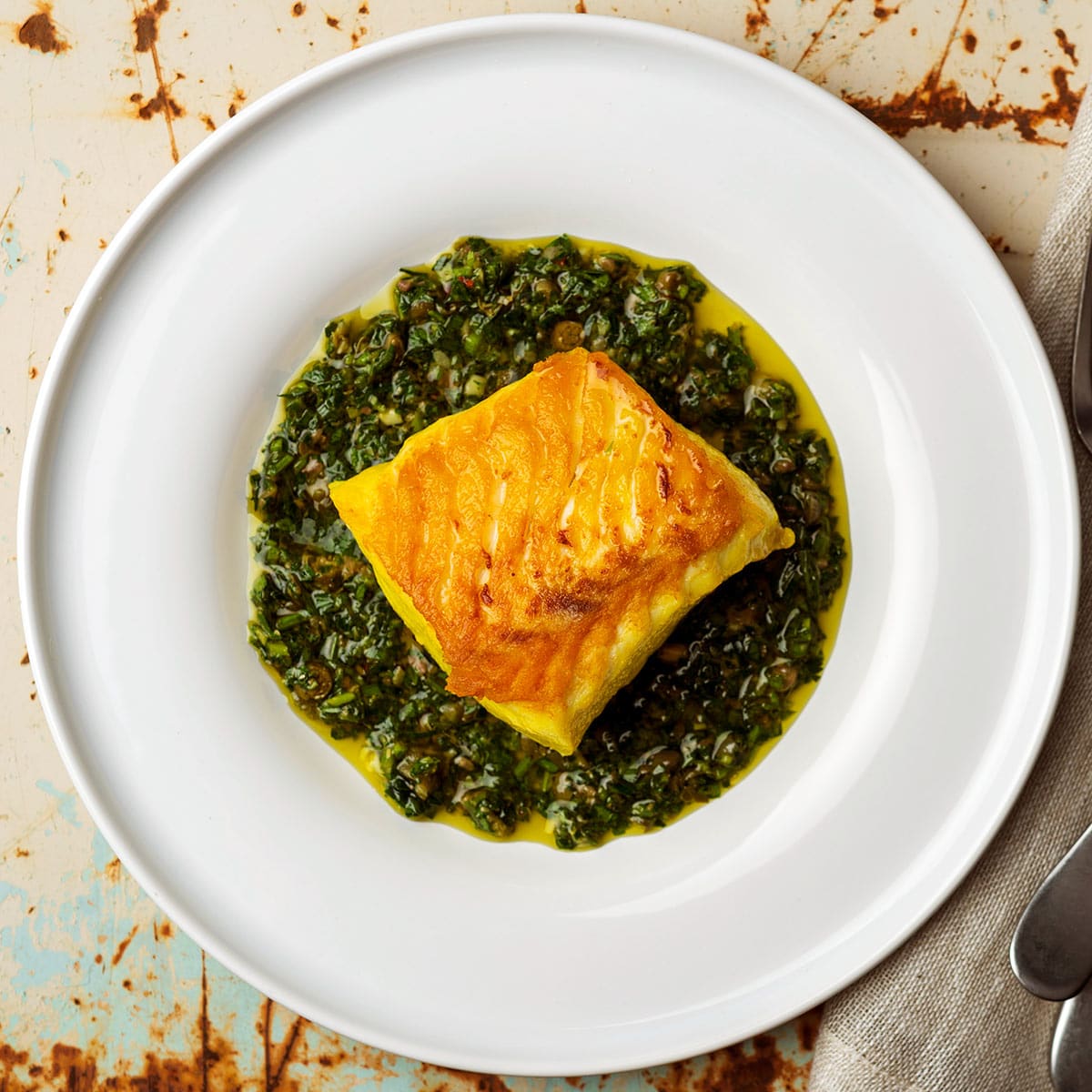 Ever since I learned how to make this Italian salsa verde recipe, shortly after I graduated college in the early 1990s, it has been my go-to whenever I want to highlight something delicate, like white-meat poultry or especially fish.
Pretty much every country in Europe has its "green sauce" that is served at room temperature. You are likely familiar with the Provencal and Italian pesto or pistou. I have lots of variations on this classic here on this site (Scroll down for them). And I make a German green sauce that I also serve with fish.
These sauces, along with Italian salsa verde, are used very much the same way you would use Argentine chimichurri, to which it is related. Think of it a bit more like a very loose pesto than a Mexican salsa.
You make it either with a lot of chopping, some chopping plus pounding in a big mortar and pestle, or in a food processor. Do not use a blender; the texture will be wrong.
It is great with fish and poultry, yes, but you can also use Italian salsa verde with pasta, or you can add it to risotto at the last minute. It makes a damn good salad dressing, too. I've also seen it served with porchetta and steak.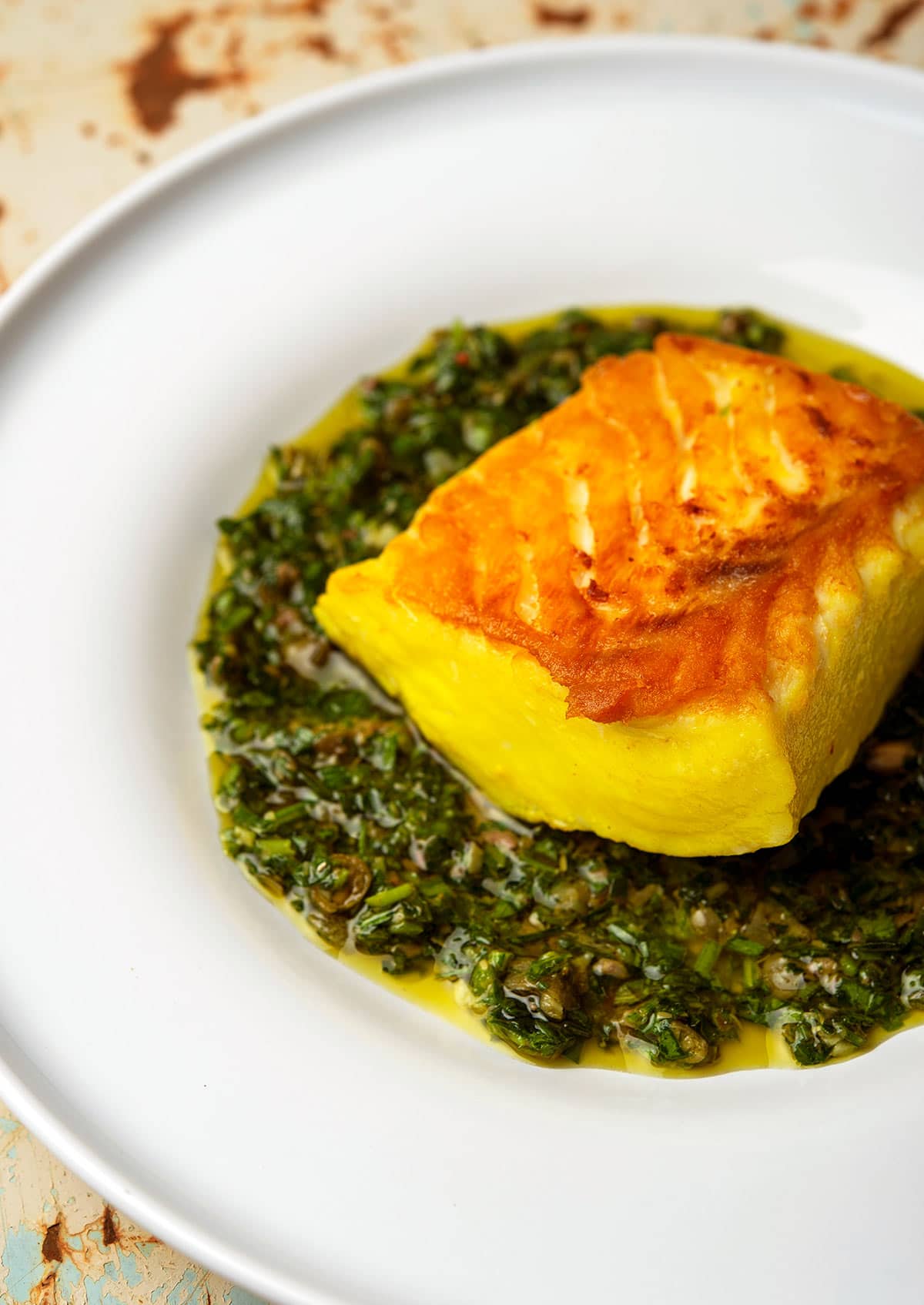 I am betting you've noticed that the fish in these pictures is yellow. That's because I brined it with saffron, one of my favorite spices. Doing this not only colors the fish yellow, you get that grassy aroma of saffron along with it, even after it's been seared.
Any fish you have will work here, and I am fond of the combination of Italian salsa verde and salmon. Chicken, pheasant, quail or turkey are good choices, too.
As for the salsa verde, you can freestyle a bit here with the herbs. You want it to be mostly parsley, but any combination of nice herbs will work. Other good alternatives would be chervil, lovage, a little mint is nice, as is a little fresh thyme. Avoid cilantro here. Celery leaves are good though, as is savory. A little fresh oregano is good, too.
And if you think this will be icky-fishy because of the anchovies, you'd be wrong. You don't taste them, but they add a hit of umami-savoriness that really ties things together. If you choose to use them, don't salt your sauce until the end because the anchovies are inherently salty.
One last thing: Italian salsa verde is a good place for that fancy extra virgin olive oil you might have lying around. You'll taste it in this sauce.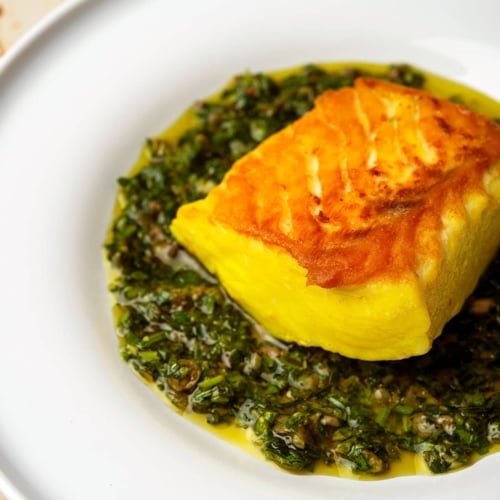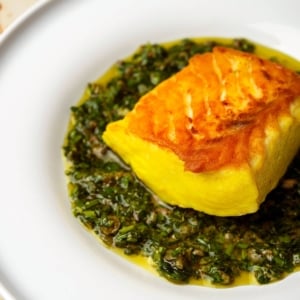 Italian Salsa Verde with Halibut
Don't get hung up on the saffron brine for the halibut; it's a cheffy touch I like to do. The salsa verde is the star. Once made, it will keep in the fridge a few days, although the color will fade a bit.
Ingredients
HALIBUT
1

quart

water

2

tablespoons

kosher salt

A healthy pinch of saffron

4

halibut fillets,

about 1 1/2 to 2 pounds

3

tablespoons

olive oil
SALSA VERDE
5

anchovies

(if in salt, rinse briefly)

1

teaspoon

Dijon mustard

1

tablespoon

lemon juice

1 1/2

cups

chopped parsley

1

large garlic clove,

minced

1

tablespoon

chives or garlic chives,

minced

2

tablespoons

capers,

chopped

1/4

teaspoon

red pepper flakes

1/2

cup

extra virgin olive oil

Salt and black pepper to taste
Instructions
Bring the salt and water to a simmer and crumble in the saffron. Stir, turn off the heat and cover the pot. Let this come to room temperature, which can take a couple hours, or speed the process by putting the pot in a large pot that has ice in it. Once the saffron brine is at least at room temperature, if not cooler, submerge the halibut in it and brine in the refrigerator for at least 2 hours, and up to five hours.

Meanwhile, make the salsa verde. Put the anchovies, mustard and lemon juice in a bowl and mash it all together until the anchovies are basically a slurry or paste. Add the parsley, garlic, chives, capers and red pepper flakes and mix well. Mixing all the while, slowly pour in the olive oil until the sauce comes together. It should look like a very loose pesto or a thick chimichurri. Add salt and black pepper to taste, cover and leave at room temperature.

When the halibut is ready, remove it from the brine and pat it dry with paper towels. Set the halibut out on a cutting board for 15 to 20 minutes to warm up a bit.

Heat the olive oil in a sauté pan large enough to fit all the pieces of halibut in one layer. When the oil is hot, pat the halibut dry one more time and lay the pieces in the hot oil. Cook at a medium sizzle (think about how bacon sizzles and you have the right idea) until a nice crust forms on the bottom, about 8 to 10 minutes. Baste the halibut with the hot oil as it cooks for at least 30 seconds, and longer if you want the interior of the fish to be fully cooked through. After about 8 minutes, a crust should form on the bottom of the halibut. Carefully lift the halibut up (assume it will have stuck, although it usually sticks in one one small place, if at all) and place it, crust side up, in the middle of some salsa verde on each person's plate.
Notes
If you don't have halibut, use any large, firm white fish. Note that the prep time does not include brine time.
Variations
You can mix and match the green herbs, adding in some celery leaves, fresh oregano, mint, lovage, savory or chervil in for part of the parsley.
Grating the zest of the lemon and adding that is a nice touch. 
Finely chopped black olives can be a welcome addition. 
If you have hot, fresh chiles, like Thai or pequins, they can sub in for the red pepper flakes. 
Nutrition
Calories:
505
kcal
|
Carbohydrates:
2
g
|
Protein:
33
g
|
Fat:
40
g
|
Saturated Fat:
6
g
|
Cholesterol:
86
mg
|
Sodium:
261
mg
|
Potassium:
899
mg
|
Fiber:
1
g
|
Sugar:
1
g
|
Vitamin A:
2088
IU
|
Vitamin C:
32
mg
|
Calcium:
56
mg
|
Iron:
2
mg
Nutrition information is automatically calculated, so should only be used as an approximation.