Scandinavian Grouse Soup
February 28, 2022 | Updated June 06, 2022
As an Amazon Associate I earn from qualifying purchases.
If you like a good chicken soup, you will love this grouse soup, made with a rich grouse broth, root vegetables, rye or barley and peas. It is full of ingredients common in Scandinavian cuisine, but is not a riff off any traditional recipe.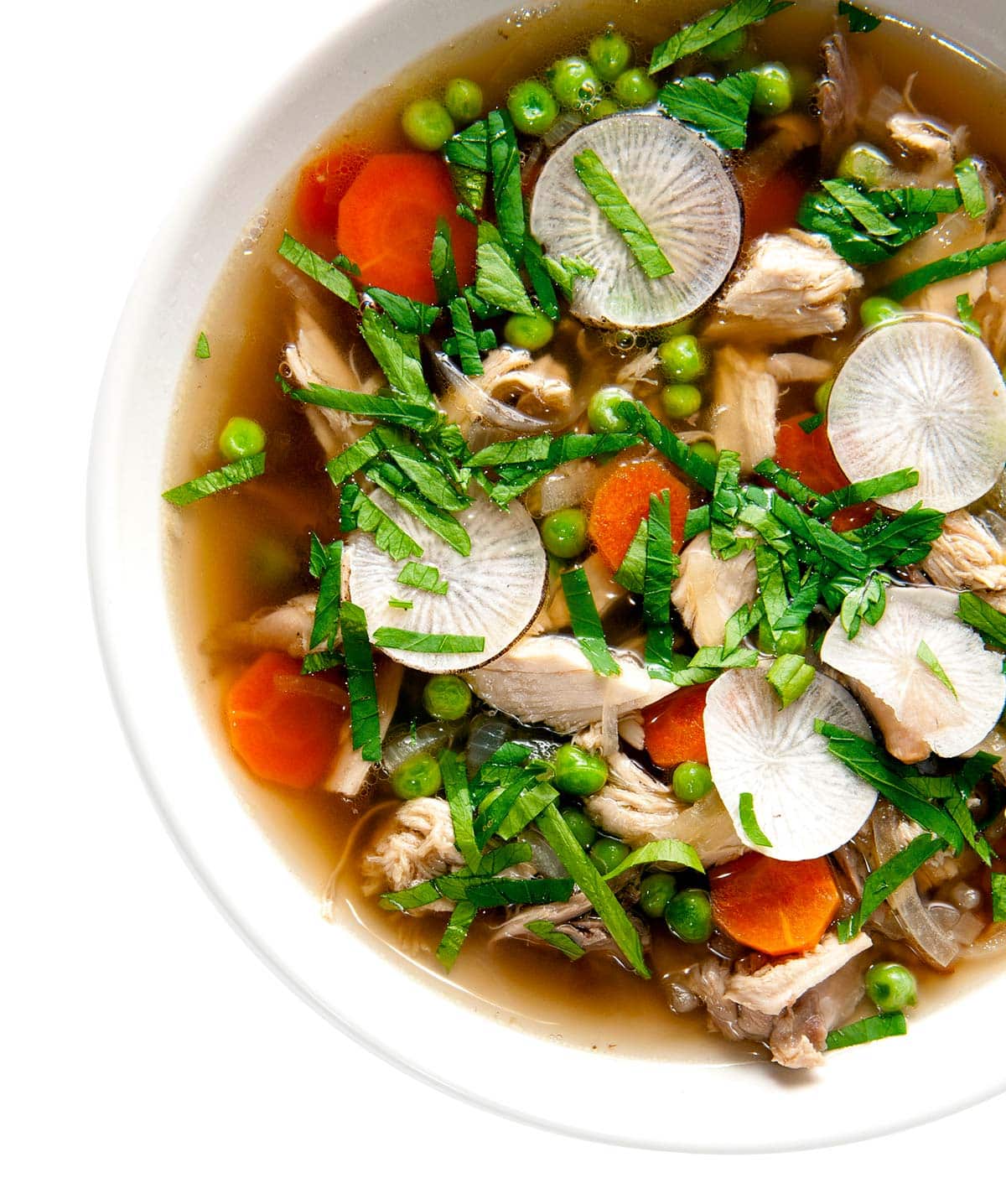 Ruffed grouse can have a funky aroma and taste that is gamey, but in a good way. The meat is the color of a chicken thigh and the flavor is striking — when you eat it you really do get the sense that this is a woodland chicken.
If you don't have grouse around, this soup will be just fine with pheasant, chukar or other partridge, turkey or even a regular ole' domestic chicken. Use only chicken legs and thighs if you do this, though.
Incidentally, other grouse species, as well as ptarmigan, are perfect here.
I made this recipe with rye berries, which are available at health food stores, but regular pearled barley would be just as good and just as Nordic.
As you read through the recipe, you will notice that while the ingredients in this grouse soup are Scandinavian, the method I use is closer to the way the Japanese make soup: You gently cook whole grouse in water until each part is perfectly tender, removing them as you go. And you also cook the starch — rye berries, in this case — separately and add them to each bowl as you serve. This keeps the grain from overcooking.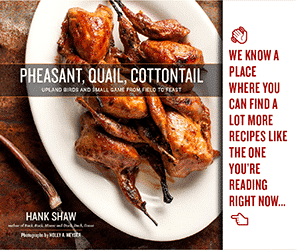 Rye can take a while to cook, so you can do that up to a couple days ahead of time. Ditto for the broth.
You can tinker with the vegetables in this grouse soup, too. I like adding rutabagas sometimes, or switching to lovage instead of parsley, parsnips instead or in addition to carrots, etc. Use what you have.
Looking for something heartier? Try my Three Sisters Stew with grouse.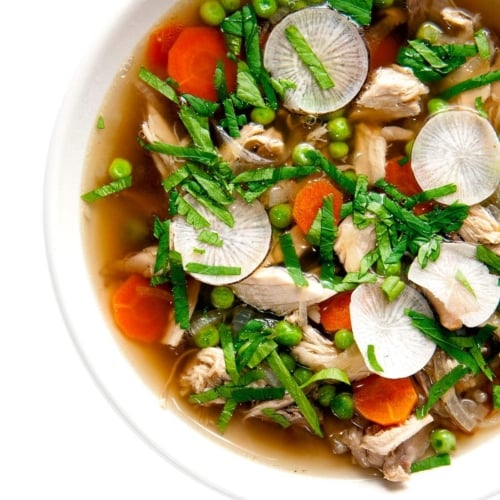 Nordic Grouse Soup
This recipe works with any sort of grouse, light meat or dark, as well as chicken, turkey, quail, rabbit, partridge or quail.
Ingredients
BROTH
2

whole grouse or pheasants,

or 6 chicken thighs

3

quarts

water

Salt

12

juniper berries, crushed

(optional)

12

allspice berries, cracked

(optional)

A 1

inch

piece of ginger,

chopped

1

tablespoon

dried lovage or parsley

1

medium yellow onion,

chopped

2

carrots,

peeled and chopped

1/2

ounce

dried porcini mushrooms

(optional)

1/2

ounce

other dried mushrooms
SOUP
1

cup

rye berries or pearled barley

1

medium yellow onion,

halved and sliced thin

2

tablespoons

butter

1

large carrot,

peeled and sliced into thin discs

1

cup

fresh or frozen peas

Salt

(smoked salt if you have it)
GARNISH
2

radishes,

sliced paper thin

3

tablespoons

chopped parsley
Instructions
To make the broth, pour the water into a stockpot and add about a tablespoon of salt and both grouse. Bring to a simmer over medium heat. Once the water simmers, turn the heat down below a simmer. You want it steaming, but not bubbling.

Let the grouse cook for 30 minutes, then pull them out. Strip off all the breast meat and set aside. Return the rest of the grouse to the pot and continue to cook for another 30 minutes to 1 hour. Pull the birds out again and strip off all the remaining meat. Set aside all the grouse meat into a container and return the bones to the pot. Cook for another hour or two. 

Add the remaining broth ingredients and bring everything to a simmer again. Simmer this gently — the water should just barely be bubbling — for another hour. Turn off the heat. Set up a fine-meshed sieve over another large pot or bowl and put a piece of paper towel into it. Pour the broth through the paper towel-lined sieve into the other container. You might need to stop and switch paper towels if it gets too gunked up. This broth can be stored for up to a week in the fridge.

To make the soup, cover the rye berries with enough water to submerge them by 2 inches. Add a healthy pinch of salt and boil until tender. (This can also be done in advance.) Meanwhile, set a large pot over medium-high heat and add the butter. Once the butter is good and hot, add the sliced onion and saute until it is translucent but not browned, about 3 to 5 minutes. 

Pour the broth over the onions and add the sliced carrots. Heat the broth to the steaming point. By the time the rye or barley is cooked, the carrots in the broth should be, too. Add the peas and the reserved grouse meat to the broth and cook for another three or four minutes. Add the smoked salt to taste. 

To serve the soup, drain the rye berries and divide them among individual bowls. Ladle the soup over the grain. Garnish with paper thin slices of radish and chopped parsley.
Notes
The broth can be made several days in advance and stored in the fridge. 
Nutrition
Calories:
627
kcal
|
Carbohydrates:
40
g
|
Protein:
58
g
|
Fat:
26
g
|
Saturated Fat:
9
g
|
Polyunsaturated Fat:
3
g
|
Monounsaturated Fat:
11
g
|
Trans Fat:
1
g
|
Cholesterol:
172
mg
|
Sodium:
175
mg
|
Potassium:
960
mg
|
Fiber:
9
g
|
Sugar:
5
g
|
Vitamin A:
5984
IU
|
Vitamin C:
30
mg
|
Calcium:
86
mg
|
Iron:
4
mg
Nutrition information is automatically calculated, so should only be used as an approximation.