Fresh Fried Herring
February 19, 2015 | Updated June 06, 2022
As an Amazon Associate I earn from qualifying purchases.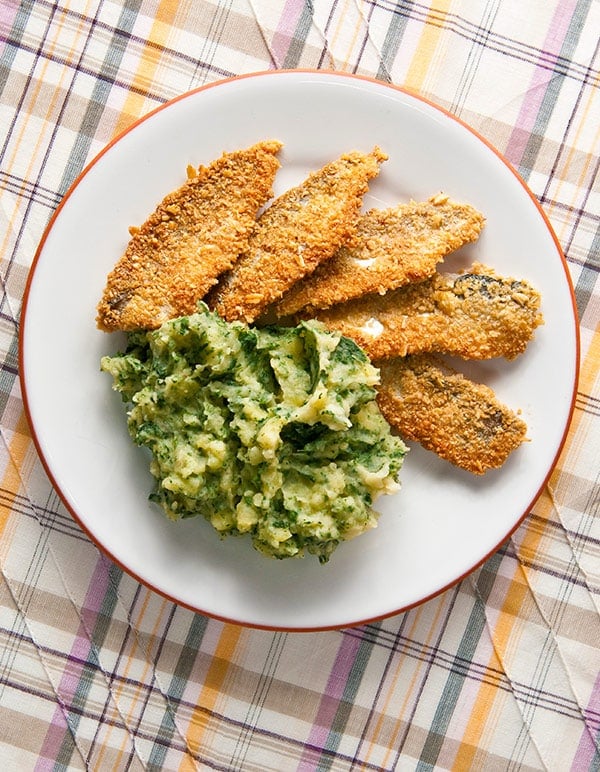 Sitting in a backwater of the Sacramento-San Joaquin Delta, fruitlessly fishing for sturgeon, my friend and guide R.J. casually mentioned that he'd seen herring the last time he'd been fishing on the San Francisco Bay. Herring? Really? My heart jumped.
Hesitantly, I asked if he would take me out fishing for them. Ninety-nine guides out of 100 would have given me the hairy eyeball for wanting to target what is, for most people, bait. Or worse, cat food. But R.J. Waldron isn't most guides. I was relieved when I saw his expression: Far from put off by the idea, he seemed as psyched as I was to chase this little fish.
We would be pioneers. No one, it seems, ever fishes for Pacific herring with a rod and reel; they're all caught in big nets by commercial fishermen. We'd be opening a new fishery for recreational anglers. A fishery so untapped you can keep up to 25 pounds of herring per person. Visions of a bonanza drifted through my mind.
I know, I know. Many of you are scratching your heads wondering why I am all hot and bothered about herring. After all, they're small, oily and bony. Well, so are sardines, which I've seen retail for more than $10 a pound. In fact, from an eating standpoint these Pacific herring are essentially winter sardines — with the added bonus of having roe, which is wonderful dusted in flour and fried in bacon fat.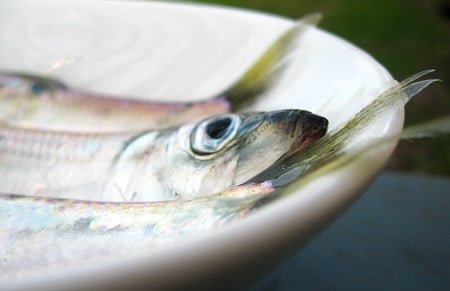 Nutritionally, herring are as much of a spring tonic as are nettles and miner's lettuce: Filled with healthy omega-3 fatty acids, they are a cure for the winter doldrums. I've eaten herring wrapped in grape leaves and grilled, "cooked"  in lemon juice like Greek gavros, salted down and eaten like bacon with cornmeal pancakes, pickled, and — my favorite — smeared with mustard, rolled in oats and fried in butter.
How do I know all this, considering I'd never caught a Pacific herring? Well, strictly speaking, I didn't. But you see, me and herring, we go way back.
I first fell in love with herring in 1997, when I moved to Fredericksburg, Virginia. I soon learned that every spring, a gigantic run of blueback herring storms the rivers of the Chesapeake Bay. The herring run is the official start of spring fishing there, and scores of anglers line the banks of the Rappahannock River to catch them.
It's glorious fishing. You use no bait, only a series of tiny brass hooks with colored pennants on them, weighted at one end with a half-ounce of lead. Huck the rig as far into the river as you can, and reel it back in, twitching the line as you go. If you are lucky, you will annoy a passing herring enough that he'll strike the hook. If you are very lucky, you will get two, or even three on the line at once. That is riotous fun! On a good day, I could fill a 5-gallon bucket full of herring.
I had this in mind as R.J. and I motored out into the bay. We were armed with the same lure I'd used in Virginia, a sabiki rig. In no time R.J. spotted a school of herring on his fish finder. We dropped our rigs into the bay and within minutes had hooked a couple of herring.
I reeled my fish in, and was astonished. It was tiny, only about 6 inches long! R.J.'s fish was no bigger. Weird. The bluebacks we caught in Virginia were all about 12-14 inches long. These basically looked like sardines, only flatter and more silvery.
We soon learned that this would be no bonanza. Herring are in the San Francisco Bay to spawn, and they are spending all of their time zooming around looking for eel grass on which to lay their eggs. One second R.J. would spot a school on his fish finder, the next they'd be gone.
What's worse, these fish were not biting. Not like the bluebacks, and not even like the sardines of summer. I can't tell you how many times I'd hook a herring, full of hope, only to feel it slip off the line a few seconds later. Frustrating.
Finally, however, we found our spot, a large swath of submerged eel grass up against a sea wall. It was easy to see why we ought to fish there: A thousand gulls and cormorants had congregated around the area, and squadron of gray harbor seals and cinnamon sea lions patrolled the shallows.
At last we were able to pick away at the herring, although it still was nothing like the hootenaney on the Rappahannock back in Virginia. We called it a day with only 26 herring. Not a bad haul considering, but given that these fish were all barely 8 inches long at best, it could have been better. Oh well, we're still learning.
I did later find out why the fish were so small. It seems herring first enter the San Francisco Bay in November, and that every succeeding wave of herring gets younger and smaller. We were hitting the very end of the spawning run.
There is a side benefit to catching herring so small — the zillions of tiny bones in their fillets would be undetectable when we ate them; calcium without the bother.
Driving home, I decided to eat some herring fresh and to pickle the rest. Herring will not stay fresh, even on ice, for more than 48 hours or so because all that yummy fish oil turns rancid fast. This is why most herring are salted, pickled or smoked. But when you have truly fresh herring, enjoy them.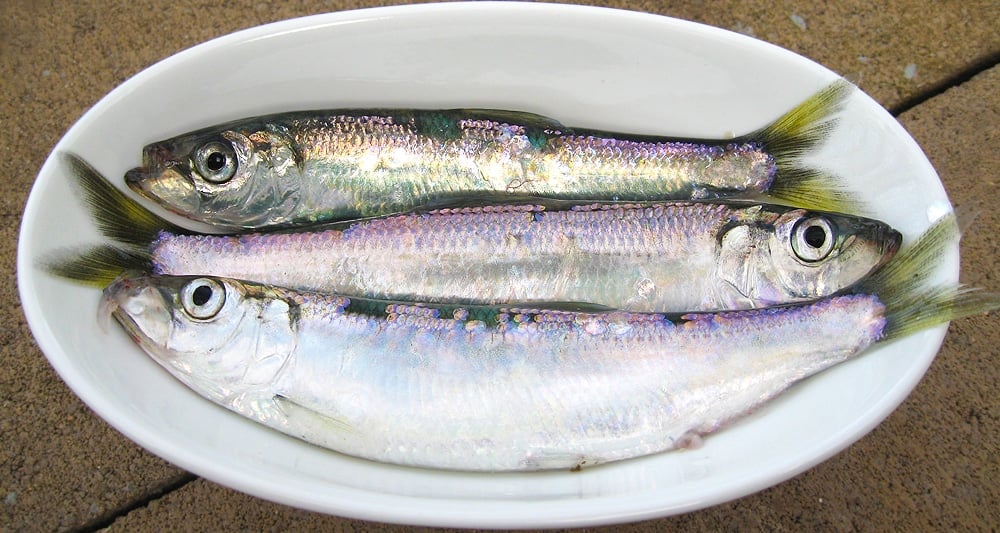 I filleted 10 of the fattest fish for the evening's dinner. I knew I had to make herring and oats, a staple of my spring diet in Virginia. The dish is a Scottish classic, one I'd made scores of times a decade ago. I decided on serving another spring essential with it: nettle champ. Champ is mashed potatoes with a green thing mixed in; colcannon is the same thing with green onions added, too. Since my family is Scots-Irish, it seemed appropriate.
This dish will never appear on the menu at Alinea or the French Laundry. It will not transport you to the astral plane. It's peasant food. Hearty, filling yet still vibrant. The mustard cuts the richness of the herring and the oats add a wintry feeling, one counteracted by the vivid green of the nettles in the mashed potatoes. I imagine it could be re-imagined as haute cuisine, but not here, and not now. This was simple, good food.
But I am afraid it will be the last herring and oats I will eat until November. I am hugely bummed to have missed most of the herring run, but hey, like I said, we're still learning the ropes in this fishery. There's always next year. After all, the herring will be there. It's not like anyone else is fishing for them.
Scottish Oat-Crusted Fried Herring
This dish can be done with sardines or other small fish, or you can use this breading for any other fish if you are willing to stray from the original recipe. I bet it also would be good with sand dabs, mackerel, bluefish, spot or croakers, alewives, Great Lakes whitefish… you get the point.
Ingredients
1/2

pound

herring fillets

Salt

1/2

cup

smooth prepared mustard

1/2

cup

cream or milk

1 1/2

cups

oats

1/4

cup

vegetable oil, butter or lard
Instructions
Wash the herring fillets and salt them well. Mix the mustard and cream in bowl and submerge the herring in the mixture. Let this stand for at least 10 minutes, and as long as an hour.

Put the oats in a food processor or blender and buzz until mostly broken up. You want some of the oats to be flour, and some to be still recognizable as oats. Put the oats in a large bowl.

Heat the oil or butter in a large frying pan over medium-high heat. Set out some paper towels nearby to allow the finished fish to drain. Dredge the herring in the oat mixture and fry until golden, about 2 to 3 minutes per side. Drain on the paper towels.

Serve with beer and mashed potatoes, champ, colcannon or just simple boiled potatoes.
Nutrition
Calories:
488
kcal
|
Carbohydrates:
47
g
|
Protein:
33
g
|
Fat:
19
g
|
Saturated Fat:
4
g
|
Cholesterol:
74
mg
|
Sodium:
838
mg
|
Potassium:
757
mg
|
Fiber:
8
g
|
Sugar:
4
g
|
Vitamin A:
248
IU
|
Vitamin C:
2
mg
|
Calcium:
201
mg
|
Iron:
5
mg
Nutrition information is automatically calculated, so should only be used as an approximation.