Experiments with Madrone Bark Tea
October 18, 2009 | Updated October 27, 2020
As an Amazon Associate I earn from qualifying purchases.
Not much about cooking excites me more than experimenting with a new ingredient. I get especially jazzed when that ingredient is not only new to me, but new to the rest of the culinary world as well. It's a rush, that feeling — real or imagined — that I am adding something new to our collective knowledge of food, rather than rehashing the genius of those who went before me.
Madrone bark has been one of the best of these experiences.
What is it? Madrone, or madrona, is a tree that is native to California's Central Coast and Sierra Foothills. It is a long-lived, evergreen cousin of manzanita, and its bark bursts into cinnamon-like curls every summer. The Indians who first lived here gathered madrone bark to make a tea they used topically to treat sores, and internally to cure a sore throat.
The taste of madrone bark tea is like a combination of cinnamon, mushrooms, wood, tannin and something else I find hard to pinpoint; a zephyr of fruitiness is the best I can come up with.
Almost no one now uses madrone bark. I know of only a few other cooks working with it, notably Ron Zimmerman of the Herbfarm restaurant outside Seattle; Zimmerman is, more than any other chef I know, a man after my own heart.
His work focuses on creative use of plants, both wild and domestic, and he posseses the creativity of a Grant Achatz without leaving the soil that surrounds his restaurant. Zimmerman uses madrone bark tea to flavor risotto and as an ingredient in ice cream. He probably has other uses, but those are what I am aware of.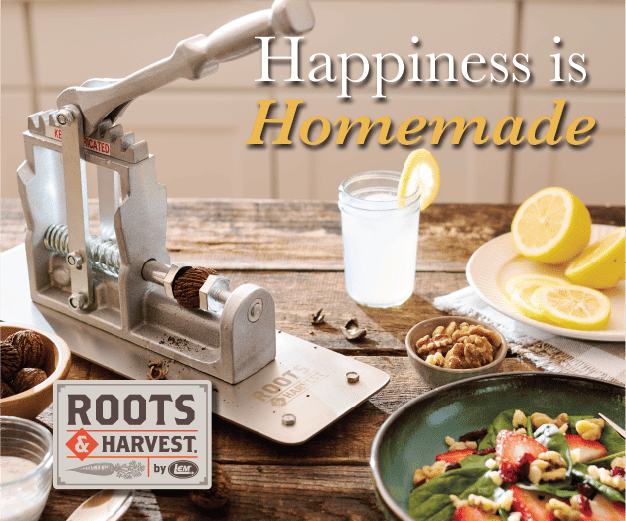 Fortunately Holly's mother Ruth has a mature madrone tree in her yard in Nevada County, so I have a ready supply to play with. What I quickly learned is that the trick with madrone is to highlight its subtle flavor without knocking your guests over with woody tannins.
Madrone bark tea gets dark in a hurry, too. With a concentration of about 20 bark curls to 2 quarts of water, the tea rapidly turns a rich red mahogany, a little like South African red tea. With that in mind, I thought it might be fun to make my first-ever Chinese tea egg with not with tea, but with madrone.
What's a tea egg? It's a cool Chinese snack. You boil eggs, then crack the shells all over, then simmer the eggs for several hours in a combination of tea, soy sauce, star anise and lemon rind. I wanted to do a Western interpretation of the eggs with madrone, so I used the bark tea, bay leaves, a star anise, lemon rind, juniper berries and salt.
I also used duck eggs, given to me by my friend Josh, who has a trio of ducks wandering around his back yard. This turned out to be a mistake, because duck eggs, I later realized, have a much thicker inner membrane than chicken eggs — meaning that cracking the shell doesn't also break that membrane. Flavor still seeps in, so the eggs tasted great, but "The Reveal" in a tea egg is that beautiful latticework design on the egg itself; it looks like a spiderweb.
I cheated on these eggs, picking off the shell but leaving the membrane on for the photo. If you use a chicken egg it should look like the picture. Aren't they gorgeous? And they taste warm and deep, rich, slightly tannic — this is a hard-boiled egg you want to linger over.
There was a reason I wanted to use duck eggs for this recipe. I knew you can reuse the madrone bark tea infusion you cook the eggs in, so I added another two tablespoons of salt and used it to brine one of the mallards I'd shot in Canada. Now normally I don't brine my ducks, but these Canadian ducks had very little fat on them (my friend Kevin Kossowan laments this often; he lives near Calgary), so I needed to add as much moisture as I could.
I wanted to serve them both on the same plate, so it'd be duck eggs with duck meat. And just to push Iron Chef Madrone & Duck even further, I decided to tie everything together with a farrotto — farro, a primitive wheat related to spelt, cooked like a risotto — made with morel mushrooms, shallots, madrone bark tea and duck fat. Click here for the full farrotto recipe.
This dish is concentrated wild. It feels, smells and tastes like the deepest woods — almost murky. Only a last-minute squirt of lemon juice allowed some light to shine through a canopy of dark, warm flavors that feels like a flannel comforter in a snowstorm. This is an awesome dish for a cold evening.
As good as it was, I'm not done with my madrone experiments. I want to concentrate the flavor more next time — bring it right to the edge of the tannic wall that would make it inedible — and see what I can do with it then.
Other possibilities abound. Maybe grind it to a powder and use it as a flavoring in sausage or salami? Grind it with coarse salt to make a finishing salt for venison or beef? And what about sweet dishes, like Zimmerman's ice cream? Madrone sugar, anyone?
I can't wait to play with this some more, but I'm wondering if I am alone out there. Have any of you ever worked with madrone? What about other tree barks?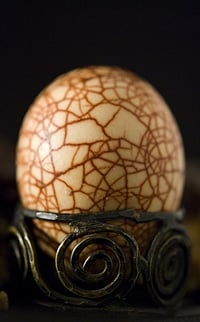 Madrone Bark Tea Eggs
This is one of the cooler dishes I've ever made. I'd heard about Chinese tea eggs before, but had never made them. Then I found myself working with madrone bark, which peels off in cinnamon-like curls every summer. The Indians here in California used madrone bark tea medicinally, and I've been experimenting with the concoction, which tastes like a combination of cinnamon, mushrooms, woodsmoke — and something I can't quite pin down. The result is a warm and lovely hard-boiled egg that, if you crack the egg after an initial boil, will be covered in a latticework of madrone tea marks. It is beautiful; looks like a spiderweb. Once cooked, these tea eggs will last in the fridge for 10 days, but they are best within three days.
Ingredients
1

dozen

eggs

6

cups

madrone tea,

(see below)

2

bay leaves

1

star anise

zest of a lemon

10

crushed juniper berries

3

tablespoons

kosher salt
Instructions
To make the madrone bark tea, bring 6-7 cups of water to a boil, then add 15-25 madrone bark curls. Cover and turn off the heat. Let steep overnight. This tea lasts a long time in the fridge, so you can make it ahead of time.

Boil the eggs in plain water to start. Put the eggs in a pot, cover with cool water and bring to a boil. Turn the heat down and simmer for 2-3 minutes, then turn off the heat. When the water is cool enough to touch, pull the eggs out and submerge in cold water.

Meanwhile add all the remaining ingredients into a large pot and bring to a simmer.

Take each egg and crack the shell gently all around the egg. You want it to stay intact, but be covered in tiny cracks.

Place the eggs in the madrone tea and simmer for 2-3 hours. Turn off the heat, cover and steep overnight. Eat cold or at room temperature.
Nutrition information is automatically calculated, so should only be used as an approximation.