Deviled Crab
August 12, 2019 | Updated June 06, 2022
As an Amazon Associate I earn from qualifying purchases.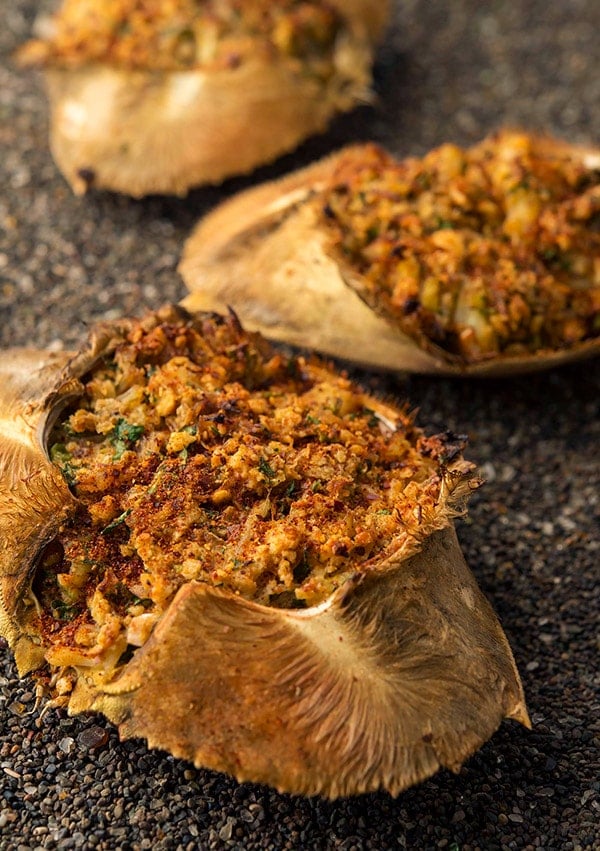 I grew up with deviled crab, an old school comfort food dish many of our moms used to make back in the day.
What is deviled crab? Crabmeat, breadcrumbs or crushed crackers, onion and celery, seasonings, and a little butter… OK, maybe a lot of butter.
The result is substantial, tangy, herby, and yet the flavor of the crab still shines through. As with crab cakes, the best deviled crab is heavy on the crab and light on the filler.
Historically you'd serve your deviled crab in its own shell, but if you don't have them or this somehow skeeves you out, use shallow, oven-proof bowls or ramekins.
As you may be able to tell here, I am using our local Dungeness crab, but any crab will do. Blue crabs are the norm where they live, although I've even seen people make deviled crab with spider crabs, which is pretty trippy. In general, if you are using the shells, you want larger crabs — at least the size of a normal blue crab.
That's not to say you couldn't use the shells of smaller crabs to make an appetizer, especially since deviled crab is a traditional starter for a larger seafood feast.
Lots of variations exist for deviled crab, which, incidentally gets its name from the presence of cayenne or hot sauce. It's not actually spicy-hot, but there's just enough to keep things bright and interesting.
I am a big fan of using three specific, branded ingredients, which is a rarity for me. First, I prefer to use crushed Saltines for the breading instead of breadcrumbs. I like the variation in texture and the flavor. I also use Old Bay Seasoning and a bit of Tabasco hot sauce. With these last two, I think the Old Bay is more critical, although I've made deviled crab with Cajun seasoning and it was almost as good.
Oh, about that butter. You need it. And lots of it. Sure you can use some sort of oil, but butter is important to my version of this dish. You need a full stick, too. You'll thank me later…
Side note: This recipe, more or less, works well with clams, oysters, shrimp, crawfish or lobster.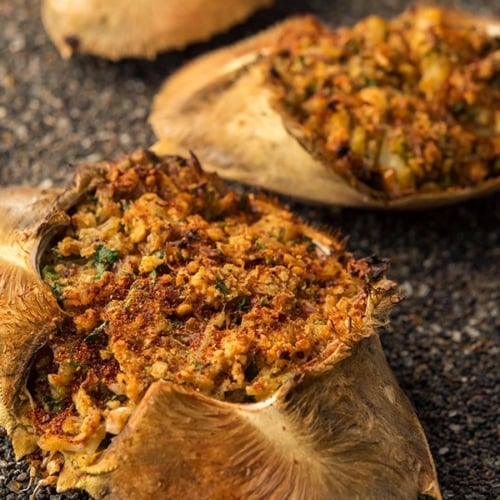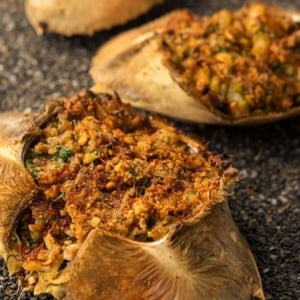 Deviled Crab
These make fantastic appetizers before a larger seafood feast, or, if you use big Dungeness crab shells as I do here, a light supper all by itself. You can refrigerate the mixture for a few days beforehand, and you can freeze the stuffed crabs, well wrapped, for a few months.
Ingredients
1

cup

minced shallot or onion

2

cloves

garlic, minced

1

jalapeno or serrano chile, minced

2

tablespoons

olive oil

1

pound

crabmeat

1

tablespoon

Worcestershire sauce

1

teaspoon

Old Bay Seasoning

1/2

teaspoon

cayenne

3

green onions, chopped

3

tablespoons

minced parsley

1

sleeve

Saltines, crushed

(about 4 ounces)

Salt and black pepper

1

stick

butter, melted

(about 1/2 cup)

Lemons or limes, for serving
Instructions
Cook the onions in the olive oil in a small pan over medium heat until they turn translucent, a few minutes. Add the garlic and minced chile and cook another minute or two. Turn off the heat and let this cool for 10 minutes or so.

Meanwhile, in a large bowl, add all the remaining ingredients, except for the melted butter and the citrus. Mix well. Preheat the oven to 400F.

When the onion mixture has cooled, mix it into the crab mixture. Stuff the mixture into cleaned crab shells or whatever else makes you happy. Drizzle the melted butter over the stuffed shells evenly.

Bake for 20 minutes, and serve with wedges of lemon or lime.
Nutrition
Calories:
416
kcal
|
Carbohydrates:
13
g
|
Protein:
23
g
|
Fat:
31
g
|
Saturated Fat:
16
g
|
Cholesterol:
108
mg
|
Sodium:
1205
mg
|
Potassium:
504
mg
|
Fiber:
2
g
|
Sugar:
5
g
|
Vitamin A:
1207
IU
|
Vitamin C:
20
mg
|
Calcium:
104
mg
|
Iron:
2
mg
Nutrition information is automatically calculated, so should only be used as an approximation.