Cooking Blue Camas
July 26, 2011 | Updated December 30, 2020
As an Amazon Associate I earn from qualifying purchases.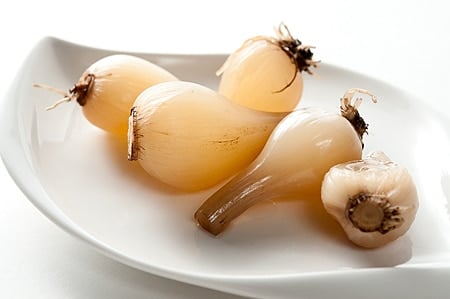 I'd been searching for blue camas for several years because it has a reputation as a world class food. When I finally found some near Truckee last week, I was excited to put these bulbs to the test in my kitchen.
Going into this process, I knew a few key things about eating and cooking with blue camas, camassia quamash: First, they are nasty when eaten raw. They are crunchy enough, but when you chew on them the bulbs get gummy and stick to your teeth. There's also a soapy taste in there, too. Not good eats.
I also knew that camas is loaded with inulin. Yes, inulin. Long-time readers of this space may remember I've had run-ins with this indigestible starch before, with Jerusalem artichokes. Inulin cannot be processed by most humans, so our gut bacteria do the job for us. And those bacteria create gas while performing their duties. Lots of gas. I read stories of pioneers eating undercooked camas bulbs and experiencing the Mighty Wind. Also not good eats.
When in doubt, go to the Indians. Most wild foods in North America were eaten by the Native Americans before us, so reading about what they did with whatever new ingredient you happen to have on hand is a good place to start. Camas is no exception. The various tribes of the American West loved camas, especially the Nez Perce, Shoshone and, to some extent, Paiutes. The smaller California bands did the same in the Sierra.
What did the Indians do with camas? Almost without exception, they baked them, slow and low, in an earth oven. Now I don't have an earth oven (Yes, it's true. I feel deprived sometimes… ) but I do have a regular oven. So does fellow forager John Kallas, who wrote about baking his camas bulbs with middling success; he prefers to pressure cook his camas, but I don't really play around much with a pressure cooker — although I really ought to…
This slow and low cooking breaks the inulin down into fructose, a simple sugar we can all enjoy. How long you cook the camas bulbs governs how sweet they will be. Many Indian groups actually called blue camas "black" camas, not because of anything to do with the plant, but because they baked the bulbs so long the inulin turned to sugar, which then caramelized, darkening the bulbs dramatically. Reportedly, if you take things that far, blue camas bulbs will taste like a combination of a baked pear and a cooked fig. Pretty trippy, eh?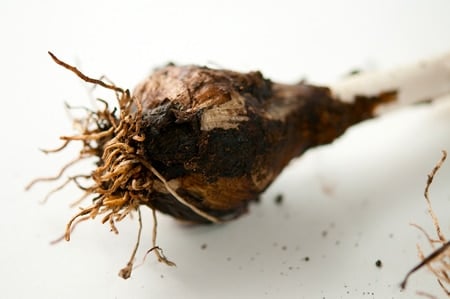 I wasn't sure I wanted a camas dessert just yet. So I decided to peel the dark, papery sheath around the bulbs, put them in a small casserole dish with a little water and bake them at 220 degrees overnight.
Next morning I took them out and tasted a small one. Now I will be honest: Taking that first bite gave me a little flutter. Why? Because there is also a plant called a death camas, and eating one bulb will make you sick. Eating many can kill you. I was 99 percent sure I'd correctly identified these plants (click for a full identification guide), but there's always that zephyr of doubt that crosses your mind. I ate the bulb. And it tasted… well, OK. Boring and remarkably like unseasoned mashed potatoes. I added a little salt, and it was much better, but still a little meh.
I put the bulbs back in the oven for 3 more hours. When I took them out again, they'd turned a little golden — sugars beginning to caramelize! I tried another bulb, and this one had a hint of sweetness. It was almost like the sweetness in a parsnip, although it still tasted very much like a root vegetable.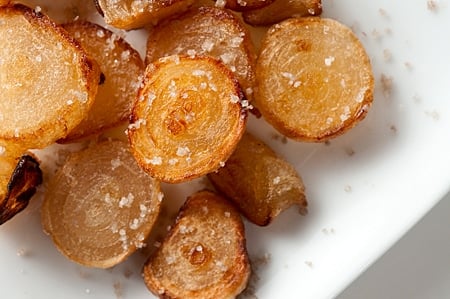 Decision time. Cook longer, or play. I was impatient, so I decided to play. Sure, I could have mashed the bulbs up and served them like potatoes or colcannon or something, but I wanted to highlight them, simply. So I salted them and fried them in a little olive oil, then tossed them with a little homemade verjus (more on that later) and dusted them with smoked salt.
Booyah! Oh so good! Better than the best fried potatoes, with a hint of acidity from the verjus and a hint of smokiness from the smoked salt. Holly and I could not stop eating them. If you ever dig your own camas bulbs, this should be the first recipe you make with them. After that, the sky's the limit!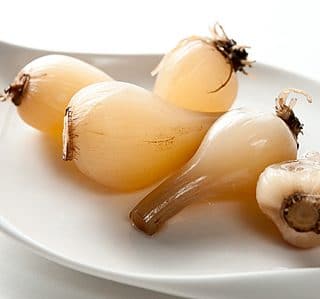 Twice Cooked Blue Camas Bulbs
Camas bulbs are native to North America, and there are several varieties -- all blue. The plant is most common in the Mountain West, where there can be whole fields full of it. Be very sure of your identification, as there is a similar plant, the death camas, that looks close enough to a blue camas to keep you on your toes. Camas needs to be cooked slowly and for a long time before you do anything else with it. If you skip this step, all the inulin in the bulb will still be present when you serve them, and you will all be farting like crazy in a few hours. Slow, moist cooking breaks the inulin down into fructose. I cooked the bulbs at 220 degrees for 12 hours to get to a point where the bulbs were still savory, but with a hint of sweetness like a parsnip. You could try cooking longer or hotter for different effects.
Ingredients
1/2

pound

blue camas bulbs,

about a dozen

1

tablespoon

olive oil

1

tablespoon

verjus, lemon juice or white wine vinegar

Smoked salt
Instructions
Remove the papery sheath off the bulbs and put them in an ovenproof container with a lid. Pour in just enough water to cover the bottom of the container by about 1/4 inch or so. Cover the container and bake the camas bulbs at 220-230 degrees for 12 hours. Check on them after 8 hours or so. You want them to look anything from pale gold to full golden.

Slice the bulbs into rings and lightly dust them with fine salt. Saute them in olive oil, butter or some other fat until they brown. They will be a little sticky, so keep the pan moving for the first minute or so to prevent the bulbs from sticking to the pan. Keep an eye on them, as the sugars in the camas will caramelize fast.

To finish, toss with the verjus and dust with the smoked salt. Eat at once.
Notes
Note that cook time does not include the long, initial slow-cook. 
Nutrition information is automatically calculated, so should only be used as an approximation.
MORE ON CAMAS: