As an Amazon Associate I earn from qualifying purchases.
When it comes to growing cherry tomatoes, it's not uncommon to be overrun with the tart little things. Should that happen, one great use for all those cherry tomatoes, is, well, a tart.
This cherry tomato tart is savory, meant as a lunch or light summer supper. It's good hot, but better cold. Perfect for steamy summer days.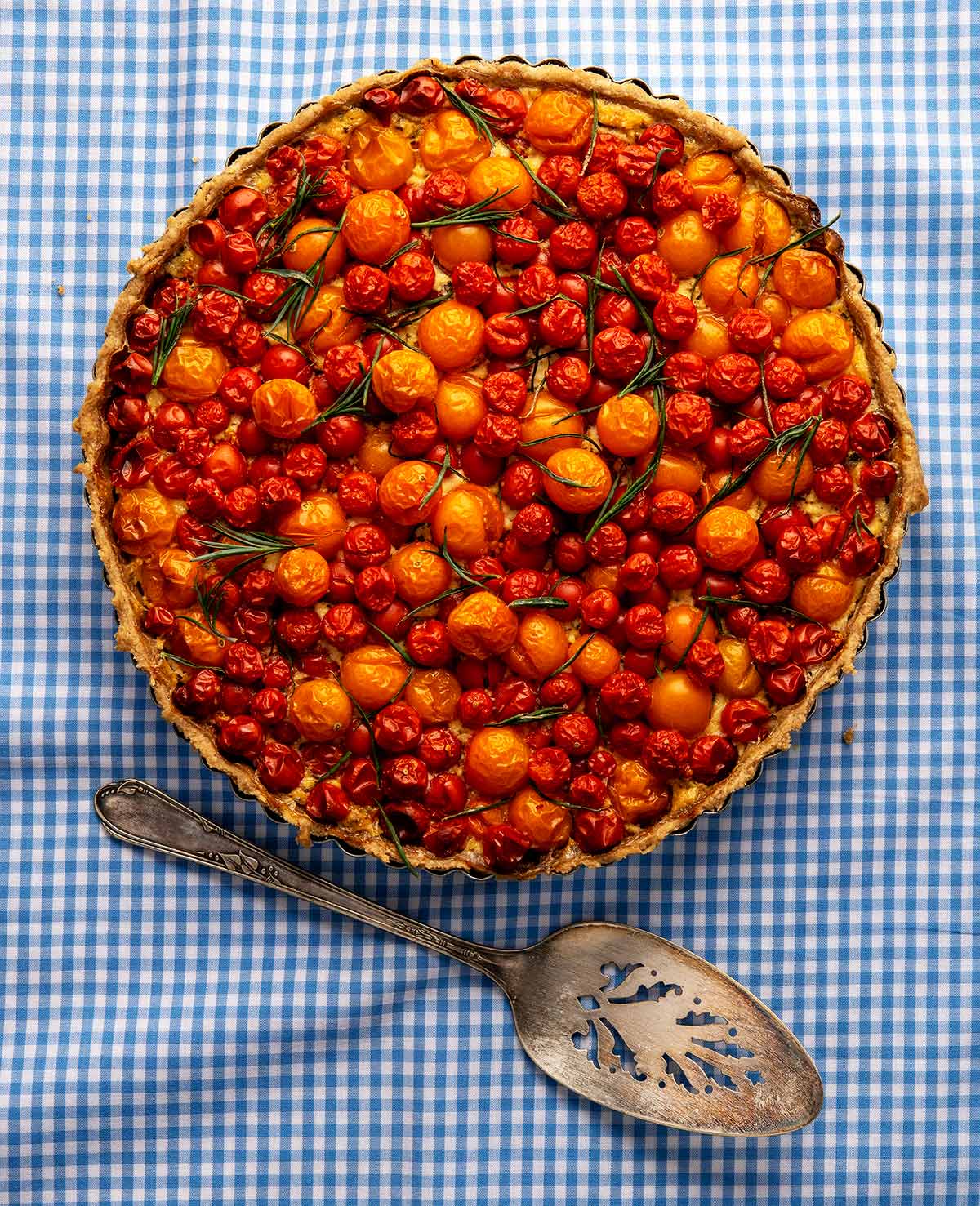 What follows is sort of a master recipe for making a savory tart, one you can alter and adjust as you see fit.
I do make my own tart crust, but it's so easy even I can do it. You should know that while I am a good cook, I am a so-so baker. But this is comfortably in my wheelhouse.
Essentially, a good cherry tomato tart starts with something to "glue" the tomatoes to the crust, then the tomatoes, then some herby thing. That's the crux of it. But you can alter things in many ways, as I'll show you in a moment.
First, the cherry tomatoes. I grow several varieties each year, and this year I am growing Sungolds and Mexico Midgets, which I highly recommend for big flavor in a small package. If you can, use more than one variety if only because it looks pretty.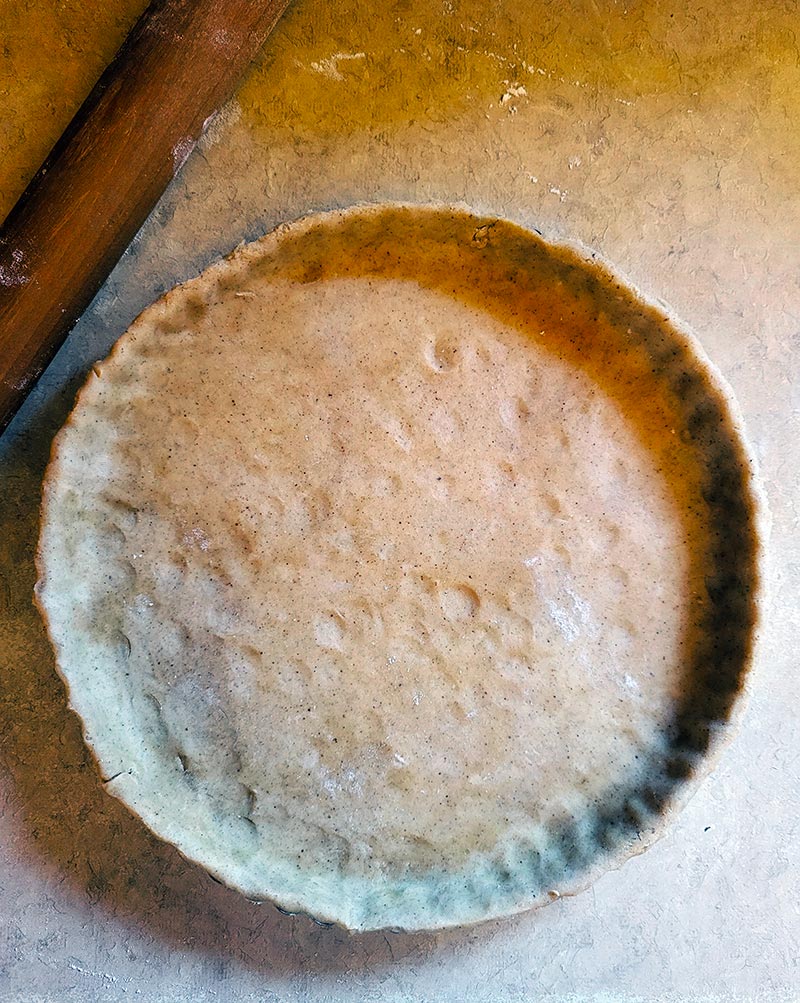 The tart is a simple lard crust, with a touch of acorn flour in there for color and flavor. You can use butter or some other oil, and you can use all white flour or sub in some whole wheat, barley, rye or spelt flour in place of the acorn flour.
The "glue" is some good, full-fat ricotta cheese with a touch of salt and some herbs mixed in. I was giving this a bit of a Mexican flair, so I added Mexican oregano to the ricotta, which would be called requesón in Spanish. But pretty much any savory, dried herb you want will do. I'd recommend thyme or regular oregano mostly, since both go well with tomatoes.
If I wanted to go mega-Mexican with this cherry tomato tart, I would have spread refried beans on the crust instead of cheese. Doing that shifts this tart from a light lunch to a substantial supper. but it is really tasty.
A good addition if you want a touch of meat would be to fry some bacon and mince it, sprinkling it among the tomatoes before cooking. You could crumble some sausage or smoked fish, too.
Finally, you will want a soft herb at the end. I use pipicha here to carry on the Mexican theme, but basil or parsley would be my other top choices.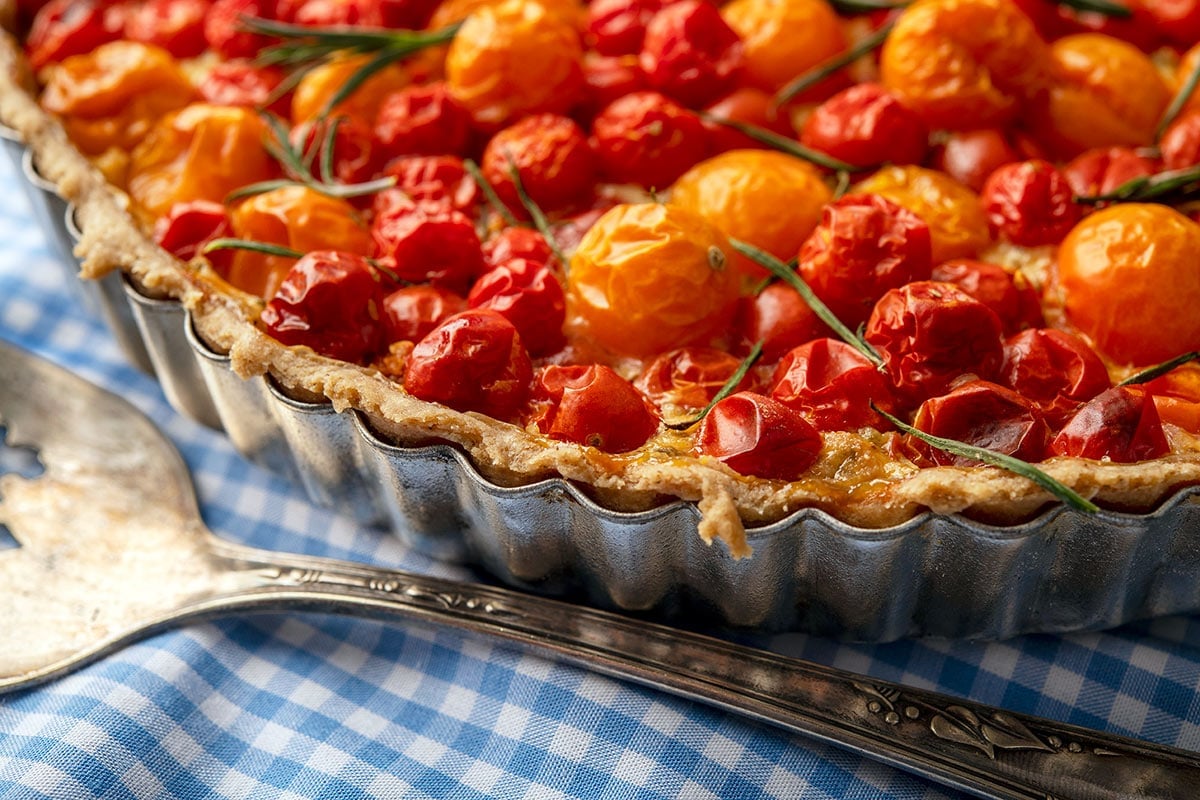 To make a good cherry tomato tart, you will definitely want a real tart pan. I use this one. A regular pie pan will work, too, but I really like the fluted edges of the tart pan. No need to grease it because the crust dough has plenty of fat.
Once made, the tart will keep in the fridge a few days. It's great cold right out of the fridge.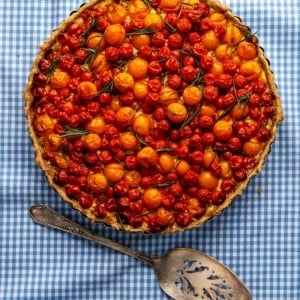 Cherry Tomato Tart
This is pretty easy to put together, and is great cold once cooked, so having a tomato tart hanging around in the fridge is a great way to eat during the summer's heat.
Ingredients
TART CRUST
1

cup

white flour

1/2

cup

acorn, rye, whole wheat or spelt flour

1

teaspoon

salt

7

tablespoons

cold lard or butter or bacon fat

1/2

cup

cold heavy cream or whole milk
FILLING
1 1/2

cups

ricotta cheese

2

teaspoons

dried thyme or oregano

2

pints

cherry tomatoes

4

slices

cooked bacon, chopped

(optional)

2

Thai chiles, or similar, minced

(optional)

2

tablespoons

chopped fresh herbs, like basil or parsley
Instructions
Mix the flours and salt together. Add the lard or butter to the flour and work it into a coarse meal with your fingers. Add the cream and knead this into a cohesive ball. Wrap in plastic and let this sit 30 to 45 minutes.

Preheat the oven to 325°F. Mix the dried herbs with the ricotta cheese. Remove all the stems from the cherry tomatoes.

Roll out the tart dough until it's about 1/4 inch thick or a little thinner. Set it inside a 9-inch tart pan (that's the standard size) and press it into the sides to make a crust. Use a knife to remove any excess along the top edge of the crust, as you can see in the picture above.

Spread the herbed ricotta first, then scatter the tomatoes over that. Sprinkle on any bacon or minced chiles you are using, then bake for 90 minutes or so. You want the tomatoes to cook well, and the edges where the cheese and crust meet to brown a little.

When it's ready, remove the tart from the oven and set it on a cutting board to rest. Sprinkle some shredded basil over it, tucking it in here and there so the carryover heat cooks it a little. Wait 10 minutes before slicing.
Notes
Use different colored cherry tomatoes and tomatoes of different sizes if you can. It just looks super cool. 
If you go the refried beans route instead of the cheese, use the same amount. 
I like to place the tart pan on a baking sheet in the oven, which makes it way easier to remove from the oven when the time comes. 
Definitely try at least some of this tart cold. I actually prefer it that way. 
Nutrition
Calories:
347
kcal
|
Carbohydrates:
24
g
|
Protein:
11
g
|
Fat:
23
g
|
Saturated Fat:
14
g
|
Polyunsaturated Fat:
1
g
|
Monounsaturated Fat:
7
g
|
Trans Fat:
1
g
|
Cholesterol:
74
mg
|
Sodium:
505
mg
|
Potassium:
361
mg
|
Fiber:
2
g
|
Sugar:
3
g
|
Vitamin A:
1346
IU
|
Vitamin C:
27
mg
|
Calcium:
130
mg
|
Iron:
2
mg
Nutrition information is automatically calculated, so should only be used as an approximation.