Caribbean Fish Stew
April 16, 2020 | Updated September 02, 2021
As an Amazon Associate I earn from qualifying purchases.
Every year it has become a tradition to fish around the Gulf of Mexico with my friends the Bayas: Joe, Stephanie, Emery and the rest of that awesome family. Every year I develop new recipes from those trips. This year's adventure took us to the Florida Keys, where I whipped up this lovely Caribbean fish stew.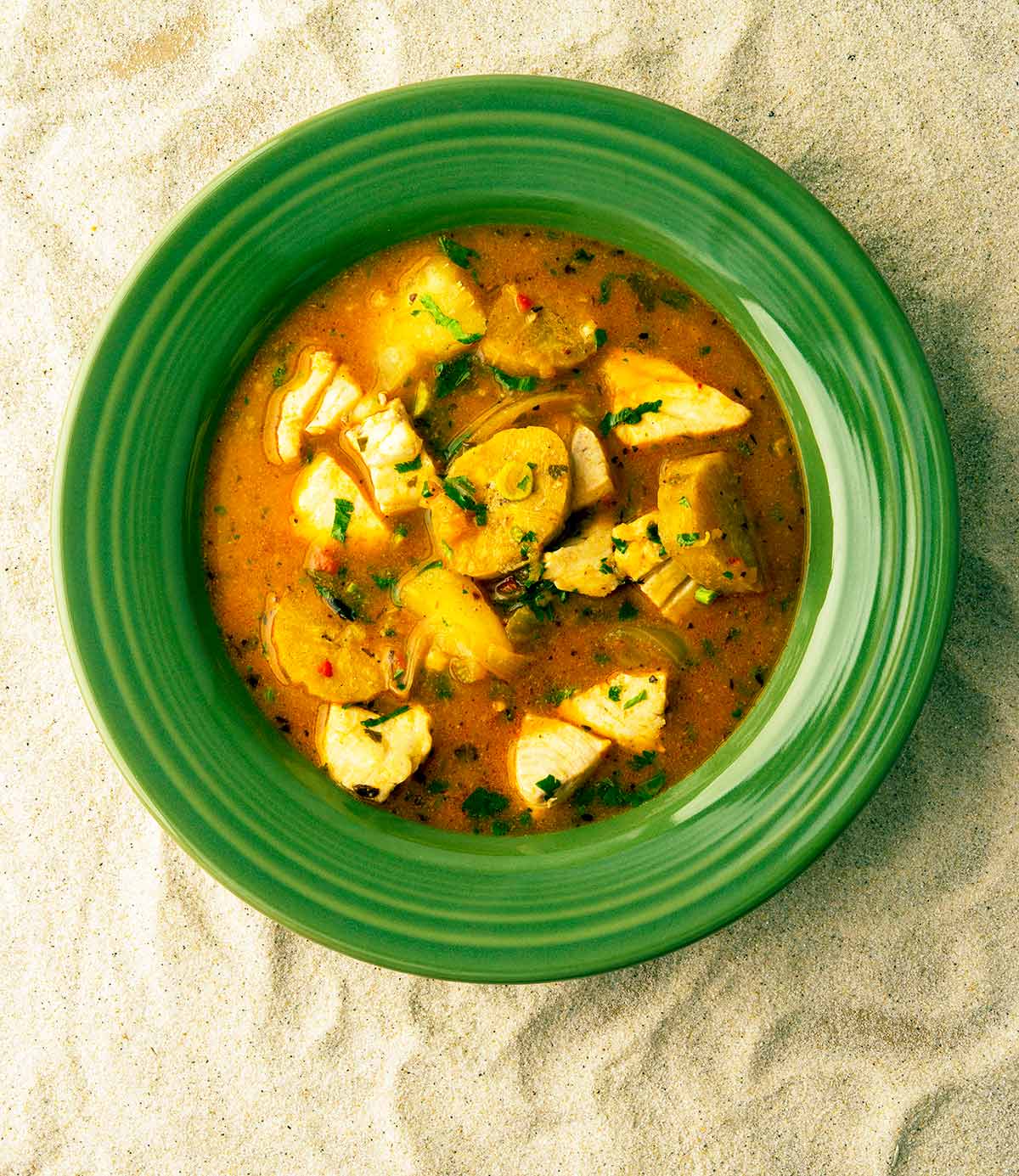 From the moment I pulled into the driveway at their rental on Little Torch Key, I knew there would be coconut in the recipe. Waving in the wind were several coconut trees, laden with them! I'd never actually seen a coconut tree in person, so that was pretty cool.
Our plan was to fish for three days, cooking all the way. Alas, the Dread Disease cut us short. I had to fly back to California because of the statewide stay-at-home order. But We did get to fish one day, and we got a few new-to-me fish: Almaco jacks, mangrove, mutton and lane snappers, as well as a nice amberjack, a species I have caught before.
I'd also bought a big bag of Key West pink shrimp, too. I left them with Joe and crew, so I didn't have any good shrimp when I remade my Caribbean fish stew back home. Feel free to add some if you have them.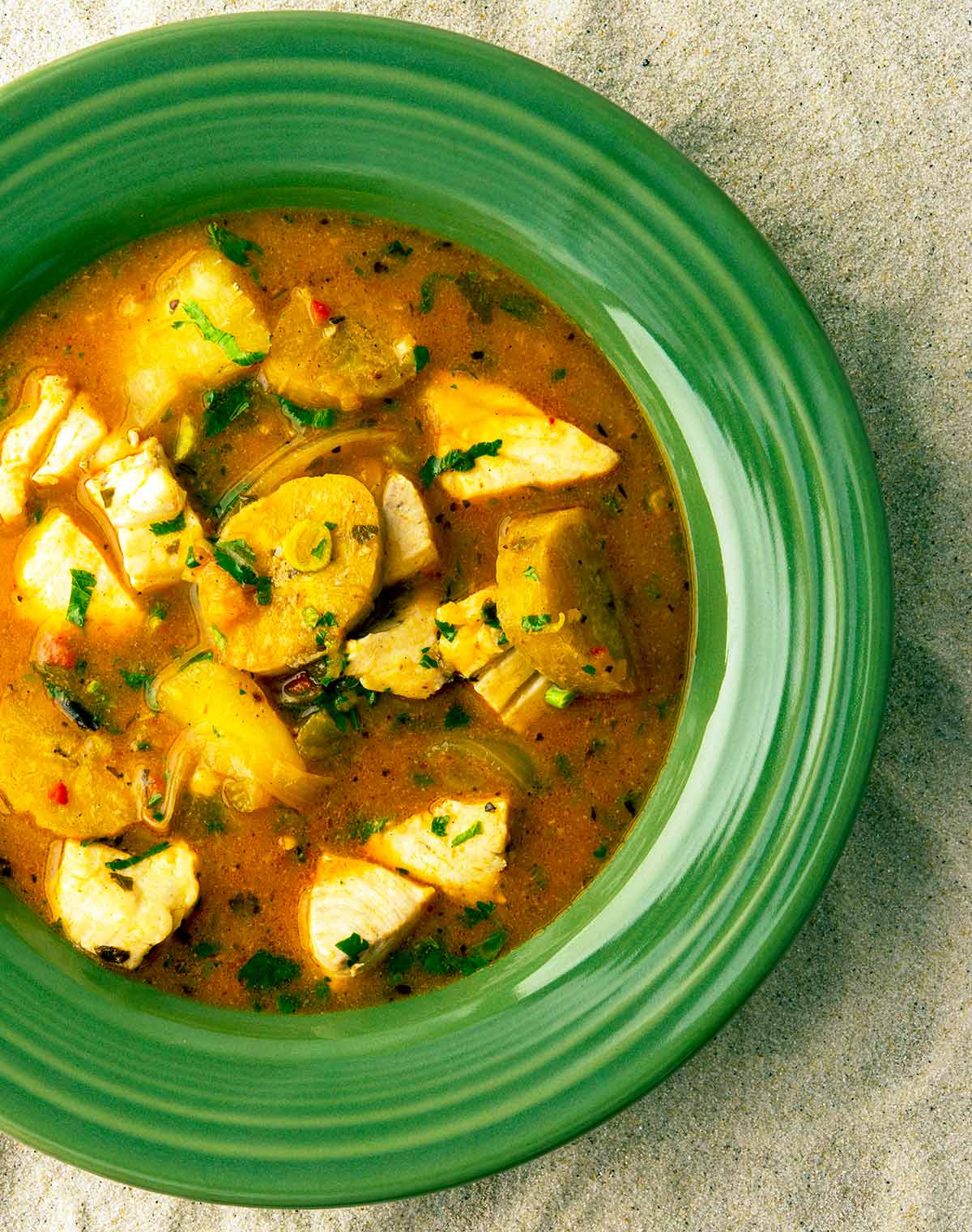 My general rule when I develop recipes is to use what's local, and to riff off existing dishes. There happen to be quite a few versions of fish stew in the Caribbean, from Jamaican rundown to Brown Stew to all the variations in Trinidad, Guyana, the Bahamas, etc. My recipe is a nod to these, but I'm not aiming for a traditional anything here, just a damn good fish stew.
I went full coconut here, using coconut oil, water and milk. You could use another oil, and skip the coconut water if you want, but please try to find the coconut milk, which is pretty easy nowadays. Its flavor is essential here.
You also need some zip, too. I used some Scotch bonnet chiles I happened to have (I grow them), but you'll want as many hot peppers as you can handle. For some of you, that is a single jalapeno, and that's fine.
Beyond that, you want a starch or three. I happened to find tropical starches at my supermarket — given all the craziness lately, potatoes were sold out — so I used green plantains and yuca root. Yuca is the same thing as cassava or manioc. Both are fun starchy vegetables to use, but pick whatever you can find. Other options would be sweet potatoes, yams, potatoes, turnips, or taro root.
As for fish, use what you have. I used amberjack here, but honestly the sky's the limit. Just remember that if you are using a delicate fish, add it in the last 5 minutes so it does not disintegrate.
Garnish with Key limes (of course!) and lots of cilantro, or, if you can find it, culantro, which is what I used in the Keys.
Serve your Caribbean fish stew as a part of an island feast with pan seared mahi mahi with Cuban rice.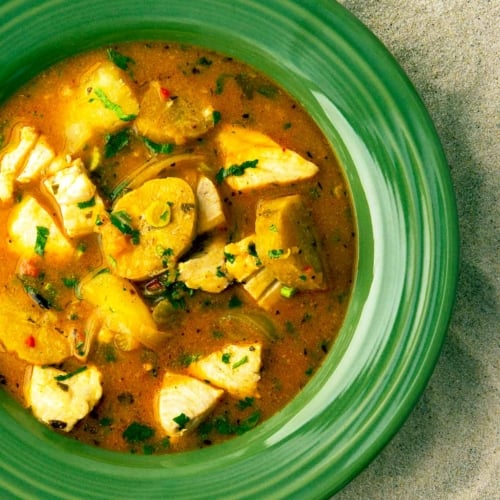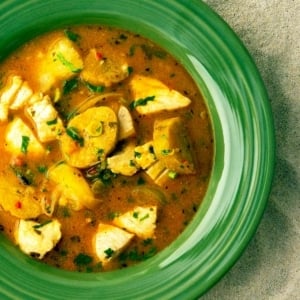 Caribbean Fish Stew
I've mentioned a ton of possible substitutions above, so that should get you set for using what you have around. This stew will keep in the fridge for a few days, but it doesn't freeze well. Serve it with steamed rice if you want to bulk it up.
Ingredients
3

tablespoons

coconut oil,

or vegetable oil

1

white or yellow onion, minced

1 to 3

Scotch bonnet or other chiles, minced

Salt

3

cloves

garlic, minced

2

tablespoons

tomato paste

1

teaspoon

dried oregano

1/4

cup

chopped cilantro,

divided

1

quart

fish, seafood or chicken broth

1

quart

coconut water, or regular water

1

pint

canned coconut milk

1

pound

yuca root, peeled and cut into batons

(or yam or sweet potato)

1

pound

green plantains, peeled and cut into disks

2

pounds

amberjack, chunked

(or other firm fish)

Lime juice to taste
Instructions
In a large, lidded pot such as a Dutch oven, heat the coconut oil over medium-high heat. When it's hot, add the onion and chiles and stir well. Add some salt. Cook, stirring often, until the onion is translucent, about 4 to 6 minutes.

Add the garlic and cook another minute, then stir in the tomato paste, oregano and about 1 tablespoon of the chopped cilantro. Add a splash of tot coconut water (or regular water), mix well and turn the heat to low. This is your sofrito, your soup base. Cook gently for 15 minutes, stirring from time to time.

Pour in the rest of the coconut water, the stock and the coconut milk, as well as the yuca and the plantains. Bring it to a simmer and add salt to taste. Simmer until the vegetables are tender, about 30 minutes or so.

Add the fish, as well as shrimp if you have some. Cook this gently for about 5 to 10 minutes. Add the rest of the cilantro and serve with lime wedges. You can serve this over steamed rice if you want. Rice cooked in coconut milk is especially good with this stew.
Notes
Feel free to use whatever fish or seafood you have available. 
Keys to Success
Coconut is a major player here, so if you can get coconut oil, milk and water, do it. It gives this stew a very Caribbean feel. 
Plantains are starchy bananas. Don't use regular bananas. 
Yuca is also called manioc or cassava. It's actually in a lot of supermarkets. Taro root, yams, sweet potatoes are all good alternatives. 
In a perfect world you'd have lots of chiles dulce, which are sweet habaneros. They're impossible to find, so use a couple habaneros or Scotch bonnets instead. Remove the seeds for less heat. 
Nutrition
Calories:
535
kcal
|
Carbohydrates:
51
g
|
Protein:
29
g
|
Fat:
26
g
|
Saturated Fat:
19
g
|
Cholesterol:
67
mg
|
Sodium:
280
mg
|
Potassium:
1477
mg
|
Fiber:
5
g
|
Sugar:
16
g
|
Vitamin A:
1204
IU
|
Vitamin C:
31
mg
|
Calcium:
72
mg
|
Iron:
3
mg
Nutrition information is automatically calculated, so should only be used as an approximation.