Agretti
June 27, 2019 | Updated April 13, 2021
As an Amazon Associate I earn from qualifying purchases.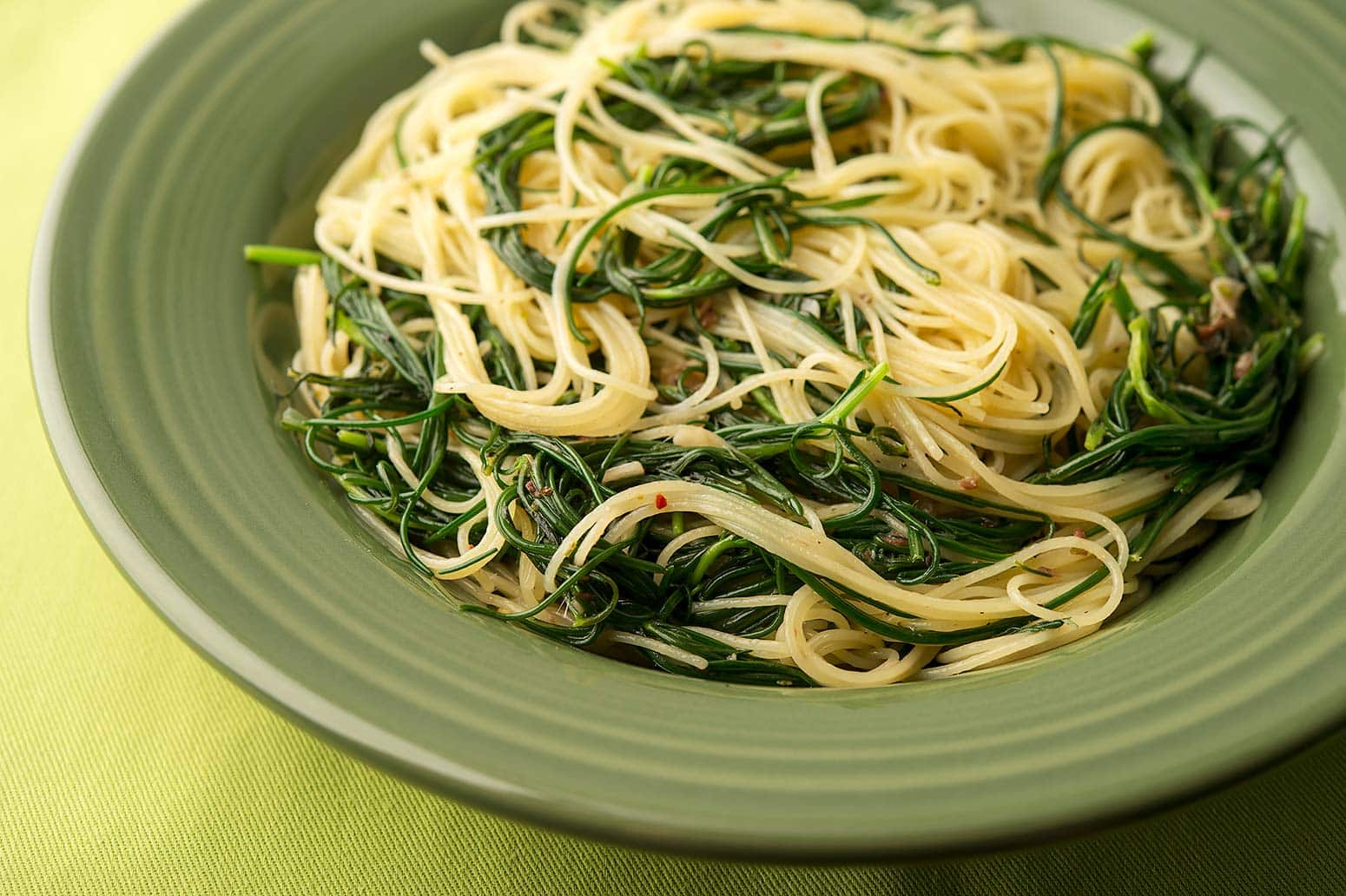 Agretti is just sexy. Lacy, delicate, but packed with flavor, this relative of the sea bean is one of the most unusual residents of my garden.
Growing and cooking agretti is easy, too, once you learn a few tips and tricks.
Let's start with what is agretti: It is one of a group of "saltworts" that were once burned to make the alkali soda ash used in glassmaking. Many of you know about sea beans, which are also called samphire, glasswort, sea asparagus and chicken feet. (More on that plant here.)
To my knowledge, you can't grow sea beans in a regular garden, but I've tried growing its cousins several times. My first try was a Japanese version called okahijiki, Salsola komarovi, for which you can buy seeds here. It's nice enough, but very floppy.
After that, I went Italian and grew agretti. I get my agretti seeds from Seeds from Italy. They're not cheap, and growing it is always a gamble because the seeds have a very low germination rate, about 40 percent, and a short shelf life — only about 6 months.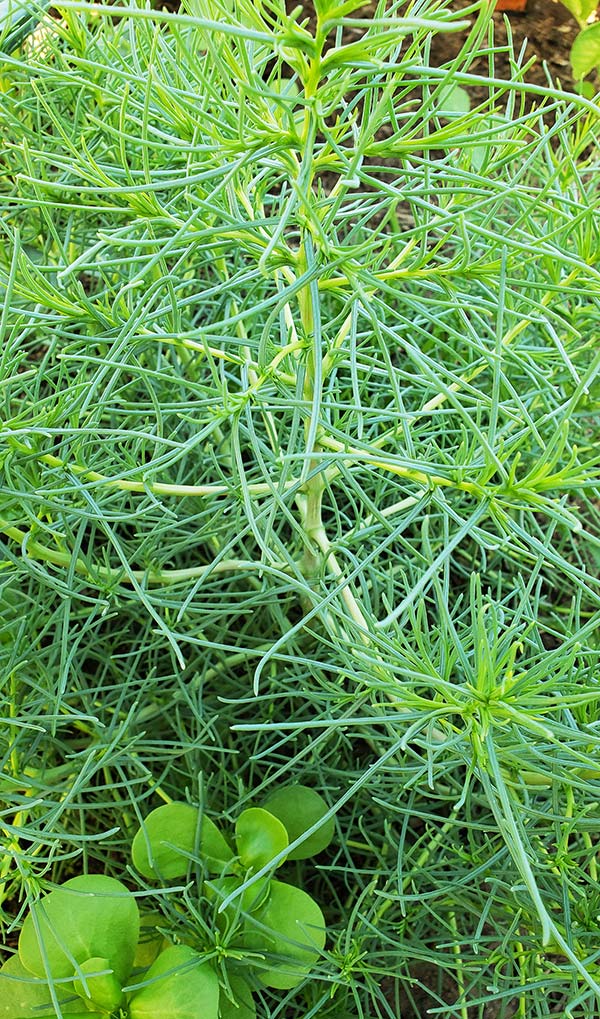 I live near Sacramento, California, so I was able to plant my seeds at the beginning of April. By early June they are ready to harvest, fully grown but before they have set seed. Once germinated, growing agretti is easy: Just add water. No fertilizer needed and they are drought tolerant. Just give them at least six hours of sun per day.
You will see many pictures of agretti plants at the market that have been pulled up by the roots; I don't recommend this. It's main stem gets woody, so it's best to snip off what you want and let the plant keep growing, ultimately to sprout little yellow flowers, and then largish seeds. Let that happen in your garden, and you never need to buy more seed.
So how to cook agretti? In a word, simply.
I primarily eat it as a sort of vegetable mimic to angel hair pasta, along with grated parmesan, lots of garlic and olive oil, plus a little lemon juice, black pepper and a hint of anchovy. Fantastico!
Agretti is also very good mixed into an omelet or quiche or frittata, steamed by itself along with the flavors of my pasta dish above, as well as tossed in a salad raw. Beyond that, agretti is an excellent addition to potato salad, or really any crunchy salad.
Do not overcook your agretti! The whole point is for it to be bright green and still a bit crunchy. Agretti tastes slightly salty, minerally and "green" in the way that good spinach does.
Nutrition information is hard to come by, but happily, I can read Italian. According to Italian sources, a 100 gram serving (slightly less than a quarter pound) has 17 calories, 2.2 grams of carbs in the form of sugars, 1.8 grams of protein and 2.3 grams of fiber. Agretti is also a good source of vitamins A, C and B3.
As a side note, a variant of agretti grows wild in California's Bay Area.
Here's my primary agretti recipe, a simple pasta recipe. Hope you like it!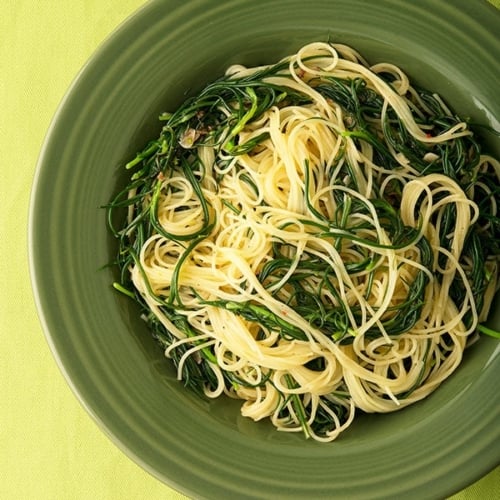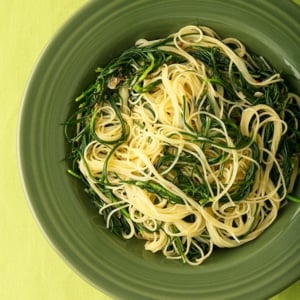 Agretti Pasta
The only possible substitutes for agretti are sea beans or it's Japanese cousin. That said, any green thing will taste good in this pasta dish.
Ingredients
1

pound

agretti

3

tablespoons

olive oil

3

anchovy fillets

3

garlic cloves,

slivered

1/2

teaspoon

cayenne

3/4

pound

angel hair pasta

Grated parmesan cheese, to taste

Black pepper, to taste

Lemon juice, to taste
Instructions
Start by getting a big kettle of pasta water going; salt it when it gets hot. Do this before you start picking off all the tender agretti leaves. Generally everything is good to eat except for the central woody stem.

Drop the angel hair into the boiling water and separate it; angel hair has a tendency to stick to itself. It will need about 5 minutes to cook.

As soon as you drop the pasta in, heat the olive oil in a large saute pan over medium-high heat. Add the anchovy fillets and mash them up well in the oil; doing this makes the dish more savory, and not fishy. Let this cook for a minute or two, then add the garlic. Let that cook for about 1 minute, then add the agretti and cayenne. Stir and cook until the agretti wilts.

When the angel hair is done, move it directly to the pan; you want some of the pasta water to get into the pan. Mix and stir this well, adding the cheese, black pepper and lemon to taste. Serve at once, maybe with a bit more olive oil drizzled over it.
Nutrition
Calories:
441
kcal
|
Carbohydrates:
68
g
|
Protein:
15
g
|
Fat:
13
g
|
Saturated Fat:
2
g
|
Cholesterol:
2
mg
|
Sodium:
46
mg
|
Potassium:
438
mg
|
Fiber:
6
g
|
Sugar:
3
g
|
Vitamin A:
3079
IU
|
Vitamin C:
24
mg
|
Calcium:
149
mg
|
Iron:
4
mg
Nutrition information is automatically calculated, so should only be used as an approximation.