Sour Corn
September 09, 2019 | Updated June 06, 2022
As an Amazon Associate I earn from qualifying purchases.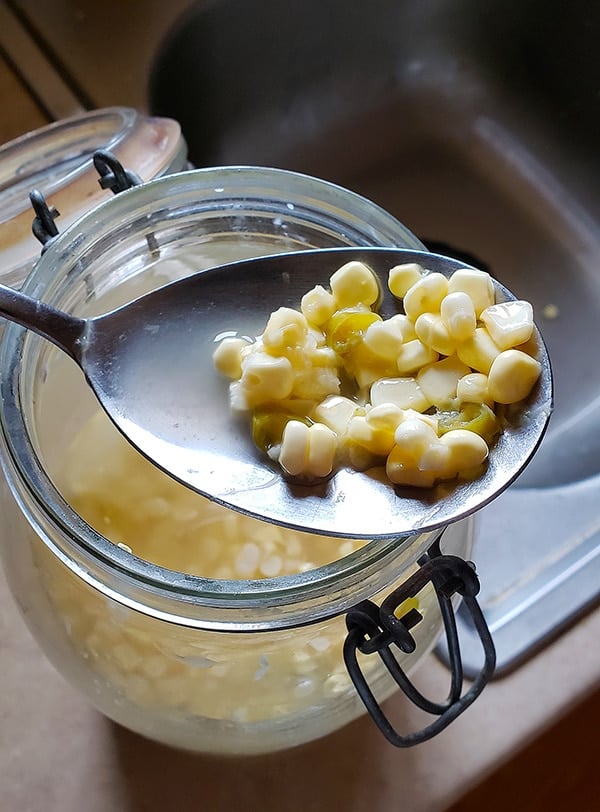 Anyone who knows me knows that I am always looking for some new thing to ferment, preserve or pickle. So when I learned about Southern sour corn, I had to make it.
I wish I had some great story to tell about how I first ate this lacto-fermented sweet corn in some West Virginia diner, maybe on top of some chicken fried steak with some crowder peas. Actually, that sounds amazing and I'll have to make it.
But no, I learned about this Appalachian specialty in Ronni Lundy's fantastic cookbook Victuals: An Appalachian Journey, with Recipes. I've been cooking a lot from this book lately, and I simply cannot overstate how wonderful a book it is. If you like real Southern food, you need to buy this book.
Sour corn is to corn what sauerkraut is to cabbage. Same deal. Stupid easy to make. Corn, water, salt, and maybe something extra to make it yours. In my case, thinly sliced green cayenne chiles.
A few things you need to know.
Use Diamond Crystal kosher salt if you want to use my volumetric measurements; other salts will give you a different brine strength. Or you can weigh the amount of corn + water in grams and then add out 2 percent of that weight to the water to make a brine.
Keep the corn below the level of the water. Floaters will mold up fast. You can use a clean plastic bag will with more brine to do this, or use a pickling plate if you have a crock, or a small regular plate if you have one that works.
Mold happens. When you see it, skim it off. Usually you'll get a ropey, icky white mold, mother-of-vinegarish thing. It's not harmful, but you want to skim it off as the mold can get into your brine and alter the flavor a bit. It's still fine.
Keep it simple. Add one or two other things to your sour corn, but remember this is a base condiment, not a finished relish. Of course, you can ferment a full relish if you want, but that's a different recipe.
How to use your sour corn? Hell, it's great as a snack. But I like it as a sort of Southern salsa, alongside the aforementioned chicken fried steak, or any other quickly cooked meat; as a side dish to my buttermilk fried quail springs to mind.
I know other people cross cultures and literally use sour corn as a salsa on tacos, which is also excellent. When you come up with a cool way to use it, do me a favor and post it up in the comments section below. Enjoy!
Sour Corn
This is a recipe for sour corn, a lacto-fermented pickled corn from the South. It's like sauerkraut, only with sweet corn. Once made, it will keep in a cool place for months and months. Just skim any mold off the top as it forms. This recipe makes about 2 quarts.
Ingredients
2 dozen

ears

sweet corn, kernels removed

1 to 5

green cayenne or other hot chiles, sliced very thin

(optional)

2

tablespoons

pickling spice (mustard, coriander, black pepper, etc.)

(optional)

5

tablespoons

Diamond Crystal kosher salt

2

quarts

water
Instructions
Put the corn and chiles in clean quart Mason jars or crocks, or some other non-reactive container, which means no galvanized steel or aluminum. Make sure there is sufficient headspace to keep the corn below the level of the brine.

Mix the salt and spices, if using, with the water and stir until the salt dissolves. Pour over the brine and any spices you might be using. Place something to keep the corn from floating. I use a plastic bag filled with some more brine.

Put the whole shebang in a cool place, like a basement, or a quiet, dark corner -- any place below 75F or so. Let this ferment for at least 5 days, and up to 2 weeks. Taste the corn after 5 days and let it get as sour as you want it.

When it's ready, move the jars to a cooler place to store for as long as you need. It'll keep for months in the fridge, although you will need to skim the mold that will form on top.
Nutrition
Calories:
10
kcal
|
Carbohydrates:
2
g
|
Protein:
1
g
|
Fat:
1
g
|
Saturated Fat:
1
g
|
Sodium:
17
mg
|
Potassium:
30
mg
|
Fiber:
1
g
|
Sugar:
1
g
|
Vitamin A:
21
IU
|
Vitamin C:
1
mg
|
Calcium:
4
mg
|
Iron:
1
mg
Nutrition information is automatically calculated, so should only be used as an approximation.