We buried our cat Paka this evening in the garden, next to a grapevine.
She was 15 years old, which is 76 in people years, but it still seemed too soon. Lots of cats live into their high teens. Some crack 20 years even. I wanted to grow old with my girl, to take care of her. But now she's dead. I feel like a failure, like I've let her down.
Paka had an abscess no one knew anything about, and it was so bad they needed to put her under anesthesia. The vet said they'd do blood work to make sure she could take it, but I guess they did not reckon on her heart, which had had a murmur her whole life. I rushed to the vet after work Friday to get her — I did not want my girl spending the night in a strange place — and she seemed woozy but OK; she was a lot like I was when I came home from surgery in December.
Saturday she ate, took her meds and seemed to be on the mend. But by Sunday morning I knew something was wrong. Paka hid herself under the couch and was having trouble breathing. Panting is a sign of pain, so we wrangled her into position to give her pain medication. Afterward, I reached under the couch to pet her, and she cupped her head in my hand, looked at me and purred. She didn't want me to stop. I didn't want to stop. Sweet girl.
What we did not know then was that her breathing was labored because she was getting fluid in her lungs, and her heart was giving out. Paka knew she was dying, and wanted to be with me before she went.
But to my everlasting regret, we didn't realize this at the time. We even went out foraging for a bit, my first trip since my injury. When we came back a couple hours later, Paka was in worse shape. She was barely responding.
It's funny how we can hold things together only just so long. We got her into a carrier and swept her to the vet, which is a couple minutes away. I was OK. Calm, even. Maybe Paka was having a reaction to the medicine. Maybe she was going to be all right.
She wasn't. Just before five o'clock, the vet told us to come in fast. When they'd taken her off oxygen to prepare her for a trip to a nearby emergency room, Paka stopped breathing. They put her on a ventilator so we could see her one last time. I looked into her eye, and she looked scared. I was scared, too. She died on the table, soaked in our tears.
I held her, sobbing, for a long time. We took her home and put her in a box with a soft towel. We sat there, stroking her fur, until the sun went down. And then we sat in the dark.
Even now, I can't stop sobbing. I am a grown man, and I still can't stop sobbing. My face hurts from so much sobbing.
Paka was much more than just a cat. I got her as a kitten, just a few months old, from a crazy cat lady in Bayport, Long Island, in the spring of 1996. I picked her out because she looked a little like a cat I'd had earlier named Gomez, a cat I lost when I broke up with my girlfriend at the time — she was a vet tech and could take better care of them than I could.
But I wanted a companion of my own. I lived alone then, although I was seeing the woman who, for a time, would become my wife; Jen was with me at the crazy cat lady's place, and she chose a cat she named Savannah, because she looked like a cheetah. I named my little cat Paka, which means "cat" in Swahili. I actually named her Paka Potea, which is a Swahili pun. "Pata potea" means the same thing in Swahili as "so-so" does in English. I tell you this because that's the origin of our other name for her — Tater — which comes from Holly calling her Paka Potato. Funny how we give our loved ones lots of little names.
For years, it was Paka who greeted me when I came home from work every night. For years, it was just me and her. Like butter and bread. I fed her everything and anything, especially fish bits. I was fishing a lot at the time, and Paka got all the stray parts. Of the three cats we live with, Paka was the only one who ate fish. She might have gotten a little rotund — OK, a lot rotund — but she was Falstaffian in her loves. Lots of food, lots of love and lots of sunshine.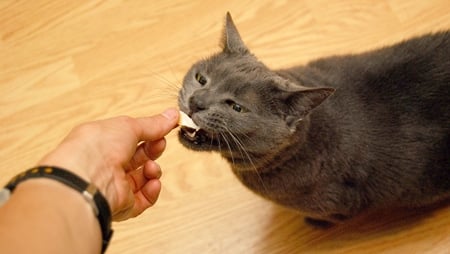 Every morning I had to find where the sun would hit and make sure some fell on the floor for Paka to pick up and play with. She'd roll back and forth for a while, then sleep purring for hours.
I have hundreds of stories about her, but the best is that of our journey from Virginia to Minnesota. Holly had left some months before, and I packed all my belongings into a U-Haul truck and set Paka in a carrier on the passenger seat, facing me. It was a 1,200-mile journey that was about to be made longer: The power steering gave out in Hagerstown, Maryland, and with it the air-conditioning. It was July.
Add to this the unhappy coincidence that every goddamn hotel between Ohio and Illinois was booked up, and you have a recipe for a cranky man and a cranky kitty. We drove through, non-stop, with only an hour's nap break on the side of a road in Indiana somewhere. But Paka was a gamer. After an initial bout of yowling, she just sat there and looked at me, mile after mile. Every now and again she'd stick her paw out to touch my right arm. She was the sweetest cat ever.
By the time we reached St. Paul I was exhausted, and so was kitty. When we reached the apartment, I threw myself on the bed to sleep — and Paka hid underneath. When I finally woke up, I could hear her purring.
I've known a lot of cats. Most are nice, but a little aloof. Our pretty tuxedo princess Harlequin is a lovely cat, but she comes and goes as she pleases and could do quite well by herself outside; Harlequin is more of a colleague than a pet. And little Giblet is very much Holly's kitty: They dote on each other all day long. No cat was ever like Paka. She came when I called. She knew her name. She knew to never wake me up in the morning. She'd eat anything.
All she wanted was food, water, and to be near me. And now she's dead.
I know some of you are wondering how it is that I can be so wrecked by the death of one animal when I hunt to kill other animals. Is it a contradiction? Maybe. But I am in no place to coldly analyze it now.
All I feel is hollow, gutted. I was forced to sit for a day on jury duty, and while I was not called, I was surrounded by wretched examples of humanity: Clucking hens. Manipulative, wife-beating, white-trash lowlifes. Mad, Jesus-howling black men with Bibles and accusing looks. I'd give a hundred of their miserable lives to hold Paka one last time, to feel her warmth, to see contentment in her eyes, and to hear her purr, that Harley Davidson purr of hers. It will stay with me forever.
We decided to bury Paka next to the grapevine. It is in a corner of the garden, in a place I can see if I look out my kitchen window. And it is in the sunshine. Paka loved sunshine.
I will miss you, my sweet. I love you. Goodbye.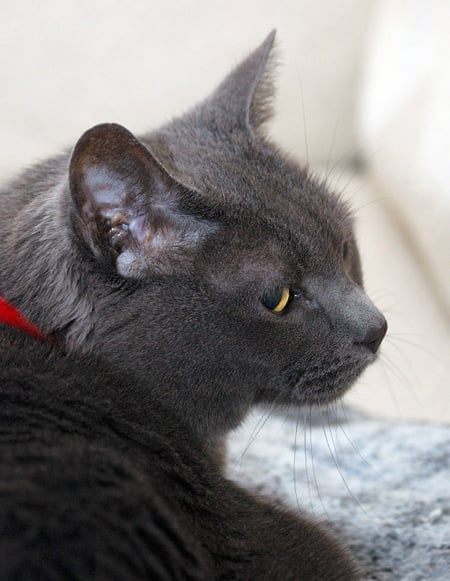 Holly loved Paka very much, too. Here is her sweet story of our sweet kitty.