As an Amazon Associate I earn from qualifying purchases.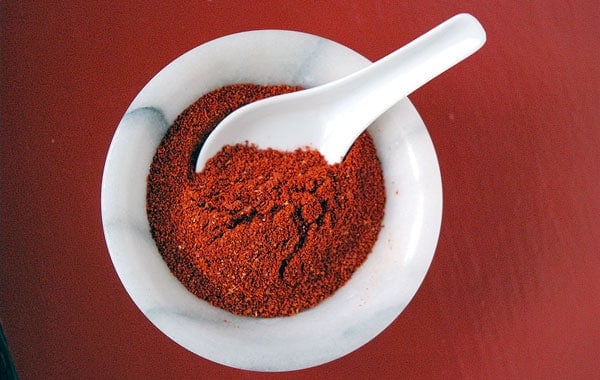 Why bother making homemade paprika? Fair question. After all, the Spanish and Hungarians are better at it than we ever will be, right?
Why not just call up Penzey's or somesuch and order some? Well, I do. But making something like paprika at home is not so much something I did out of necessity as it was an exercise in whether I could do it at all.
It's not that I think the world is about to collapse and oh-where-oh-where will I get the paprika to make my chorizo or chili or goulash, not to mention deviled eggs? It's that I have a fascination with how things are made; I am a sucker for those shows on Discovery Channel or NatGeo.
So I asked myself: "What would it take to make enough paprika for our household use for one year?" And just how do you make paprika?
Turns out making paprika is easy, but it takes a while. You basically need to start paprika long before you want the powder by growing the right kind of peppers. Almas or boldog peppers are standard: They're vivid red peppers that aren't too thick; bell peppers are not ideal. Why? Thick-walled peppers tend to rot when left to dry, although you can certainly use a dehydrator to prevent rot if all you have are ye olde bell peppers.
The reason paprika peppers are so special is because they have character. They are neither too sweet or too spicy. No matter what pepper you use, you want something in between. I find that poblanos, left to fully ripen, are another excellent substitute, but very different.
Here is a primer on all things paprika, if you want to go down that rabbit hole.
For my paprika experiment, I planted three Alma Paprika Pepper plants, and at the end of the season I had several strings of peppers hanging in our garage.
This first thing about making paprika I learned as I broke them into smaller bits to grind was this: Chiles need to be dried in arid, hot shade. Drying in the sun bleaches away color. Excess heat, like you'd get in an oven, adds an almost cooked aroma to the chiles.
And in all cases, humidity is the enemy. I dried a couple peppers in the (more humid, cooler) house and when I opened them up they were all fuzzy inside. Mold. I tossed them. None of the peppers in the garage had mold. (I live in Sacramento, California, where it is very hot and dry in the summer.)
Making the powder is pretty easy. Break the peppers into pieces small enough to jam into a spice grinder. I discard the seeds, because including seeds dilutes color and can increase the heat if you're using hotter chiles. The grinding takes a few steps, because you always get a a few pieces that don't want to grind. Keep sifting the bits through a fine-mesh sieve until you get an even powder.
That's all there is to it.
In that first experiment, I wound up with 10 tablespoons of paprika from the peppers you see hanging in the picture. Definitely not enough for a year, but maybe for a few months — unless I wanted to make a huge batch of chorizo or Italian hot sausage. Given all this, I reckon I'd need 10 to 15 plants to supply me for a year.
The cool thing about this experiment is that 10 to 15 plants is actually a reasonable number in my garden, if I so chose to devote that much space to paprika. And since I am decent enough at growing chiles from seed, I could have a perpetual supply for nothing.
What's more, my homemade paprika tastes just as good or better than the expensive kind I buy from Penzey's. That was something of a surprise — and confirmation that there is no great mystery to making this spice. (Spanish smoked paprika is quite another thing.)
But still. Was it all worth it? The planting and the hanging and the months' worth of waiting? Sure, if you have space and time. Grinding your own paprika is satisfying, and you get some really, really good spice out of it.