I scrambled over the boat's transom, down onto the swimming platform below. Scooting my butt over the side, onto a bobbing kayak, I wondered if I'd need the life vest I'd strapped myself into.
"Not comfortable," I grumbled aloud.
My friend Tyson sounded concerned. "We can pull the plug on this if you want."
I didn't look at him. "No. Let's go. This is how we learn."
I don't like kayaks. I am more of a canoe person. And here we were, in one of Admiralty Island, Alaska's many bays, kayaking in to a trailhead to fly fish for dolly vardens, a species of char.
I don't fly fish. For decades, I'd only been exposed to the holier-than-thou "Orvis Boys," fly anglers for whom catch-and-release was religion, people who looked at me keeping and eating trout in the same way you might look at me if I told you I enjoyed eating kittens. I have no time for them. But over the years, I began to meet more and more people who  use a fly rod to catch and eat fish.
Yet while my opinion of fly anglers improved, I still had never picked up a fly rod. Ever. Even in a recent trout fishing trip to the Canadian Rockies, where I'd used flies — but they were attached to a casting bubble on a spinning rod. Tyson's nine-year-old son Riley had more experience with a fly rod than I did. But today would be the day I'd break my personal ban on fly fishing, a ban that had lasted 47 years.
Oh yeah, and if you aren't familiar with Admiralty Island, it has the densest population of grizzly bears in the world, at one per square mile. Did I mention I am deathly afraid of grizzly bears?
The things I do for trout.
When we are young, most of us eagerly pursue new adventures, new skills — we bravely face our inner fears, all in the hopes of making ourselves better people. But as we age, we settle into patterns, habits. Our fears crystallize as we acquire the ability to avoid them. We become more resistant to change. Old dogs, new tricks, that sort of thing.
I am determined to fight this mental ossification until something catches up to me and I am forced to shed this human form. To do this, however, I must leave my comfort zone. I must deal with fears, rational or otherwise.
And so it happened that I faced one big fear, and a pair of stubborn hangups, on this little trip to fish for an unloved member of the salmon family, the dolly varden. Fitting, if you read this space often, as I am a passionate lover of the unloved.
Kayaking went fine. The water was calm, it's depth shallow enough for me to stand for most of it. We got out and hauled the boats about 200 yards inland so they wouldn't be dragged out of we were there when the tide rolled in. Facing us was a wall of conifers, with a dark hole in the center. The trailhead, leading into the Xootsnoowú Wilderness. Xootsnoowú is the Tlingit word for "Fortress of the Bears." Comforting.
We walked into the woods, calling out, "Hey bear! Hey bear!" My head was on a swivel.
The forest itself looked like an airy Fangorn from Lord of the Rings: Huge trees, moss, lichen, ferns. Old growth. Everything felt ancient and wonderful. Yet it was very apparent that we were not lords of this forest. Ursus arctos sitkensis ruled here.
A tiny Forest Service cabin greeted us where the forest met Admiralty Creek. Even at first glance, it was obvious that the creek was alive with pink salmon, all humped out and waiting to spawn. Thousands of them, in just this tiny stretch of stream.
Tyson rigged up a fake salmon egg on a tiny red hook above a bobber… er, "strike indicator," as they say in fly world. This would be the easiest fly fishing imaginable, perfect for me. Strip some line about as far as you want the lure to go, gather it all up until only a little bit of the weighted line stuck outside the guide wires, then cast upstream, letting the gathered line go. The egg would drift down current and, if the bobber dropped, a fish had struck it.
It took me a couple tries, but I was starting to get it. The pinks were amazing to see. Every now and again they'd bum rush — a hundred or more rushing upstream or down, or sideways. It sounded like waves on a beach.
I'd just made my first proper fly cast when I heard another pink bum rush to my left. I looked and instantly saw why they'd scattered. Bear. Grizzly bear.
Tyson reached for his pistol. We all called out, "Hey bear! Get outta here!" The bear, a teenager grizzly, looked at us and dashed across the creek back into the woods. He was maybe 150 yards away. I'd be lying if I didn't say I was a bit shaken.
But we continued fishing. Riley caught a teeny dolly varden, then a teeny cutthroat trout, then a pink salmon, then a teeny coho salmon. Tyson laid into pinks, shaking them off. These were not eating pinks, which should only really be eaten when chrome bright, preferably in salt water.
Working downstream, the thought of bears began to fade as I tried to make this new gear work. Slowly getting the hang of casting a bit farther, mending line, getting more precise with each cast. I had an advantage, as I've done all this with conventional gear for decades. It was just a matter of figuring out a fly rod.
Cast, drift, bobber went down! I set the hook and was instantly attached to something heavy. The connection between you and the fish on a fly rod is unlike anything I've felt with conventional gear. Closer, more intimate, more electric. Clearly this was a pink salmon on my line, but I played it anyway. I needed practice landing fish on the fly.
I was amazed at how strong this fish was. With a fly rod, there's not a lot of drag, and the reel isn't like a conventional reel; you need to carefully let a fish unspool you when it wants to go somewhere. And I couldn't horse it with 6-pound test on the tippet. Tyson said to drag the fish into the shallows, which took some doing.
But it worked, and voila! My first actual fish caught on a fly rod. A stinky pinky, but hey! Ya gotta start somewhere.
We continued to fish downstream. There were so many pinks in this creek that we began to think they'd crowded out the smaller dollies. Tyson thought they might be either in deep holes or tucked under cut banks. He was right.
I dropped the egg lure so it would cruise right up to a cut bank in the stream. The current was swift, but the bank couldn't have been more than two or three feet deep. ZING! My bobber went down and I was attached to a fish. Smaller, far more athletic. A dolly?
Where the pink was strong, determined, like a bull, this fish was a berserker. Into and out of the fast current, I could see it almost double over on itself several times. A good fish! With this little fly line, I could do nothing but play it, wait for a moment to step backwards and drag it onto the gravel to land. After what seemed like 15 minutes but was probably only about five, I rushed backwards a few steps. And there he was!
My first ever dolly varden. Such a pretty fish, salmonids are. They are the Platonic ideal of a fish in many people's minds, streamlined, beautiful, dainty. A dolly is a char, a cold water relative of the trout and salmon. They got their name from a character in Charles Dickens' novel Barnaby Rudge, a character that spawned a fabric pattern of forest green with pink spots popular in the 1860s. This is the same pattern these fish get when they are ready to spawn.
Tyson suggested I keep trying that cut bank, and I managed to drop the lure exactly where I wanted it, just upstream from a log that created a little slack water under the bank. Boom! Another dolly, this one a touch bigger. Again, the electric connection between angler and fish. I was starting to understand this fly fishing obsession.
I landed this dolly, too, and it was a female loaded with pretty golden eggs. Dolly varden caviar for dinner!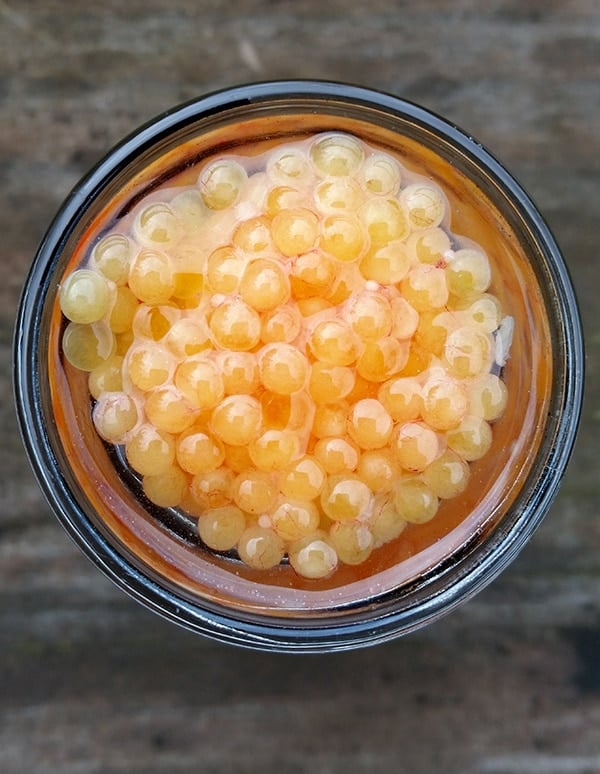 Two fish is a person's limit, and as it happened, those were the only dollies we caught. I'd caught a limit. We walked back through the bear woods to the beach, then kayaked back to Tyson's boat with no drama. It had all worked out. Mission accomplished.
Intellectually, I figured it all would. But fears and hangups are not rational. In my mind, I was ready to fall out of the kayak into the icy water. To be chased — or worse — by giant grizzly bears. To fumble with a fly rod and catch nothing. All of this was going to happen, my fearful self thought.
But it didn't. And I emerged from this little adventure a slightly more competent person. An aging dog learning a new trick.