Eating Yucca Flowers
June 15, 2011 | Updated November 06, 2020
As an Amazon Associate I earn from qualifying purchases.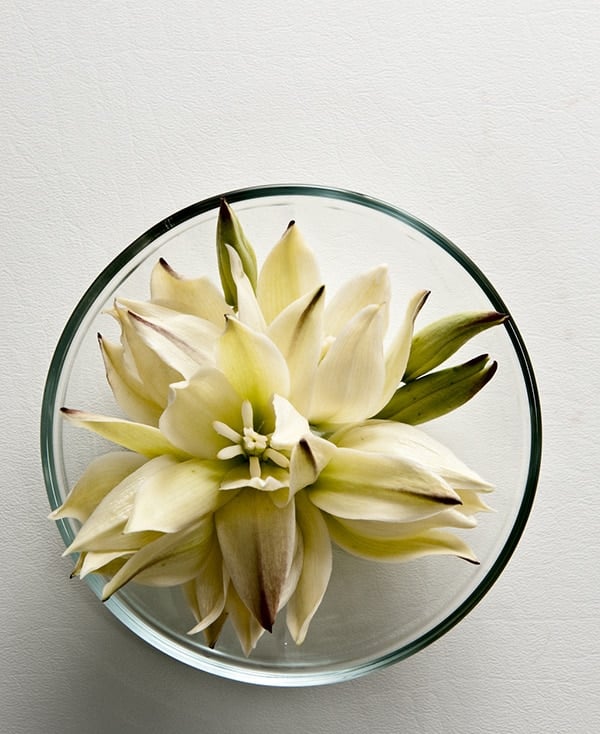 For nearly a year, I'd had my eye on a little patch of yucca plants growing in a vacant lot in Fair Oaks, near my house. And for most of that year, the patch looked like nothing more than a living asterisk, a round, spiky blob nestled beneath an oak tree. Every day as I drove to work, I watched it. Waiting.
Then, not too long ago, the little yucca plants each sent up the world's largest asparagus stalk. Once I saw that, I knew it would soon be time. Sure enough, a couple weeks later, the asparagus stalk sprouted a spray of some of the most beautiful flowers you'd ever want to see: Like upturned tulips, they were creamy, slightly greenish, fragrant — end edible.
Eating yucca flowers is not so strange as it may seem. Most of the plant is edible, actually, and many people eat that asparagus stalk. I might, if I lived in the Southwest, where yucca is everywhere and some, like the century plant, sport stalks 30 feet high. Most of the Native American tribes who lived around yucca used the plant extensively: They ate the flowers, stalks and fruits, used the fibrous, spiky leaves for cordage, and mashed the pulpy root with water for soap.
You do need to watch for ants and other critters in the flowers, as the nectar is irresistible to them, and there is a particular moth that pollinates yucca in return for depositing its larvae on the flowers; larvae are not good eats. But the grubs are rarely on the petals, and it is only the petals you eat.
I thought my little yucca patch was an anomaly, that is was a rarity in Sacramento. It's not. Once I spotted the flower stalk, I began seeing them everywhere. Then I left town on book tour and was amazed. Everywhere I went, from California to the desert Southwest to Texas, Louisiana, Alabama, Georgia and Florida, I saw yucca in bloom. Such a pretty sight. A huge swath of yucca is in glorious bloom in the Tehachapi Mountains north of Los Angeles right now; I passed them on the road Thursday.
A quick check of the literature and I found that some form of yucca grows from NorCal across all the southern states, and up into the Great Plains all the way into Alberta, Canada — where it is, apparently, endangered. While I don't know this as a fact, I would bet money that the heartland of the yucca is the stretch of desert between western New Mexico and Tucson, Arizona — I drove through forests of yucca there.
Enough geography. Why on earth would you want to eat a yucca flower? Well, because they're tasty! The flavor varies depending on species and on how old the flower is; older flowers can become bitter. But in general, the flower petals — again, you only eat the petals — are firm, slightly crunchy, and taste like a combination of a green bean and the innermost leaves of an artichoke.
Those I've eaten raw will make the back of your throat a little scratchy if you eat a bunch of them. Cooking seems to stop this from happening.
Most recipes for yucca flowers involve eggs. They seem to like each other very much. Omelets, frittatas, huevos rancheros, eggs, yucca, tomatoes and chiles, etc. etc. I've also seen them sliced and tossed into tomato-based soups. So I guess yucca flowers like tomatoes, too. But that's not the fate I had in mind when I picked a bunch of flowers recently.
Nope. I had a nefarious plan that involved hot oil.
Everyone loves fried squash blossoms, right? And everyone loves tempura, too. So I decided to tempura-fry my yucca petals, with a twist: Because yucca lives alongside mesquite, I would add mesquite flour to the tempura batter.
Ever eat mesquite flour? It's some pretty awesome stuff. It's made from ground, dried bean pods from this desert tree. The flavor is warm, chocolatey and spicy. Almost sweet. More on mesquite flour later.
I happen to be pretty good with tempura batter, and the addition of the mesquite did not screw things up, thankfully. The result was airy, crispy and warm. The yucca blossoms had that hit of artichoke leaf in the center, but I missed it in a few bites — next time I will stack 3 yucca petals together before I dip them in the batter, to get more of the yucca taste.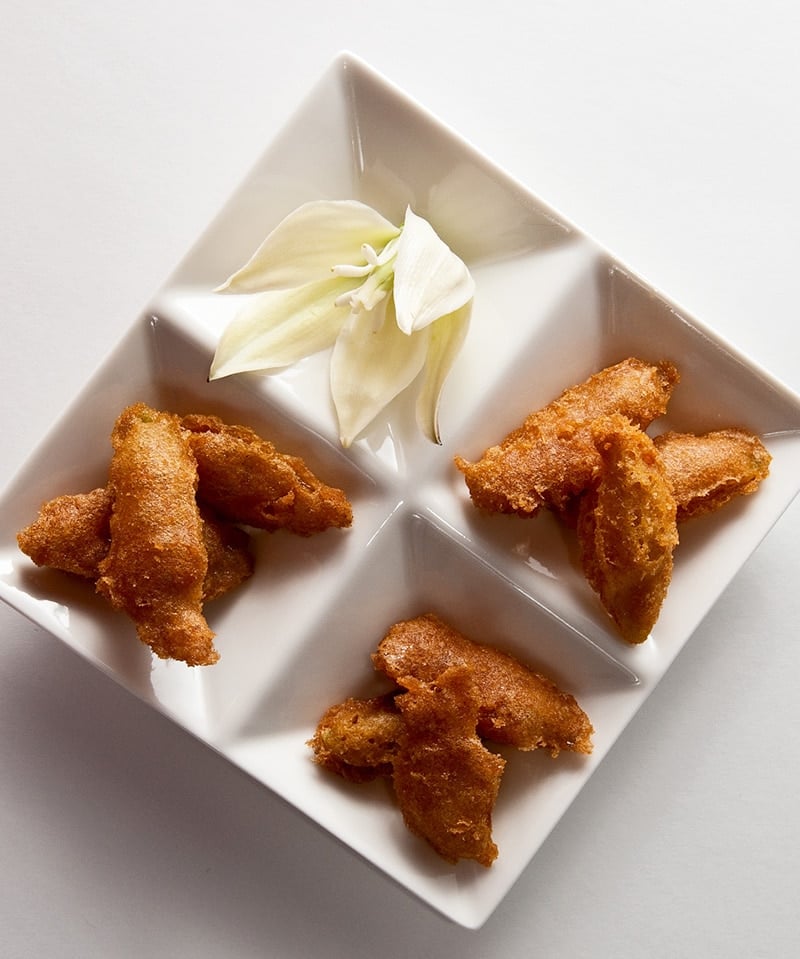 Definitely try this recipe. It's got it all: Crunch, unusual flavor, wild ingredients, and, let's face it, it's fried. Depending on where you are, you will need to go out and pillage some yucca flowers soon. They're only around in late spring, and only in wet years. So gather ye yucca while ye may…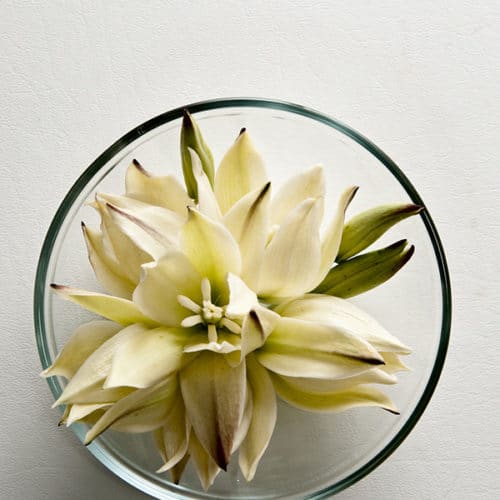 Fried Yucca flowers
This recipe may sound weird, and, well, maybe it is, but the structure of it is easy: It's a tempura batter over a flower petal, fried for a couple minutes in hot oil. You can serve it with hot sauce, or by itself. The closest flavor substitute for a yucca flower would be the inner layer of leaves on an artichoke -- the yellow leaves you can eat whole. You can also use squash blossoms here, too. If you cannot get mesquite flour, which is available online or at Whole Foods, you can skip it and use regular flour instead.
Ingredients
Petals from 12-15 yucca flowers

1/4

cup

all-purpose flour or rice flour

1/4

cup

mesquite flour

1/4

cup

corn starch

1

cup

sparkling water,

ice cold

1

egg yolk

1/8

teaspoon

baking soda

1/2

teaspoon

salt

Oil for frying

A chopstick or wooden skewer
Instructions
Set out a large wire rack with some paper towels underneath to drain the finished yucca petals.

Pull the petals from the yucca flowers and snip off any part of the green base of the petal that might still be attached.

Heat your oil in a fryer or a large, heavy pot to 360°F.

Mix all the dry ingredients for the batter together in a large bowl. When you are ready to fry, mix in the egg yolk and then the ice cold sparkling water. Mix only enough to combine the ingredients; a few lumps are fine.

Grab three yucca petals together in a stack, and dip them into the batter. Drop them into the hot oil one at a time, maybe 4-5 stacks per batch. Do not crowd the pot. Once they are all in the oil, use the chopstick to dislodge them from the bottom of the pot if the flowers have stuck there. Fry for 2-3 minutes, flipping once with the chopstick.

Drain on the rack and finish with the rest of the flowers. Serve immediately with hot sauce.
Nutrition information is automatically calculated, so should only be used as an approximation.