Swedish Crawfish Salad
July 23, 2012 | Updated June 06, 2022
As an Amazon Associate I earn from qualifying purchases.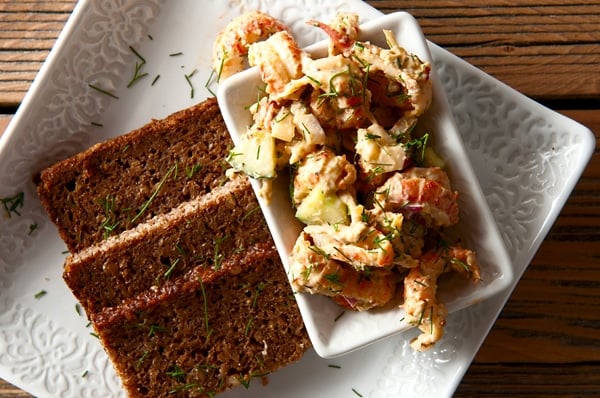 If you are an American, you probably think that the title of this post is a bit odd. Scandinavian crawfish salad?
But make no mistake: If there is a crawdad-eating culture that can match the Cajuns, it's the Scandos. And high summer is the season for them in Sweden and Finland.
Crayfish eating is done with much ceremony in a Swedish kraftskiva, and, much like a New England lobster boil or a Cajun crawdad boil, there are certain things that must be included: The crayfish are always boiled in salty water with lots of dill; usually the flowering heads of dill, which have a stronger flavor. Anise can go into the boil, too, as can a few other spices. Sometimes beer makes its way into the boil.
Oh, and the Scandinavians tend to eat all of the crawfish, including the claw meat. They even have a special crayfish knife for the purpose. Very few Americans I know bother with the claw meat, but as you can see, it can be well worth the effort with a big crawdad: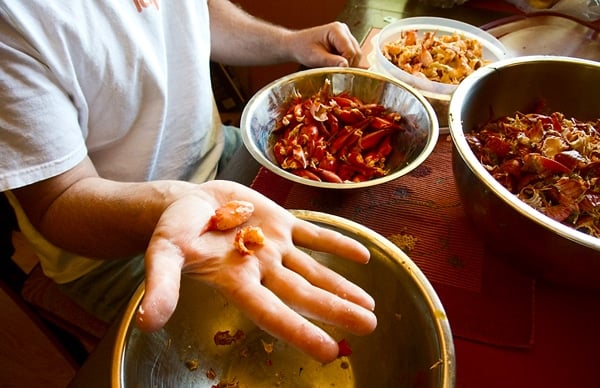 Beer, or more likely aquavit — a ferocious, caraway-flavored liqueur I mostly associate with nearby Denmark — is the drink of choice here. Lots of it. Apparently a Scandinavian crayfish party is really more of an elaborate drinking game than a meal. Everyone wears party hats and is supposed to take a shot of aquavit or schnapps between each crayfish. And a normal serving of crayfish is about a dozen. Uff-da.
A dozen? Crap, I can eat a dozen crawdads in maybe 5 minutes. Shelled, I could eat that in a mouthful. OK, a big mouthful, but you get the point. It's the dozen shots that would do me in. I can't drink like I used to, which is probably for the best.
So where does this crawfish salad come in? Well, apparently even the Scandos can't drink excessively every day. But they do love their crawfish, and their season is short, from late July to early September. Light, lovely crawfish salads show up all over Scandinavia, and this is my version.
I know what a few remaining doubters out there might be thinking: Blech, Scandinavian food? First off, it sure as hell ain't German food. (And for the record, German food is not as bad as its reputation.)
And second, I might remind any doubters that for several years running the best restaurant on the planet has been NOMA, in Denmark. Scando food — real Scandinavian food — is light, carefully constructed and studded with unexpected flavors, some imported since the Viking days.
Give this salad a go on your next hot summer night. And if you can't find crawfish, those pretty little cocktail shrimp (which are sustainably caught in North American waters, by the way) are an excellent substitute, as is king crab.
Scandinavian Crawfish Salad
Crawfish salads are pretty common in Scandinavia, although this recipe is my own. If you want to make this salad but can't get crayfish, use those little cocktail shrimp from Maine or the North Pacific. Serve this salad with pumpernickel, cheese and either a crisp white wine or a lager beer.
Ingredients
1

pound

crayfish tails and/or claw meat

(cooked)

1/2

cup

chopped red onion

1

cup

seeded,

chopped cucumbers (peel the skin if it's bitter)

2

teaspoons

prepared horseradish

2

teaspoons

mustard

4

tablespoons

mayonnaise

1

tablespoon

chopped fresh dill

Salt and black pepper to taste
Instructions
Put the crayfish tails, red onion and cucumber in a bowl. Mix the horseradish, mustard and mayo together, then mix into with the crayfish. Stir in the dill and add salt and black pepper to taste.
Nutrition
Calories:
81
kcal
|
Carbohydrates:
2
g
|
Protein:
2
g
|
Fat:
7
g
|
Saturated Fat:
1
g
|
Cholesterol:
16
mg
|
Sodium:
95
mg
|
Potassium:
71
mg
|
Fiber:
1
g
|
Sugar:
1
g
|
Vitamin A:
16
IU
|
Vitamin C:
2
mg
|
Calcium:
11
mg
|
Iron:
1
mg
Nutrition information is automatically calculated, so should only be used as an approximation.