Braised Rabbit, and a New Way to Look at Food
March 02, 2009 | Updated December 28, 2020
As an Amazon Associate I earn from qualifying purchases.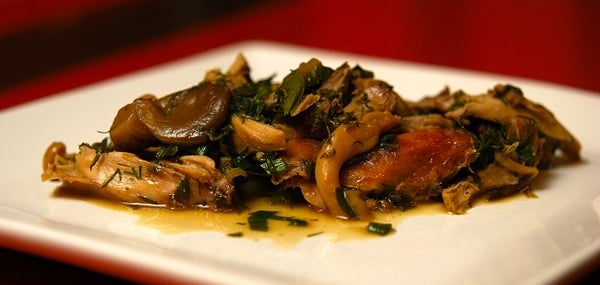 I made braised rabbit the other night, and it was good. But the dish was also something more: I made it up. No cookbook involved, although I did get a little help from a very different kind of book that offers was a new (at least to me) way to look at food that is changing the way I cook.
Don't get me wrong: I love cookbooks. I own lots of them. I read them like literature, and always hope they live up to this expectation, although they rarely do. Yet even a poorly written cookbook can teach me a new technique, a new combination of flavors or a fresh ingredient to try. I glean from them what I can, and riff off their recipes the way a jazz musician makes Coltrane's "A Love Supreme" his own — at least that's how I feel when I'm on my game.
But as wonderful as riff off something can be, there is only one John Coltrane. They invented, and others played with their inventions. That's what you, me and nearly every other home cook does; the best do it very, very well. Even many good restaurant chefs do this. But they are merely good. Great cooks invent.
Have I invented dishes before now? Certainly. Most of us have at least one or a few recipes that came to us as a gift from the Muses. What I am talking about is making this your norm: To think about an ingredient or ingredients, the "stars" of your show, and then building the dish around them. From scratch, without the safety net of a trusted cookbook to fall into.
We can all do this, if we only think hard enough. Certain rules just seem natural. Beef doesn't go very well with fish stock. Put chiles, citrus, vinegar and wine together and you'd better serve Tums as dessert. On the other side of the ledger, you'll find butter and lobster. Mint and lamb. Lemon and fish. Classics, all — cliches, really. We need to go deeper.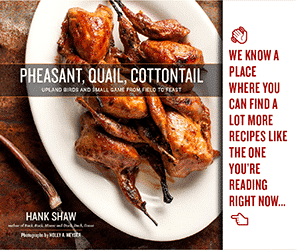 Which brings me to this curious set of books that are helping me do this. They are written by a duo who have spent considerable time interviewing great chefs, asking them what flavor combinations they employ. Chestnuts marry nicely with cream, yes, but did you know they'll play with rosemary just as well? (I did, but for every one I do know, there are 50 I didn't.)
The authors are Andrew Dornenburg and Karen Page, and the books are Culinary Artistry and The Flavor Bible. These are not cookbooks. They are schematics for a skilled cook, points of departure to guide invention. Think of them as a way to prevent you from pairing mahi mahi with braised lamb and a strawberry sauce, topped with sun-dried tomatoes.
What are these books then? For the most part, they are lists of ingredients that skilled, professional — even great — chefs have paired and paired well. Culinary Artistry focuses on classic flavors that chefs have combined for centuries. The Flavor Bible looks more at what chefs are doing now.
I own both, but I did not really appreciate Culinary Artistry or The Flavor Bible until some months after I "read" them. After all, beyond the first few pages the books are little more than alphabetized lists of ingredients, followed by other ingredients that work well with them.
But something happened when I took a second look at Page and Dornenburg's second book. I began to think. What if I put away my cookbooks for a while and just played with flavors, using only these books? Great chefs have many of tried-and-true flavor combinations filed away in their minds, but even Eric Ripert or Thomas Keller will not know all of them. (Ferran Adria might.) That's where the books would be useful, a guide to my wanderings.
The first foray was this braised rabbit. It started with yesterday's dreary rain. Whenever I decide to cook I look out the window first; weather determines the dish, climate determines the cuisine. German food is appallingly inappropriate in August in California, but it'd do nicely in winter in Canada. The first of March is neither winter nor spring in Sacramento: One day it can be hot, the next, close to freezing. For us, March is a month of duality.
This is reflected in the kitchen. Garlic is getting old, tired. Storage onions mope beneath thick brown skins. Dried mushrooms wait patiently. Beef seems a bit much, and lamb is another few weeks away. Chicken might be nice, but so is rabbit.
Rabbits. Easter. Spring. They work well together. As it was raining steadily, I knew I wanted a braise, something comforting to eat with crusty bread. I am also on a mushroom kick lately. So with that in mind I looked through both books, which reassured me that my instincts were sound: I wanted to use mushrooms, onions, fennel and white wine, and all were listed under "Rabbit." Nothing ground-breaking here.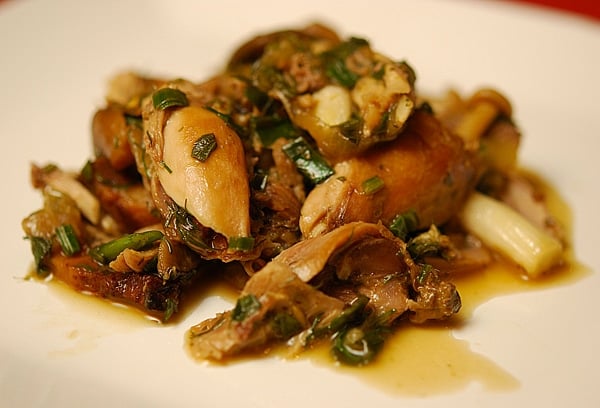 The day before I'd gone to the farmer's market and found some of the first green onions and green garlic of the year. I adore green garlic, and use it in everything for the short while it lasts. So I knew I'd use it with the rabbit. Then it struck me: I can conjure an echo of two-faced March with this dish. I would pair a head of regular garlic with this green garlic, an old storage onion with the fresh scallions. A handful of dried oregano as an undercurrent to the sweet, floral oregano growing in my yard right now. Fresh oyster and beech mushrooms to go with a dried wild mix I had in the pantry. Toasted fennel seeds to play backup to a young fennel bulb that had volunteered to grow in my garden. It all worked.
Brooding flavors of dried mushrooms, homemade guanciale and a dark duck stock pulled the rabbit toward winter, while the white wine and young greens tossed in at the end lifted it toward springtime. It was the perfect dish for just this day — not tomorrow, not two weeks from now or last month. Today.
What will tomorrow bring?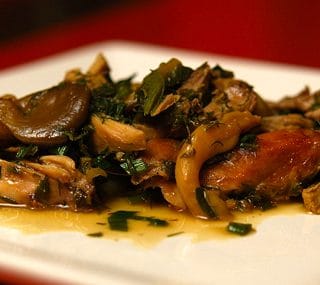 Winter into Spring, a Braised Rabbit Dish
This is recipe is a play off the rebirth of spring, when it is still unsure of itself. What do I mean? The recipe uses both regular garlic and fresh green garlic shoots; a storage onion and some spring onions; fresh and dried oregano; and fresh and dried mushrooms. To me, this reflects the fickle nature of springtime: Sun one day, snow the next. Please do your best to get at least a few of the "doubles" I mention above, as this is what makes this recipe special. Can you use a domestic rabbit? Sure, but you'll only need one. You could also use stewing chickens, turkey (domestic or wild), a brace of pheasants, or maybe a quartet of chukars. Don't use anything with red meat here.
Ingredients
2

rabbits,

cut into serving pieces

1/4

pound

guanciale, pancetta or bacon

3

tablespoons

olive oil

1

medium onion,

sliced into half-moons

1

head

garlic,

cloves peeled but not chopped

White part of a fennel bulb,

chopped roughly

A handful of dried mushrooms,

about 1/2 cup

1/2

pound

fresh mushrooms

3

bay leaves

1

tablespoon

dried oregano

1

teaspoon

fennel seeds

1/4

cup

brandy

2

cups

white wine

3

cups

good stock

(duck, rabbit, chicken or vegetable)

5

green garlic shoots

(optional)

5

spring onions

1

cup

finely chopped fennel fronds

2

tablespoons

fresh chopped oregano

Salt
Instructions
Reconstitute the dried mushrooms in 2 cups of hot water. Let them sit, covered, for at least 1 hour.

Heat the olive oil in a Dutch oven or other lidded, heavy pot and slowly cook the guanciale, pancetta or bacon until crispy. (Guanciale is cured hog jowl (the Romans use it like bacon), and pancetta is unsmoked, Italian-style bacon.) Remove the guanciale and turn the heat up to medium-high. Salt the rabbit pieces and brown them well. Take your time and do it in batches if need be. Remove and set aside when nicely browned.

Add the chopped onion, fennel bulb and the dried mushrooms and saute until they begin to brown. Add the fresh mushrooms and garlic and saute until they begin to brown. Add some salt.

Add the Armagnac and stir well to combine. It should cook away quickly.

Turn the heat all the way up and add back the rabbit, the guanciale, and add the bay leaves, fennel seeds and dried oregano and mix well. Add the white wine and bring to a raging boil. Let this cook down, stirring occasionally, until the wine is reduced by half. Pour in just enough stock just to cover the rabbit. Do not totally submerge it. Bring to a simmer, taste for salt (add more if need be), cover and set over low heat for an hour, or 45 minutes if you are using chicken or domestic rabbit.

After an hour, test to see if the meat is tender. You want it to be practically falling off the bone. If it's not there yet, cover and continue to cook. If it is, you have two choices: Finish the dish as-is, or remove the rabbit and pull the meat from the bones. I typically do the latter. If you pull the meat, return it to the pot.

Add the green onions, green garlic and fennel fronds and stir to combine. Simmer uncovered for 3 minutes. You want them all to remain bright green. Serve with crusty bread and a heady white wine, such as a California Chardonnay or Rhone blend.
Nutrition
Calories:
459
kcal
|
Carbohydrates:
11
g
|
Protein:
41
g
|
Fat:
19
g
|
Saturated Fat:
5
g
|
Cholesterol:
147
mg
|
Sodium:
689
mg
|
Potassium:
949
mg
|
Fiber:
2
g
|
Sugar:
4
g
|
Vitamin A:
393
IU
|
Vitamin C:
5
mg
|
Calcium:
91
mg
|
Iron:
7
mg
Nutrition information is automatically calculated, so should only be used as an approximation.