Black Walnut Ice Cream
November 06, 2011 | Updated January 24, 2021
As an Amazon Associate I earn from qualifying purchases.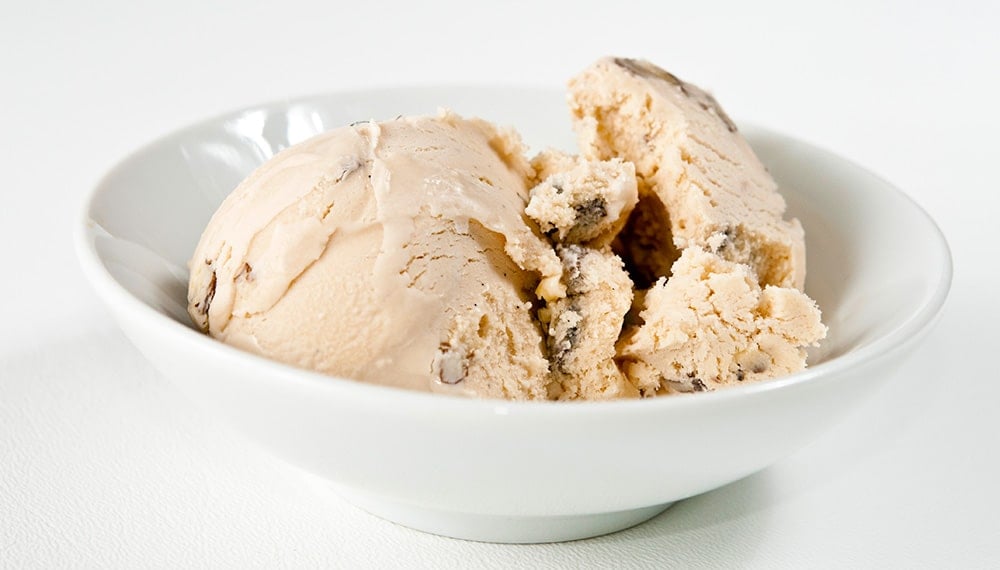 There is absolutely nothing like this black walnut ice cream.
Black walnuts are so much more flavorful than regular walnuts that you will be blown away by this recipe. I harvest my own black walnuts, but you can buy black walnuts online as well.
The reason this ice cream is so good is because black walnuts lend their flavor to fatty things, like cream, much better than regular walnuts. I am not sure why, but it seems to be the case in my experience. Can you use regular walnuts to make this ice cream? Yes, but it will not be the same. Nothing beats wild walnuts.
For my recipe, I do a black walnut double-dip: First I infuse the cream with the nuts, which gives it flavor and a little color, and then I add those walnuts back in the final ice cream, which is itself enriched by several egg yolks. It's roll-your-eyes-back-in-your-head good.
You can use this recipe as a template for any similar nut, so regular walnuts, pecans, hickory nuts and butternuts.
Another thing that makes my black walnut ice cream better than most others is that I use real vanilla, as in a pod, not extract. This makes a difference, but the ice cream will still be fine if you use an extract — just use a decent extract, not the imitation crap.
If you want something over your ice cream, the obvious choice is a chocolate drizzle. I prefer to add chocolate chips in the ice cream itself as a variation; add them in halfway through the churn.
Ingredients
2

cups

cream

2

cups

milk

2/3

cup

black walnuts,

roughly chopped

2/3

cup

sugar

1/2

vanilla bean,

scraped

4

or 5 egg yolks
Instructions
Heat the cream, milk, sugar and walnut pieces in a heavy-bottomed pot to 170 degrees, or to the point at which it steams but does not simmer. Turn off the heat, add the vanilla bean and the scraped insides of the bean, stir well and cover. Let this cool for 1 hour.

Move the mixture to a container and refrigerate for at least 4 hours, or up to overnight.

Strain the mixture to remove the vanilla bean and the walnut pieces. Reserve the walnut pieces and set them in the fridge.

Heat the strained mixture to 160°F. As it is heating, beat the egg yolks to combine. When the cream has hit its temperature, you will need to temper your eggs so they don't scramble. One hand holds a ladle, the other whisks the egg yolks: Pour in a little hot cream with one hand, whisking vigorously with the other. Pour in 2 ladles full, then pour the egg-cream mixture into the pot and stir well. Cook this gently, stirring often, for 5 minutes. Do not let it simmer.

Strain this one more time and chill the mixture down at least to room temperature before putting into the ice cream maker. Churn it until it has the consistency of soft-serve ice cream, then remove to a large bowl and gently fold in the reserved black walnut pieces. Freeze and eat!
Notes
Note that the prep time does not include chill time or the time it takes to churn your ice cream. 
Nutrition
Calories:
321
kcal
|
Carbohydrates:
18
g
|
Protein:
6
g
|
Fat:
26
g
|
Saturated Fat:
13
g
|
Cholesterol:
148
mg
|
Sodium:
43
mg
|
Potassium:
152
mg
|
Fiber:
1
g
|
Sugar:
16
g
|
Vitamin A:
883
IU
|
Vitamin C:
1
mg
|
Calcium:
100
mg
|
Iron:
1
mg
Nutrition information is automatically calculated, so should only be used as an approximation.