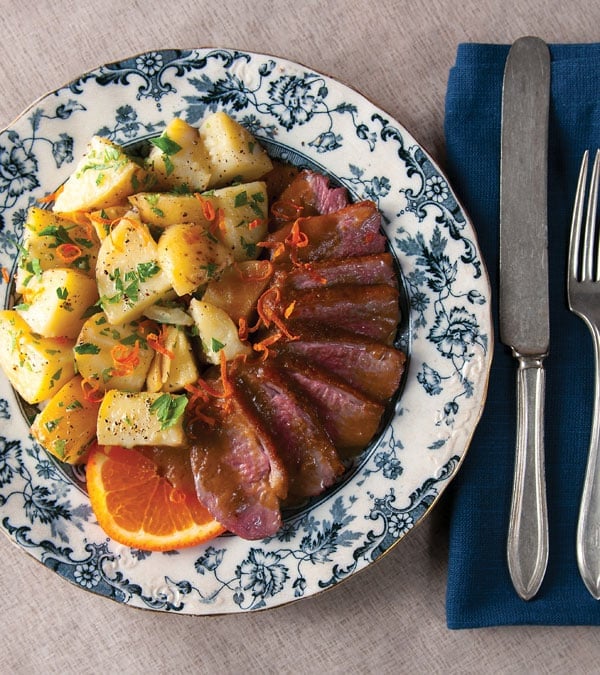 Duck bigarade is the original duck l'orange.
Before there was the gloppy 1960s version that tastes more like cheap, steam-table Chinese sweet-and-sour sauce, this classic version of the recipe is lighter and just a little bitter — the dish was originally made with bitter Seville oranges, and if you can find them, by all means use them.
Citrus and waterfowl just seem to go together, and, like my Goose Breast with Orange-Ouzo Sauce, this one also hinges on oranges. They are also in season at the same time here in Northern California. The sauce should be made while the duck is resting.
If you don't cook ducks often, here is my tutorial on how to sear a duck breast. If you don't want to make your own demi-glace, you can buy duck glace de viande online.
And if you want the more contemporary version of duck bigarade, you'll want my recipe for duck a l'orange.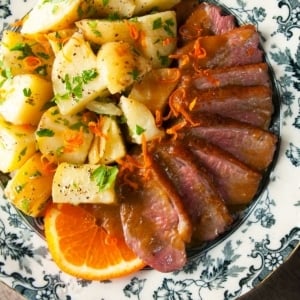 Duck Bigarade
This recipe is way better with skin-on breasts, but it'll work with skinless. Figure on 1 breast per person, or 2 per for smaller wild ducks -- or even more for teal. 
Ingredients
2

duck breasts

Salt

1

tablespoon

duck fat,

lard or olive oil

1

teaspoon

flour

1

shot glass of Grand Marnier or other orange liqueur

(optional)

1

tablespoon

cider vinegar or sherry vinegar

1/4

cup

demi-glace,

or glace de viande

Juice of an orange

(see above)

1/2

an orange,

quartered and sliced thinly
Instructions
Salt your duck breast halves at least 30 minutes before you begin. Let them rest at room temperature during this time.

Heat the duck fat in a medium saute pan over medium-high heat for 1 minute. Meanwhile, pat the duck breasts dry with a paper towel. Lay the breast halves down in the hot fat and cook, undisturbed, for 5 to 8 minutes. Listen for a steady sizzle, nothing too violent. If the sizzle gets to fierce, turn the heat down to medium.

Check the skin of the breasts: If they are browned and crispy, turn them over. If not, give them another minute or two. After the breasts are turned, cook for another 2 to 3 minutes. You might also want to "kiss" the thicker side edges of the breast, just to brown them well. When the breasts are cooked, set aside on a cutting board and grind black pepper on the skin.

To make the bigarade, turn the heat to medium and sprinkle the flour into the pan and stir to combine; this makes a roux. Let it cook, stirring occasionally, until it is the color of coffee-with-cream, about 5 minutes. Add a pinch of salt and stir to combine, then add the glace de viande, vinegar and the Grand Mariner if using. Everything will spatter, but whisk in the orange juice until it gets to a consistency you like. You may need more or less than a whole orange's worth.

To serve, lay down some sauce, top with slices of the breasts. Garnish with thin slices of orange. It's excellent with mashed potatoes or a wild rice pilaf.
Notes
If you don't have
glace de viande
(good supermarkets often have it in jars), boil down stock by half. Watch your salt levels if you do this, though. 
Nutrition
Calories:
435
kcal
|
Carbohydrates:
13
g
|
Protein:
53
g
|
Fat:
17
g
|
Saturated Fat:
5
g
|
Cholesterol:
180
mg
|
Sodium:
721
mg
|
Potassium:
665
mg
|
Fiber:
1
g
|
Sugar:
6
g
|
Vitamin A:
193
IU
|
Vitamin C:
31
mg
|
Calcium:
20
mg
|
Iron:
11
mg
Nutrition information is automatically calculated, so should only be used as an approximation.