Ventreche, French Bacon
April 20, 2012 | Updated October 28, 2020
As an Amazon Associate I earn from qualifying purchases.
I always knew the French had their own version of bacon, but until I met Kate Hill I thought it was all unsmoked variants on petit salé. But in Gascony, Hill says they favor a lightly cured, smoked bacon called ventreche.
Ventreche (ven-tresh) tastes more like fresh pork and less like a cured meat, and is normally kept pretty simple: Pork belly, salt, black pepper and smoke.
Ventreche becomes a base for pretty much anything a cook in the Gascon countryside might make. Chopped into batons, it's awesome in veggie dishes like succotash — I bet it'd be fantastic in a Cajun maque choux — or with short pasta, eggs of any kind, green salads, or tossed into stews like cassoulet. Or you could just crisp some up and eat it as a snack.
This is an easy bacon to make, and you don't even need to smoke it; unsmoked versions exist in France. You start with a nice slab of pork belly.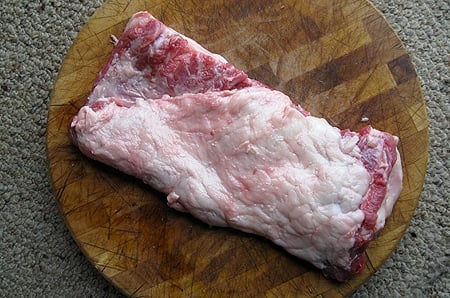 This one is from a wild hog sow that was fat enough to make bacon. Cut the slab into a rectangle that you can later roll and tie. Next you salt the hell out of it.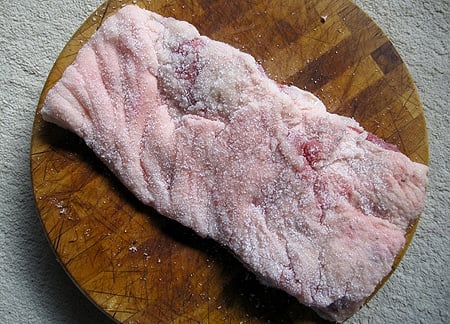 How much salt? The detailed recipe is below for amounts. Only use kosher salt or pure sea salt. Do not use iodized salt, as it contains anti-caking agents that will give your bacon a weird taste. Put the salted belly into a plastic bag. Seal it and put it in the fridge. How long? Kate only cures her ventreche for a day. I cured mine for two days. I would not go longer than 4 days, and remember: Ventreche is supposed to be lightly cured, not like our bacon.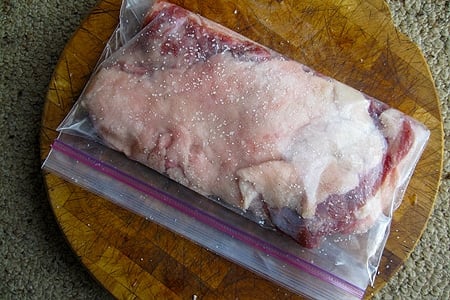 When the belly has cured to your liking, take it out and rinse it briefly under cold water. Pat it dry and let the ventreche dry at room temperature for an hour or so. I put mine on a wire rack under a ceiling fan for air circulation. Coat the inside of the belly with black pepper. The "inside" should be the leaner of the two sides, and this will be the side you plan on rolling up.
Now it's time to roll the ventreche. Roll it tightly into a coil starting with the narrow side of the rectangle. Slip some butcher's twine underneath. Do this at least three times, and use as much twine as you want.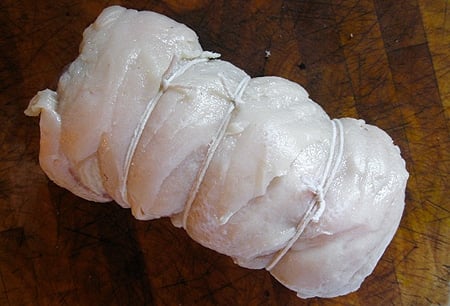 Note that if you have sausage netting, you will only need to tie the ventreche a few times. If you don't have netting, tie it more often. Once you tie the ventreche, work the netting over it.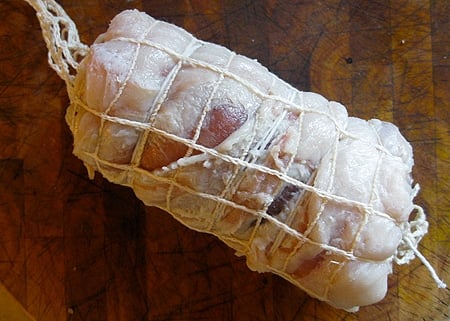 Leave a length of netting on one end so you can hang the ventreche in the smoker. Tie off the other end so the bacon does not slip out.
If you don't have a smoker, I would hang the ventreche in the fridge for up to a week or so. This will dry it out a bit and make it a little more interesting in flavor. You don't have to, though. If you have a smoker, get it set up. Hang the ventreche and smoke it over the wood of your choice (I use oak here), for a few hours.
Remove it when the ventreche is a pretty golden color. Once it's finished, eat this within a week or so or freeze it.
Ventreche, French Bacon
When you make your own ventreche, find the best quality pork belly you can find. Because this is so lightly cured, you will really, really notice the difference between crappy factory-raised pork and a good heritage pork belly. Wild boar is of course an excellent option if you can get one fatty enough.
Ingredients
2

pounds

pork belly, in one piece

20

grams

kosher salt,

about 2 rounded tablespoons

1/4

cup

freshly ground black pepper
Instructions
Trim the pork belly into a neat rectangle. Salt it on both sides, massaging the salt into the meat. Put the salted belly into a plastic bag and seal it. Store in the fridge for 3 to 5 days. Flip the belly twice a day.

Remove the cured belly and rinse quickly under cold water. Pat dry and place on a wire rack in a breezy place for an hour. Coat liberally with the black pepper and roll tightly. Tie off tightly, and then net with sausage netting.

Hang in your smoker and smoke for 4 to 6 hours at 225°F -- you want the interior of the bacon to be at least 140°F, and 150°F is better. What wood you choose is up to you; I use oak or pecan. Use or freeze within 10 days.
Notes
Note that prep time does not include curing time. 
Nutrition
Calories:
485
kcal
|
Carbohydrates:
4
g
|
Protein:
9
g
|
Fat:
48
g
|
Saturated Fat:
18
g
|
Cholesterol:
65
mg
|
Sodium:
805
mg
|
Potassium:
246
mg
|
Fiber:
1
g
|
Sugar:
1
g
|
Vitamin A:
41
IU
|
Vitamin C:
1
mg
|
Calcium:
31
mg
|
Iron:
1
mg
Nutrition information is automatically calculated, so should only be used as an approximation.