The Legend slid up to a floating island of rust-colored kelp, bobbing in the easy seas off the coast of Baja, sun blushing the eastern horizon. Sleepy anglers suddenly brightened. The motors slowed, and a crush of 31 anglers mobbed the hand wells containing our bait, each man trying to snatch a swimming sardine. Cajun Jeff, the mate responsible for getting the bait in the wells, was overwhelmed; this was only his fourth trip since moving to Southern California from the Gulf. Equally unused to this sort of bum's rush, I hung back and waited a moment to get my bait.
Grabbing a slippery sardine, I held it by the gill plates and stuck a hook from under its lower jar up through the end of its nose the way we hook anchovies up north when we use live bait. Just then the voice of the mysterious captain, whose name we never learned and who never once came down from the wheelhouse, crackled through the speaker: "OK boys, let 'em go!"
All hell broke loose.
Thirty anglers mashed themselves into the back corner of the port side of the boat and hucked live sardines towards the kelp patty. I'd never seen anything like this. Sure, I've seen combat fishing before. A few miles below my house at Nimbus Basin on the American River, salmon and steelhead anglers often stand within arm's length of each other. But this took it to a new level. I walked up to the bow and let my sardine go. It swam erratically here and there, and several times I needed to jerk it one way or another to prevent the little fish from snarling itself with other anglers' lines.
Someone shouted, "Hook up!" and instantaneously a third of the anglers had fish on their lines. Soon the hooked-up anglers were doing a dance I learned decades ago while fishing for bluefish off the coast of New Jersey: "Over!" One would shout as he followed his fish past you, lifting his rod over your head. "Under!" Another would say, only this time dipping below your rod.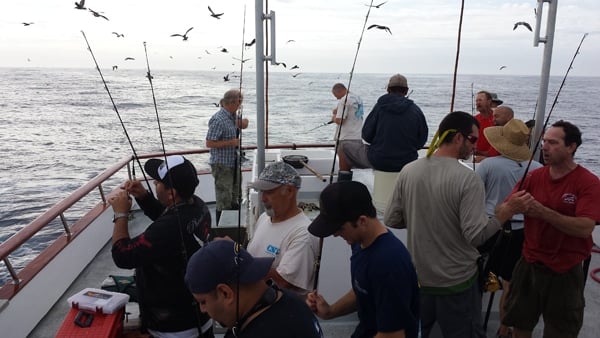 An angler got his fish to the boat next to me, and, predictably, it swam circles around several of our un-hooked up lines. Without a word, a mate whipped out a knife and cut all our lines, letting our sardines swim off and forcing us to re-tie hooks in the middle of this melee. Out of the game for the moment, I looked over the rail to see what sort of tuna this guy had caught, a tuna the mate was at the moment fiercely gaffing. It was a yellowfin of about four pounds, the very definition of what they call a "rat" down here. It was so small it could have been lifted over the side effortlessly without the gaff. When the gaff came up, I could see clearly that the little tuna had been hooked in the corner of its mouth — so it could have been easily released unharmed, left to grow and maybe be caught again when it was a respectable size.
I said nothing, just tied another hook on and snatched another sardine. So this was fishing aboard a "cattle boat" out of San Diego, eh?
I've lived here in California for a decade, and each year as summer turns to fall my eyes have turned south to San Diego. San Diego is where the tuna fleet calls home, and I've loved catching tuna for most of my life.  But tuna season happens to clash with dove season, deer season and the end of the salmon bite on the North Pacific. All of those pursuits are a lot closer than the 560-mile trip it takes to get down there. So I'd always let it slide. Until this year.
My friend David has fished San Diego a lot, and he was headed back to chase yellowfin tuna, yellowtail (a kind of jack), dorado, skipjack tuna and maybe even a Pacific bluefin. So I tagged along, with visions of the 50- and 100-pounders I'd caught off New Jersey, Long Island and North Carolina swimming through my daydreams. David had warned me that the fish would be a little smaller here, and I'd been given some yellowfin by friends in the past so I knew that I ought to scale down my expectations a bit. I set a mental limit of at least 15 pounds, which I thought would be pretty easy to meet.
As we drove south, I wrestled with the moral dilemma of catching a bluefin tuna, one of the most threatened species of fish in the world. Yes, the populations in the Pacific off Mexico were in better shape than those in the Atlantic, but this is like saying the guy dying of cancer has it way better than the guy dying of leprosy. True, but the end is the same nonetheless. This was a no-brainer: I vowed to cut the line should I hook one.
I began to get a bad feeling about this trip even before we boarded. The docks for the entire fleet are all next to one another, and with the word out that the tuna bite was on, it bore a strong resemblance to Grand Central Station at rush hour, only fishier and with hundreds of eight-foot rods swinging around wildly. It was a zoo. David and I ate some horrifically overcooked wahoo, washed down with an excellent Stone IPA, while we watched the show and waited for the Legend to arrive.
When the boat pulled in, everything aboard became a mad scramble. This was to be a 36-hour trip, with a turnaround from the previous two-day trip of less than three hours. Never a good sign. Once we boarded, it became apparent that this wasn't a crew in the true sense of the word — all six of them were from different boats, and even the regular captain was a no-show. They were all introducing themselves to each other as we steamed out of the harbor. Again, not a good sign. The Legend is 80 feet long, which might seem plenty big for 31 anglers, until you take in the fact that you only fish one side of the boat: That gives each angler at best 2 1/2 feet of space to fish pelagic species well known for their ferocious, line-tangling runs. This was going to be tight.
As we headed south into Mexican waters, the deck took on the appearance of a classic booze cruise. One stalwart had 10 beers down by the time we'd left the harbor. But everyone seemed to be either happy or stupid drunks, and there was no fighting. By the time the Broncos had beaten the Indianapolis Colts 31-24, we all sacked out in the bunks belowdecks.
Dawn brought the chaos of kelp patty fishing, with the action at each patty much like the previous one. The fishing was intense, but virtually all the fish were rats and tiny dorado we call "peanuts" back East — yet they were coming over the rail nonetheless. I kept expecting the captain to move away from these nurseries to focus on larger fish, but that never happened. During all this I managed to catch one decent dorado, but it was still small enough to lift over the rail without a gaff. I popped its gills and sliced a cut in front of its tail to bleed it, then pushed my way to the stern to look for a stapler so I could staple a paper tag with my number onto the dorado's gill plate. Eventually I found the stapler in the kill box nestled among wriggling, dying fish. None had been bled. It was about 85°F out at the time, and the water we were fishing in was not much cooler than that. No bueno.
Back in the water, I landed a little yellowfin, hoisting it over the rail. The mate noticed this and asked why I hadn't called for the gaff. I told him this fish was way too small to keep. He shot me a look and said, "Any tuna's a good tuna. Besides, these are just Mexican fish." Again, I held my tongue. I turned to my little tuna, unhooked him, tossed him overboard and watched him swim down into the azure Pacific.
This went on for hours, and during that time I'd noticed that I really wasn't catching many fish compared to everyone else. I chalked it up to my foul mood, until I noticed the guy next to me hooking his sardine through the nose sideways, not through the lower jaw. I asked him about this and he said that's probably why I wasn't catching — sardines need to be hooked differently from anchovies. OK, good to know. Would have been nice for a mate to have mentioned this at some point in the past 12 hours, but hey.
The moment I changed the way I hooked the sardines I began catching fish hand over fist, but every one of them was a rat yellowfin. I must have thrown back a dozen fish before my line bent hard. Finally! I was using very light tackle, so I didn't dare increase the drag; I'd done so a few times earlier in the day and the line had promptly popped off. I was still up in the bow of the boat, and for once had a little fishing room.
Screaming drag, tight to an unknown fish. This was what I'd driven so far for. I wanted to savor this moment, but at the same time I wanted to at least see what fish I'd linked myself to before it tore up my tackle and swam off. I'd already written off this trip and just wanted to see one decent fish. Just one. Then, deep down in the crystalline water I saw it: A yellowfin, and it wasn't a rat. For the first time in 10 hours of fishing I called for the gaff.
It wasn't a great fish, but the yellowfin just barely hit my personal limit of 15 pounds. I was on the board on my own terms at last. Fortunately, the flurry persisted and I landed another two yellowfin of similar size, plus a nice 25-pounder. Nothing like the tuna I'd caught in North Carolina or Jersey, but at least they weren't infants.
Suffice to say I will not be sailing aboard the Legend again. Too many people, indifferent mates, and no concept of conservation, which is especially tragic considering how stressed most tuna species are in this world. Yellowfin, for the record, are in decent shape in the waters around Baja and Southern California, unlike bluefin. Still, why is there no size limit on these fish? Yellowfin can grow beyond 400 pounds, and a typical mature yellowfin — one that's had the chance to spawn — is about 35 pounds; a mature dorado is normally about 15 pounds. And both species grow very fast. Maybe the answer is a slot limit, where you can keep tuna larger than, say, 24 inches, but no larger than, say, 100 inches?
I don't know what the answer is, what a responsible, sensible set of rules for catching these fantastic fish ought to be. But I do know that wholesale slaughter of rats and peanuts ain't it.