How to Make Venison Ham
July 21, 2009 | Updated May 18, 2020
As an Amazon Associate I earn from qualifying purchases.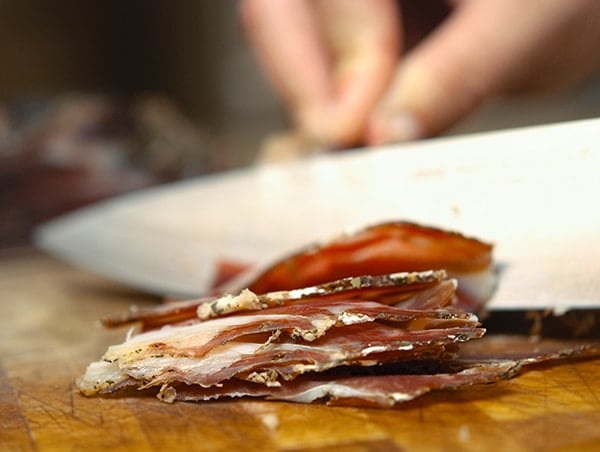 I present to you: mocetta. It was my first-ever dry-cured ham, and it does not come from a pig. This is venison ham.
Mocetta (MOE-chet-uh) is a Northern Italian air-dried goat ham that, I've discovered, works well with venison, too.
I wish I could tell you I have an old recipe handed down by the nonnas from Alto Adige, but that'd be a lie. A good lie, yes, but a lie nonetheless. Actually making mocetta became something of a detective job. I can read Italian well enough to read recipes, so I turned Google onto it and read scores of accounts about mocetta, product descriptions in Italian online catalogs, references to it in books, etc.
What I found is that mocetta always has "Alpine herbs and spices." Um, what the hell does that mean? I decided to go with a piney, aromatic mix of juniper berries, rosemary, bay leaves, black pepper and garlic. Most of these ingredients are mentioned in someone's mocetta description, so I figured I was close enough.
Why make mocetta? Because it's a skinless ham. Skinless hams cure easily but are tougher to age well because they can dry out fast. But since we all skin our deer, it's what you can do.
I do the standard two-step cure many of us use with big hunks o'meat: Rub half the cure mixture on the meat, put in the fridge for several weeks, then rinse and repeat. Yes, you will need to have a leg or two lurking in your refrigerator for the better part of a month. Get a big Tupperware or just deal with it…
Once it's time to hang the mocetta, you will need a curing space with high humidity and pretty low temperatures. I started mine at 80 percent humidity and about 55°F. As the meat ages, the humidity needs to go down and the temperature needs to go up. At the end, my goat hams were at 60 percent humidity and 60°F.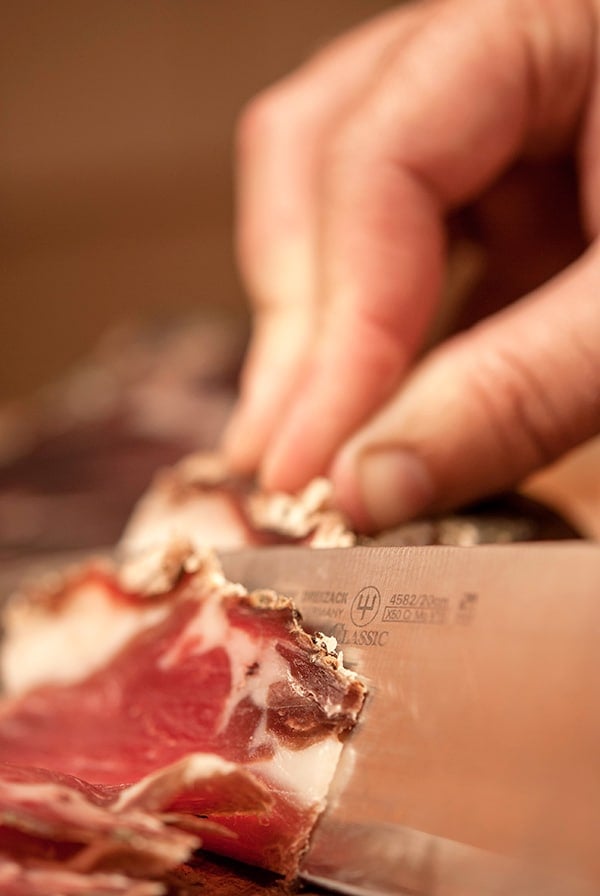 Mocetta is not cured for very long, relatively speaking, precisely because it is skinless.
Why? Because originally the Italo-Swiss who made it used wild ibex that lived in the Alps — not easy to haul a wild goat out of the mountains with skin on, only to scrape the fur off to preserve skin like you would a real prosciutto. I was very glad to hear that even in Italy, where some of their best products are massive pains in the asses, they took the "easy" way out on this one.
Still, mocetta needs 2 to 5 months hanging. Better than the 12 to 18 months for a real prosciutto, but long enough to begin to develop those mysterious esthers and flavors that a truly old ham gets. Funky yet aromatic.
Make no mistake: I do not think my venison ham tastes anywhere near as good as real jamon iberico. But sliced thin, it is excellent: Good color, firm but still supple, meaty, fatty and with an aroma that is just this side of goaty. I like it a lot with a husky red wine.
A note on salt. You will need to weigh your meat in grams and then weigh out 2.5 percent of that in sea salt or kosher salt, then another 0.25 percent – that's one-quarter of one percent – in cure no. 2, which contains sodium nitrate. I use Instacure No. 2.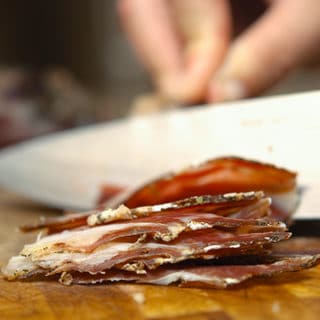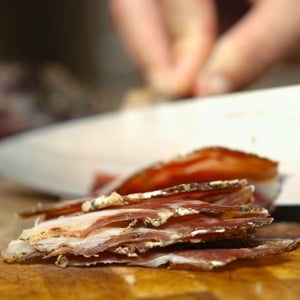 Mocetta, Italian Venison Ham
This is essentially a little prosciutto, without the skin. As such it will dry out faster and will be ready in far less time, even as little as three months. The longer you let it hang, the more humidity you will need to prevent the leg from becoming jerky. I aged mine four months and got a good balance of firmness, funkiness, color and flavor. As with any cured meat product, the meat matters: Use only hind legs from a young deer or antelope, or meat from small farmers who care about their product. And you need to use curing salt No. 2, which you can buy online. 
Ingredients
1

small hind leg of a deer,

about 5 pounds

Instacure No. 2

(see above)

Kosher salt

(see above)

1/2

cup

white sugar

25

grams

garlic powder

10

grams

juniper berries

12

grams

black pepper

5

grams

dried thyme

12

grams

fresh rosemary

15

bay leaves
Instructions
Grind the juniper berries, black pepper, thyme and bay leaves together until fine. Mince the rosemary. Combine all the spices with the salts and mix well. Divide this mixture in half. Put one part of the cure away in a sealed container.

Carefully rub half the mixture into the goat legs, making sure to get lots into the ball joint that had connected the leg to the pelvis; this is where leg cuts often spoil. Massage the spices and salts into the meat.

Put the legs into a large container and refrigerate for 2-3 weeks. Drain off any liquid that seeps out of the meat. You will know it's about done when the meat has firmed up quite a bit.

Rinse off the cure and pat the legs dry. Repeat Step 3 with the second half of the cure.

Let the legs cure in the fridge for another 7-10 days. The longer you go, the saltier the meat will be — and the longer it will last without spoiling.

When you are ready, rinse off the cure again and soak the legs in fresh water for an hour. This relieves a little of the saltiness and results in a moister cure — you needed to cure with so much salt for so long to make sure it penetrated all the way through to the bone. The water soak removes some of that salt so it won't be overpowering when you ultimately serve the mocetta.

Hang for 2-5 months. You want a temperature between 40 and 60°F (colder at the beginning, and warmer near the end), and a humidity starting at about 80 percent and slowly decreasing — say, 5 percent a week) until you are at about 60 percent humidity.

Once it's ready, you can cut the meat from the bone and slice thin, or slice bone-in. Serve at room temperature with cheese and a husky red wine. Wrap closely and store in the fridge, or seal it and freeze it.
Notes
Note that prep time does not include curing or drying time. 
Nutrition information is automatically calculated, so should only be used as an approximation.