As an Amazon Associate I earn from qualifying purchases.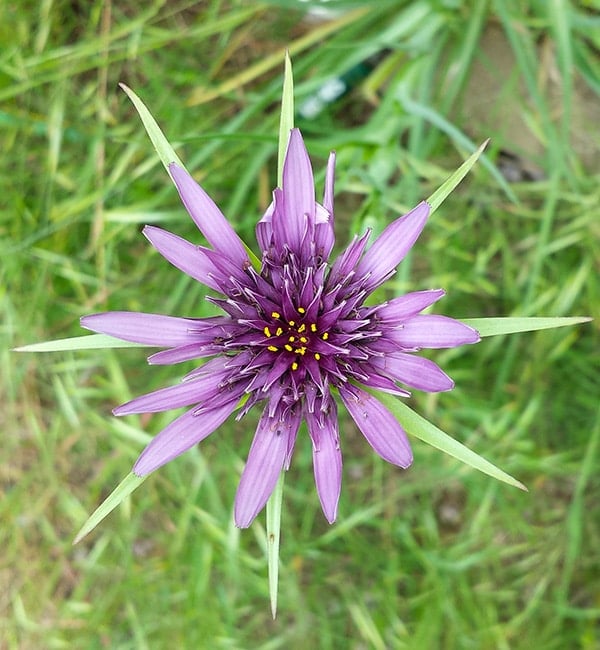 I see salsify. It's everywhere. And I didn't know it was salsify. Until now. We have had wild salsify root growing in our yard for several years — and never noticed.
This, to me, is wildly amusing. Here I am, supposedly Mr. Great Forager and all that, yet here is a common wild edible right under my damn nose and I'm too ignorant to see it. I do, of course, have an excuse: This has never been one of my "forage items," nor has anyone I've known dug for them, or even grown them in a garden.
Salsify (either "sal-suh-fee" or "sal-suh-fie" are OK ways to say it) is a root vegetable that tastes a bit like an artichoke heart; not like an oyster, as its other name would suggest. It also has a black-skinned cousin scorzonera that I have grown in the garden.
Never having seen my garden dwellers set flowers, I never knew that those gorgeous purple flowers we had in the untamed "back forty" of our yard were the same vegetable, which, like wild fennel, was introduced here by European settlers and has since spread and naturalized.
There is another variety with broader leaves that sets yellow flowers; there's a picture of that flower at the end of this post.
My first inkling that I had wild salsify growing all over my yard was when Heather mentioned that she might go out and dig some wild salsify after reading about my last adventure with this plant. Huh? Like I just mentioned, I had no idea it grew wild. So I opened that series of tubes that is the internet and there was my flower. I'll be dipped.
Once those flowers go by, they turn into pretty puffballs like dandelions. Over the years I'd helped them along by blowing the puffballs into the yard; I did the same thing to dandelions as a boy, much to the frustration of my mother. There might be a deep reason for this, other than my abiding hatred of neat lawns.
I know Michael Pollan, of Omnivore's Dilemma
fame, first and foremost as the author of the book The Botany of Desire: A Plant's-Eye View of the World
, a fascinating look at how plants have influenced our behavior, moving us to help them in far more complex ways than a cockleburr sticks to a passing animal's fur.
Flowers are pretty. They attract lots of creatures that can help a plant which displays such beauty. Like me. Even before I knew that this flower would create lots of plants with tasty roots, I saw it, liked it, and want to surround my life with more of it. For the plant, this is a good deal.
Life will become even better for wild salsify now that I know her true nature. I collected some seeds from the puffballs in the picture above and gave them a place in my garden — immediately transforming this weed to a vegetable, to be tended by me, who will do my best to keep salsify growing in my yard. What more could a plant ask for?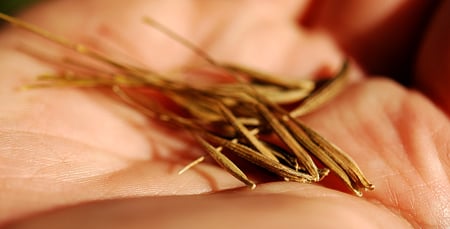 I pulled a few of the wild roots to make into another croquette; the salsify croquettes I made last month were so good I definitely want to make them again.
Back to blindness. I took another walk along the river yesterday, and this time I could see that crazy-looking pipevine with the black-and red caterpillars on it that so mystified Holly and I last week; we must have passed it dozens of times without noticing it before. Now every time I go out, I am spotting wild edible plants with more ease.
I call this The Sight. I talk a lot about The Sight to my non-hunting friends, because you develop the same quasi-mystical ability when hunting animals as you do when hunting for plants. When I'm in the groove, I can almost feel where a striped bass or berry bush or pheasant is going to be.
The world looks very different when you can see clearly what is in it. Yesterday I was walking on a trail not 100 yards from a horde of bikers, hikers, walkers and runners, but none noticed me. Nor did they notice the old blacktail doe bedded down under an oak in between us. But I could see her, and saw that she was focused on me, not the horde. It was a private moment in the midst of a crowd, and it was pretty special.
But for all I know I could have walked right by another deer, or a bobcat or a huge patch of morel mushrooms. Nature is so vast, and there is so much to know — more than a lifetime's worth — that I am pretty certain I will spend the rest of my life wandering obliviously past some delicacy while in search of another. But hey, that's life, ain't it?