As an Amazon Associate I earn from qualifying purchases.
What to write about last night? So much going through my head right now. I am sitting here exhausted and sore, elated and conflicted. Duck Duel Deux, an all-duck cookoff between Chef Michael Tuohy of Grange and me, is over — with the same result as last year: Chef Tuohy won.
This is as it should be; Tuohy is a veteran and a chef of the highest order. Were I to beat him at this game it would be like a high school team beating the Green Bay Packers. I knew this going in, and didn't give the actual competition much mind.
What hung over me the entire week was the realization that the vast majority of the nearly 150 people filling the restaurant to were coming to eat my food. Chef was certainly under pressure to not lose to an amateur, but I was under pressure to give those of you who made the effort to come — some from as far away as Texas — a meal worthy of your journey. Duck hash wasn't going to cut it.
Oh, and for one more thick slice of stress sandwich? This time I'd be working the line, plating the food during service. Last year I only prepped the food and cooked for the private competition. This time I'd be in the crush, for the first time in almost 20 years. I'd be lying if I told you I wasn't nervous.
Still, I designed a high-wire menu — but it was a high-wire menu I thought I could pull off, and had pulled off for dinner parties any number of times. But let me tell ya folks: 150 covers ain't no dinner party.
Any of you out there who watch "Top Chef" or similar shows and armchair chef the whole thing — "Oh! Don't use cilantro there! See? I knew he'd braise that beef! — you need to check yourself. I consider myself a good cook, better than most home cooks even. But this was HARD. Hard physically, mentally and, to some extent, even emotionally.
Let me walk you through it.
Our task was to create an amuse bouche plus three tasting courses. Pastry Chef Elaine Baker would handle dessert. My original plan was to make a gizzard carpaccio, a chestnut flour potsticker filled with my duck liver ravioli filling, my version of the French Laundry duck roulade, plus a crazy dish that featured a boned-out duck leg stuffed with longaniza sausage and cooked sous vide for 17 hours; that would be served over a bitter greens salad.
I say "original" because I soon found out that to succeed as a restaurant cook, you must adapt quickly to problems, both of execution and scale. First thing that happened was that I had to scrap the carpaccio when I saw how puny the duck gizzards were. I normally make that dish with snow goose gizzards, which are three times the size. What to do? Switch to duck tartare, which I've made any number of times with success.
When my potsticker dough turned out gummy, I tossed it and chose to go with a yellow pasta based on duck egg yolks and boosted with saffron. After toying with various sauces for several days, I landed on the idea of a rich consomme based on my dark duck broth.
The crazy leg dish works great done sous vide. This is what they look like:
I would cut the stuffed legs into coins and serve it on a salad of baby lettuces, weird Italian greens from my garden, sorrel, radicchio and lovage. The roulades would be pretty easy to make, too, and I'd serve them with a root vegetable puree (I was vacillating between parsnips and celery root and settled on celery root), mushrooms and a dark duck jus.
That was the plan.
Here's what happened. For starters, it took forever to break down and debone the legs of all those ducks. I personally broke down close to 30 ducks and deboned 57 legs. My forearm cramped up twice, and my two sharpest knives were left horribly dull. That was Day One.
Day Two, the first full day of prep, started with me making longaniza sausage to stuff the legs. To make sure everything held together, I'd sprinkle transglutaminase on the leg and sausage; transglutaminase is basically meat bondo — it sticks one protein to another. That took forever, too.
Here's the thing: When you cook for 150, every little detail is magnified. Every element on a plate needs to be done 150 times, as close to exactly the same as is possible. It's hard enough getting 12 garlic chips to look identical, let alone 150. You finish that task, look up — and realize a full hour has passed. Time is your enemy. It is always running out on you. I felt no leisure, took no breaks, over nearly 24 hours of prep work.
The first disaster came on Day Three. My boned-out legs needed to be cooked sous vide, but no immersion circulator is large enough to hold 57 legs. So we decided to seal the rolled up legs in cryovac bags and cook them in a hot box at about 180 degrees, or 32 degrees warmer than I'd planned to cook them.
That temperature difference killed me. The legs fell to pieces. Ruined. All the fat rendered out of the sausage, as I had feared. I was screwed. But with only a few hours to go before service, there was nothing we could do. It tasted OK, if a little crumbly and undersalted. So I decided to serve it with a little Trapani fleur de sel  and a splash of sherry vinegar. Longaniza is supposed to be vinegary, anyway.
This is what they looked like — and this was one of the few pieces that actually held together. Vastly different from what I did at home, eh?
My next disaster came with the tartare. I make this at home by slicing duck hearts and breast meat into tiny cubes — a brunoise, to be very French. Ever try this with six pounds of raw duck? It's impossible, unless your knife is as sharp as lightning and you have several hours. I didn't have several hours. So I chopped it as best I could, but I knew that the texture was wrong.
No time. Get everything up to the line. The line! Any of you who have worked in a restaurant know this is the crucible of the professional cook. Hot, sweaty, dangerous, cooking on the line on a busy night is a mind-erasing blur of movement, adrenaline and heat. It is, like football and ballet, a young person's game.
I thank God for Chef Tuohy and Chef Dennis Sydnor, who was my guide/sous/babysitter that night. Dennis and I put together my dishes on one side of the diner's plate, while Chef Tuohy and his sous did his dishes on the other side of the plate. Don't know what I would have done without Dennis.
We started easily enough, plating amuse bouche while diners began to fill the room. Then the first ticket clicked out of the machine.
"Two Firsts, all day!" Tuohy called out. Two consommes, which meant two coffee cups, each with three tortellini, chives and consomme. Easy-peasy. "Two Firsts up!" I called back, by instinct. Wow. I hadn't done that since 1993.
Then it got busy. "Twelve firsts, all day!" Boil pasta. Get cups. Where the hell are the cups!? "Need cups! Runner, get me cups!"
"Six Nexts, all day!" A Next meant the leg course. The ruined leg just mushed on the salad. It was indeed duck hash. I knew it was bad. Horrified, I watched the waitresses take them away. I felt helpless. Chef Tuohy called out, "Ten Nexts! Four Firsts! All day!" (I never have figured out what the "all day" was about. They never said that at my restaurants.)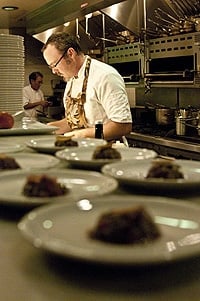 Move, plate, spin. Christ, don't forget to garnish! Don't leave off the salt for God's sake. Wipe the dam sherry vinegar off the side of the plate. No fingerprints! Where's my truffle oil? Move, plate, spin.
Hours it went on. My nadir came at around 8:30 p.m., when Chef called out, "Fourteen Mains, all day!" FOURTEEN?! All at once?! We were buried. Absolutely buried Not enough roulades were heated, and they take seven minutes to cook. it was the only time of the night the line needed to wait for me.
Mains went out before the duck had time to rest, juice bleeding all over the celery root puree. Damn! I'd never let that happen at home! No time. Next plate. "Four Mains, up!"
"These all the mushrooms?" Dennis said, showing me a half-full pan. Shit. We were going to run out. "Runner! Need more chanterelles, fast!" No more chanterelles. Anywhere. Christ. Move, plate, spin. What to replace them with? Shiitake? Buttons? Oysters? "Get oysters!" I called. Dennis took over, cooking them in duck fat with Meyer lemon, just as we'd done with the chanterelles. Saved.
I started to get my legs under me. I was moving well, slicing fast and plating just a few seconds slower than Chef Tuohy. I was feeling the rush that is the Crush of the Line. I was actually doing it.
"Next up?" I started to call out to get a jump on the next order. Slice roulades, dot truffle oil on them and salt, then plate. This saved me a second per plate. Seconds matter.
And then, when I called out "Next up?" I heard Chef Tuohy say, "You're done. Get out there and be a celeb." What? I looked around, not wanting to leave Dennis or Chef or James or Tom or anyone else still on the line. "Go," Chef said. "We'll be fine."
I stepped into a back hall to compose myself, took a deep breath and checked my watch: It was 9:27 p.m. We'd been buried for four hours.
As I spoke with diners and friends, I learned of my last disaster: I'd forgotten to salt my consomme! I almost threw up when I realized that. Do you know how many times I've heard Tom Colicchio on Top Chef say some cheftestant had underseasoned his food? How many times I shouted at the TV (oh yes, people, I was one of those armchair chefs, too!) that the cook was stupid for not tasting his food? Well folks, it happened to me. That dish was beautiful, perfect, a triumph. Destroyed because I forgot to toss some salt in it. I was devastated. Still am, really.
I knew I'd lost, and I was OK with that. Chef Tuohy stretched himself, too, composing an Asian-inspired menu that made him think hard and cook harder. Afterwards, he thanked me for pushing him to make better food. I honestly can't ask for anything more than a compliment like that.
In the end, I did not put out the meal of my life. Not even close. Every single dish had flaws — texture of the tartare, salt in the consomme, overcooked duck leg, imperfect roulades — yet every dish had high points I am proud of: I love the flavor of the tartare, the consomme dish (if salted) is perfect, and the salad under the legs was precisely as I wanted. And the roulades came close to being perfect.
And in that lay the source of my elation. Sacramento Bee food columnist Rick Kushman gave me the nod in both the roulade course and the consomme course, and gave a slight edge overall to Chef Tuohy. In the Diner's Choice voting, I lost every course except for the roulades, where I annihilated Tuohy 81 percent to 19 percent.
I have to think: What if I had the skills to pull off the whole menu as I'd envisioned? I might — might — have actually won. Win or lose, I definitely would have put out a meal I would have been proud to serve all of you. But I'm not there yet.
So you'll just have to come back again next year.