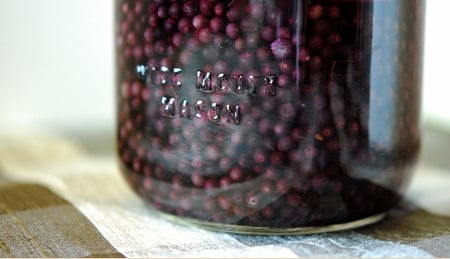 This recipe produces a warm, rich liqueur that will remind you of a tawny Port wine. Elderberries are in many ways little grapes, with a similar aroma, bloom on the skin and color; they even have little seeds inside. So I treated them like winegrapes for this recipe.
You need fresh elderberries for this, although I am sure you could use dried ones somehow. Maybe simmer them in water to reconstitute? And with the fresh berries, remember to destem them all — NO stems, as they are slightly toxic.
I've tested two recipes for elderberry liqueur: One where you buzz the berries in a blender, another using whole berries. I vastly prefer the method using whole, fresh berries, so here it is:
[recipe_name]Elderberry Liqueur[/recipe_name]
[yield]Makes about 1 quart.[/yield]
Prep Time:[preptime time=30D] 30 days [/preptime]
[ingredient][amount]1 pint[/amount] fresh [item]elderberries[/item] [/ingredient]
[ingredient][amount]1 quart[/amount] [item]vodka[/item][/ingredient]
[ingredient][amount]3 one-inch pieces[/amount] of [item]lemon rind[/item], white pith removed[/ingredient]
Sugar
[instructions]
Put elderberries into a quart Mason jar and pour over the vodka. Add the lemon rind (make sure the rind has no white pith, as it is bitter.) Seal and put in a dark cupboard for at least a month, or up to 6 months.
The alcohol will extract flavor from the elderberries over time, so the longer you let it sit, the inkier it will get.
When it is the color you want — anything from a Pinot Noir color to downright black — pour the vodka through a strainer lined with cheesecloth into another jar and add sugar.
How much sugar? At least 1/4 cup, but to your taste; I go with 1/3 cup. Shake to combine and put back in the cupboard.
After a few days or weeks, the sugar will completely dissolve and the elderberry liqueur is ready to drink. It keeps forever.
[/instructions]