How to Cook Fava Beans
April 30, 2008 | Updated February 03, 2022
As an Amazon Associate I earn from qualifying purchases.
Fava beans are my labor's love. I am inordinately fond of the chubby legumes, which signal to me that high spring has arrived. They are my transition between the peas of spring and the string and shelly beans that mark the summer's heat. Here's how to cook fava beans.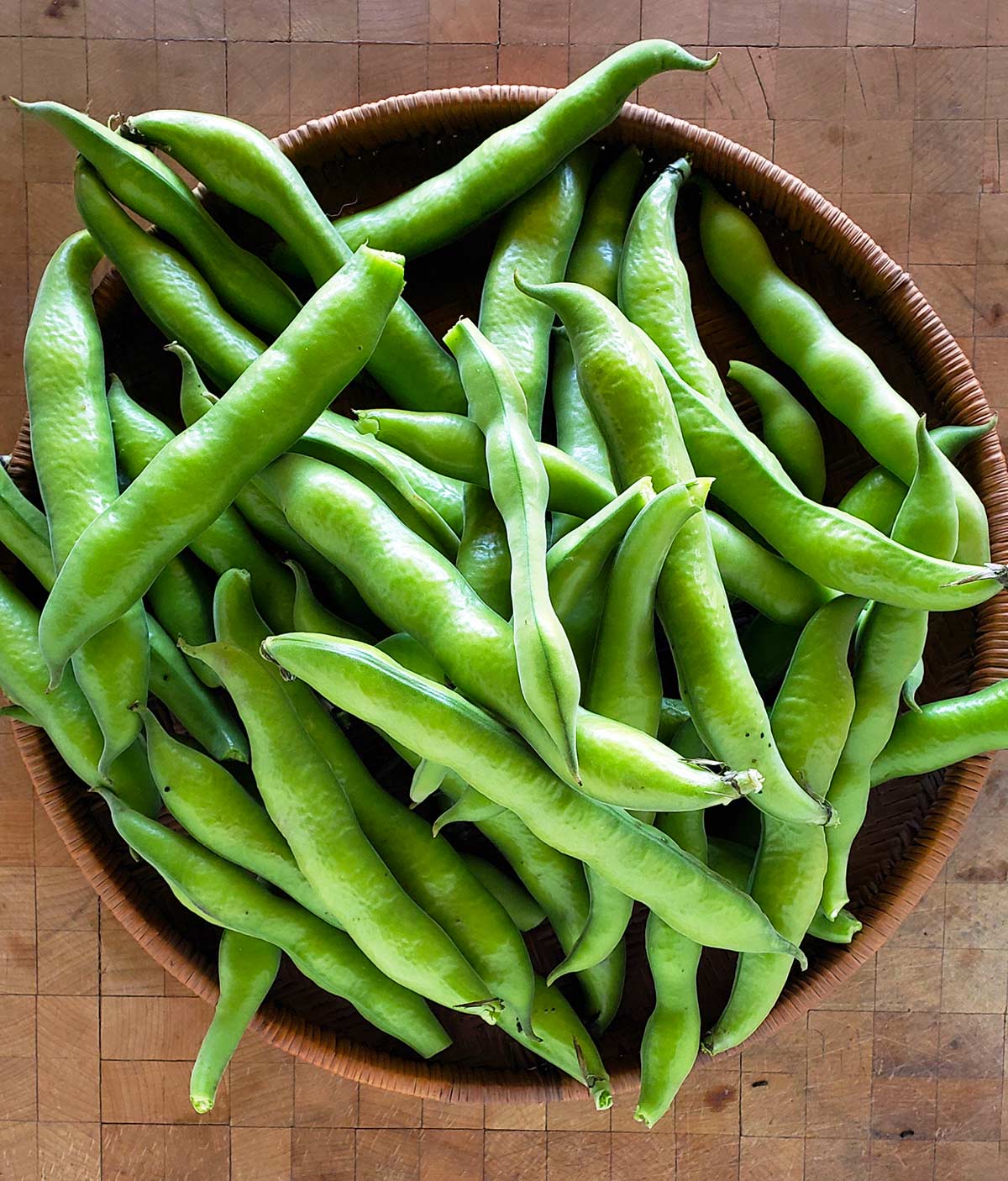 Fava beans are easy to grow, but do require lots of space and a long, cool growing season. Like my other favorite cool-weather legume the sugar snap pea, I start them in autumn and let them mature at a reasonable rate throughout the winter and spring.
By April, my fava beans have grown large. Some stand taller than six feet, a huge stalk for such a small morsel; the useful part of a fava is but a fraction of the plant. But then this is not really very different from corn or tomatoes. Or people, for that matter.
Incidentally, you can eat the young, tender tips of a fava bean plant, steamed or sautéed, they are great with butter and salt.
In case you care, here is a good primer on how to grow fava beans.
And if you fail to grow the fat Italian varieties, the useful portion of a fava bean pod will be smaller still. Unlike hot-weather beans, favas — one of the Old World's few native legumes — do not fill their pods. I have grown varieties where the best I could hope for was one or two beans per pod.
After many flirtations with Native American varieties (adopted from those the Spaniards brought 500 years ago), English versions and even a Spanish fava, I have settled on the Italian supersimona strain, which can give me as many as eight big beans per pod. I knew I had chosen well when our Puglian neighbor Rosa looked at them and gasped, "Oh…those are better than mine!"
Yep. They are. In fact, my favas have lured me dangerously close to hubris. Other gardeners envy my favas. I have never had a bad crop. And every spring I am happily inundated with the emerald jewels. Last year I wound up with 15 pounds — after shucking. And I ate almost all of them fresh.
How to Cook Fava Beans
Fresh favas are slippery, mild, and slightly sweet with a texture not unlike al dente pasta. And they are one of the greenest things we eat. A freshly shucked and blanched fava bean is lurid — you wouldn't think the color exists in Nature if you hadn't grown it yourself.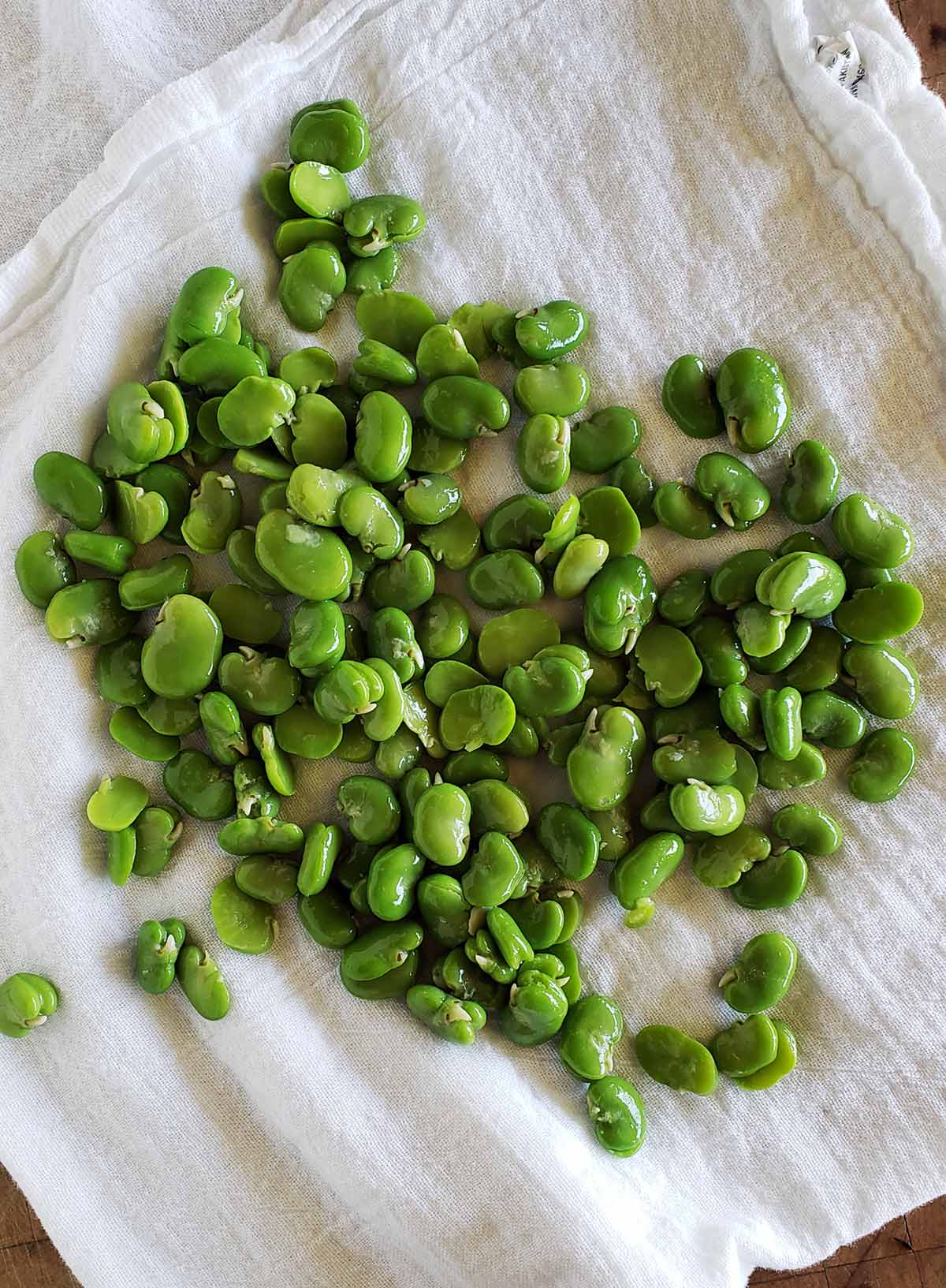 But getting to that green takes effort. Many people don't grow fava beans for just this reason. And I never fail to hear someone say, "I have no idea what to do with them!" whenever I idle near the fava bins at my local farmer's market.
I suspect many of you who read this blog know your way around a fava bean. But for those who do not, allow me to walk you through how to cook fava beans properly.
Let's start before the fava beans are in your kitchen. Picking fava beans takes practice: You want to pick when the favas begin to make lumps under the pods, but long before the pods discolor or begin to shrivel around the beans. You will get between 5 and 15 pods per plant.
The first shuck goes very quickly if you do it my way: Don't bother with the strings, just anchor both thumbs behind a bean and push with them as you are bending the pod back — exactly as you would break a twig. Once you get the hang of it, you can do a bag of beans in 5 to 10 minutes. Shuck into a large bowl, as they will catapult out of the pod.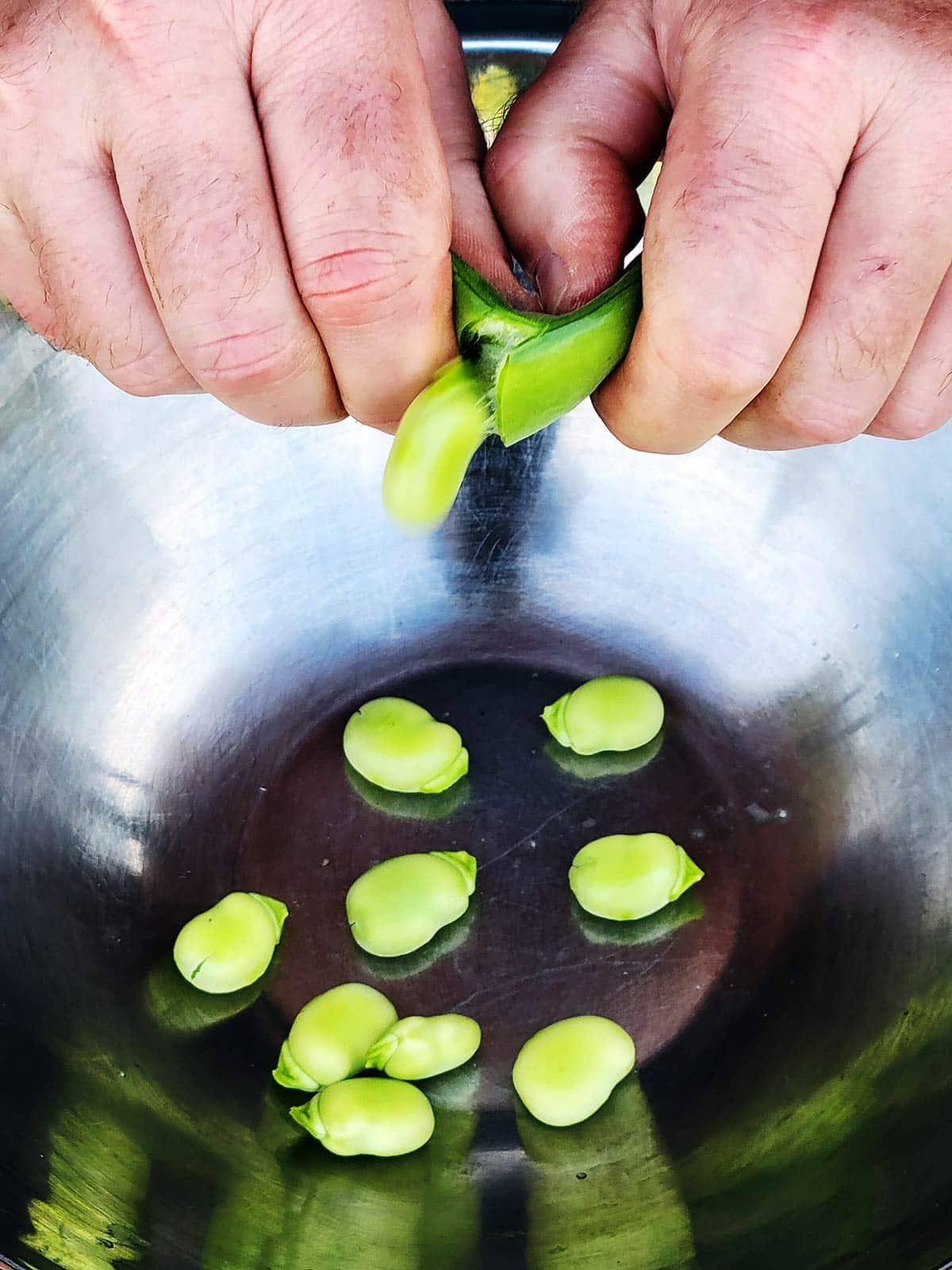 I did a short video of shelling fava beans, so you can see it in action. It's actually vaguely fun and the pinging sound of the beans on the bowl is satisfying.
Once you have all your beans out of the pods, they will look like this: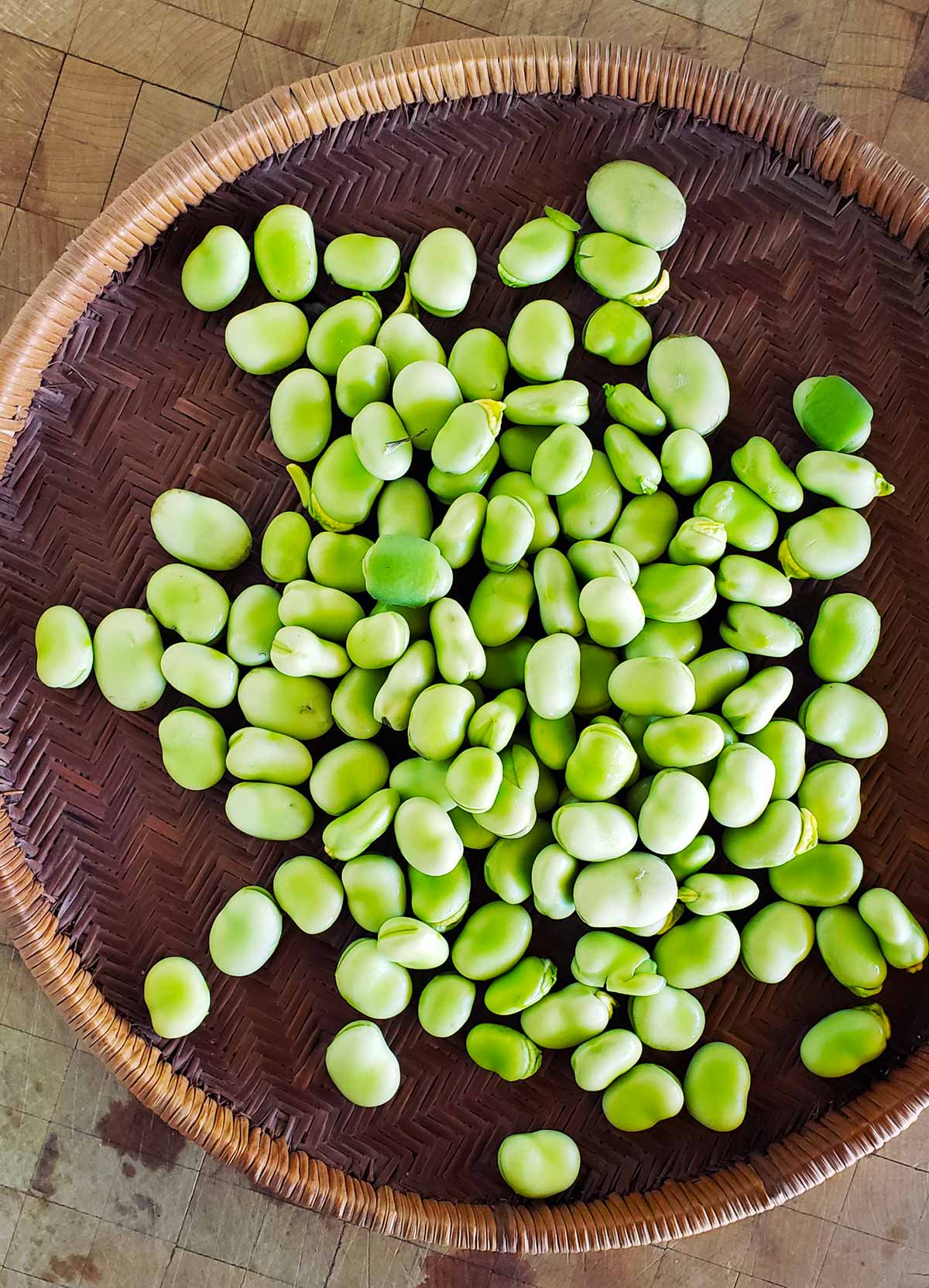 Now, there are several thoughts on what to do next.
If you have harvested fava beans very young, younger than those in the picture above, you can stop here and go right to cooking. The outer jackets are tender and digestible at this stage, and most Italians, Spaniards and Englishmen will eat them at this stage.
But if you have harvested at the stage in the pictures, those jackets are not nice to eat. So you need to undress your favas.
Bring a huge pot of salty water to a boil. How salty? It should taste like the sea. Get an ice water bath ready. Grab a couple handfuls of favas and chuck them into the boiling water. Let them boil for a minute or two. You will know they are ready when they are all floating in the top of the water and hissing at you.
Plunge them into the ice water to stop the cooking. Now look for the reverse: When all the favas have sunk to the bottom, fish them out and you can start undressing them. Some will have split jackets already: Just squeeze these out. Others you will need to prick with your thumbnail to slip out. Again, once you get the hang of it, this goes fast.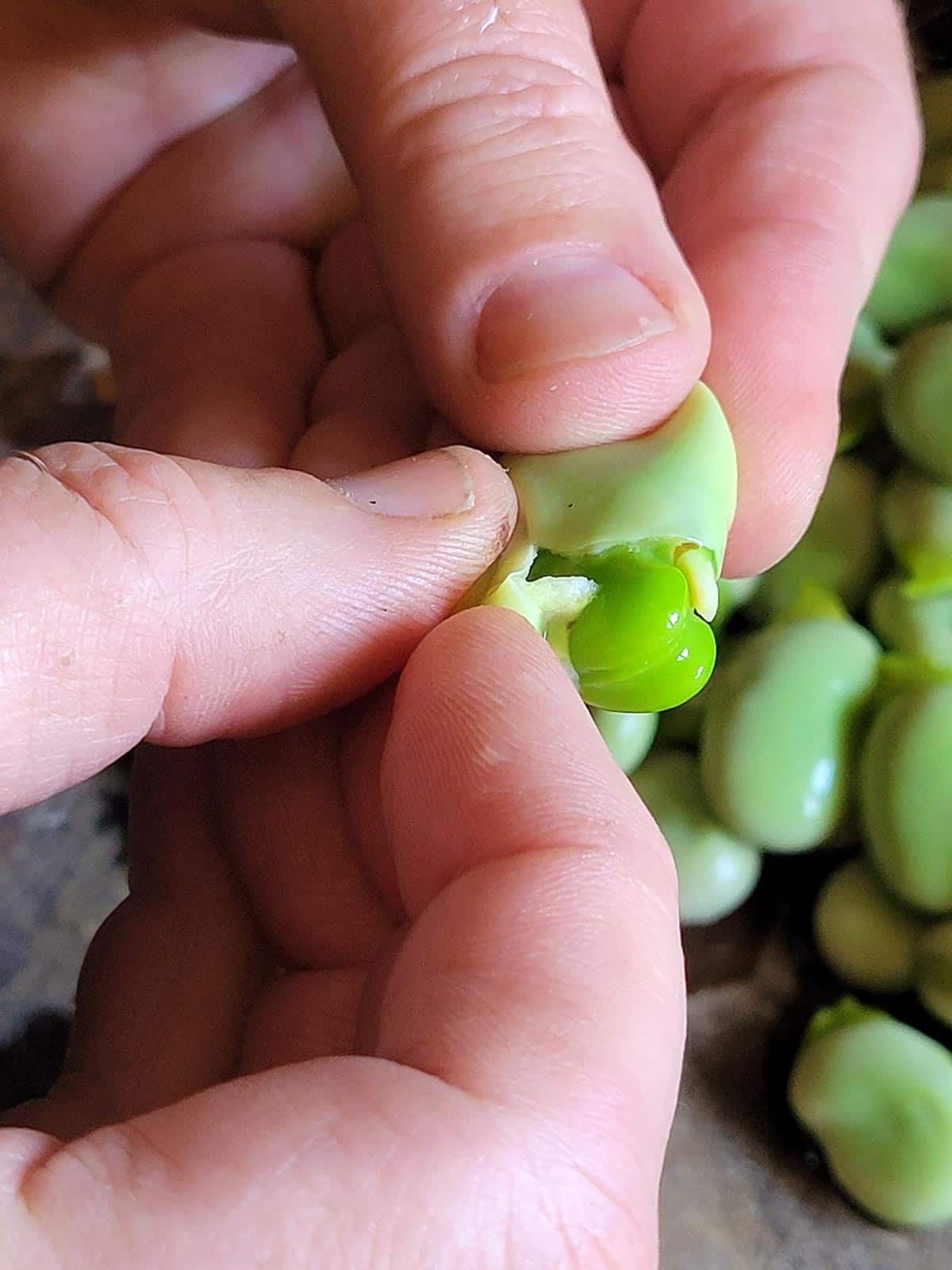 Now you can eat your fava beans, keep them in the fridge for a day or three, or vacuum-seal meal-sized portions of them and freeze for up to a year.
I have lots of fresh fava recipes, but one of my most favorite is to make a garlicky, slightly spicy puree out of them, which I then use to spread on toast. The same puree makes a fine ravioli filling, or faux pesto sauce for pasta. Another fun one is an ode to springtime I call Cheek By Jowl.
Yield is about 4:1, so 4 pounds of fresh fava beans in the pods will yield about 1 pound of shelled beans.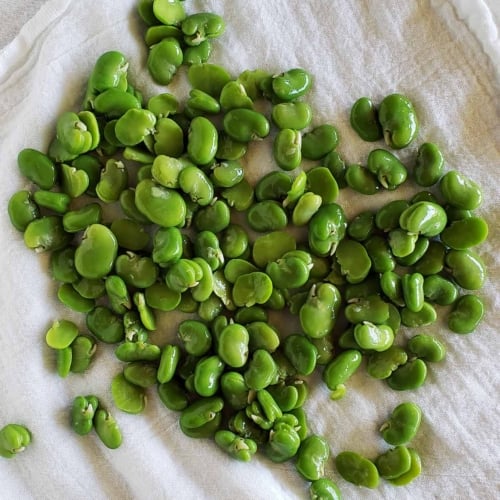 How to Cook Fresh Fava Beans
Here is the basic blanching method for prepping fresh fava beans that are full grown, but not overly starchy.
Ingredients
2

pounds

fava beans in the pod

Salt
Instructions
Set a large pot of water to the boil. Meanwhile, pop your fava beans out of the pod. (Here is a video showing you how.)

When the water boils, add enough salt to make it taste salty, several tablespoons. Get a bowl of ice water ready. Toss in half the fava beans and let them boil 1 to 2 minutes. Remove them with a skimmer to the ice water. Repeat with the other half of the beans.

While the second group of beans is cooking, the first should have all fallen to the bottom of your ice water bowl. Remove them and set aside. Add the new beans and let them chill.

Using your thumbnail, remove the outer shell of each fava bean at the top, where the yellowish scar is; on older beans this scar will be black. Discard or compost the shells. Your fava beans are ready for any number of recipes.
Notes
Once blanched and shelled, fresh fava beans will keep for a few days in the fridge, and can be vacuum sealed and frozen. 
Nutrition
Calories:
249
kcal
|
Carbohydrates:
45
g
|
Protein:
17
g
|
Fat:
1
g
|
Saturated Fat:
1
g
|
Polyunsaturated Fat:
1
g
|
Monounsaturated Fat:
1
g
|
Sodium:
11
mg
|
Potassium:
608
mg
|
Fiber:
12
g
|
Sugar:
4
g
|
Vitamin A:
34
IU
|
Vitamin C:
1
mg
|
Calcium:
82
mg
|
Iron:
3
mg
Nutrition information is automatically calculated, so should only be used as an approximation.