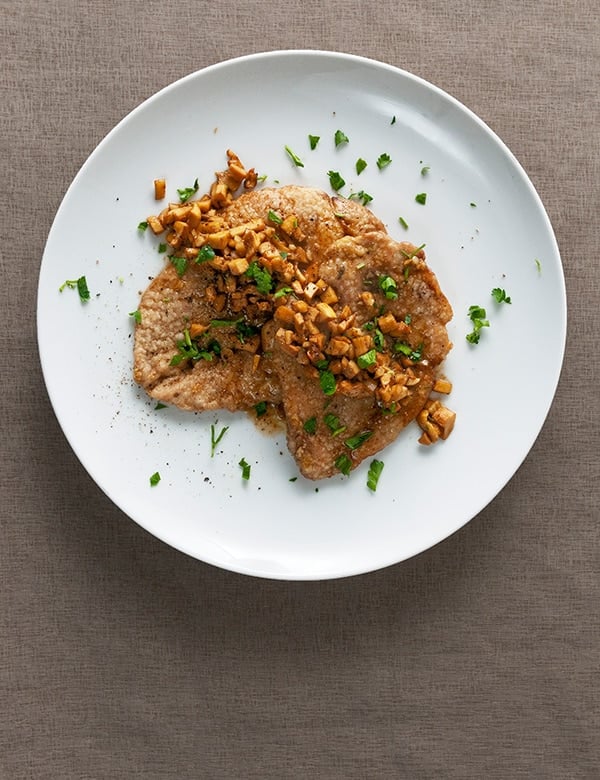 I miss Marsala. I ate it a lot in restaurants while growing up, usually with thin veal cutlets. When veal went out of fashion, I ate it with chicken. And when Holly brought home a wild turkey, I decided to make turkey marsala with the breast meat. This recipe also works really well with pheasant or chicken breasts.
A classic Marsala requires Marsala wine (duh!), which you can get in most liquor stores. There is no substitute, although I suppose you could use Madeira or or a white Port.
It also requires mushrooms, of whatever sort you can obtain. I used hedgehog mushrooms in the picture above, but I've used all sorts of mushrooms for this over the years. Other than that, the only trick is to have thin cutlets.
Here's how: If you are using turkey, use the thinner portion of the turkey breast – the part farthest from the wishbone. Why? It's thinner. If you use the portion closer to the wishbone, you will need to slice the breast in half width-wise to get a thin enough piece to start pounding. You use whole chicken, pheasant or grouse breasts.
Cut portion-sized pieces and place one in between sheets of wax paper. Using medium force — about what you'd exert knocking on someone's front door — pound the turkey breast with a rubber mallet, meat pounder, or even an empty wine bottle.
How thin? Depends on your preference. Restaurants serve Marsala very thin, but I like it less mashed, unless I am dealing with a very old bird; you'll know by the spurs on its feet: if they're long, it's an old bird.
Serve your turkey marsala with smashed potatoes, white rice or crusty bread, and maybe a salad or something green. A medium-bodied red wine is a perfect accompaniment.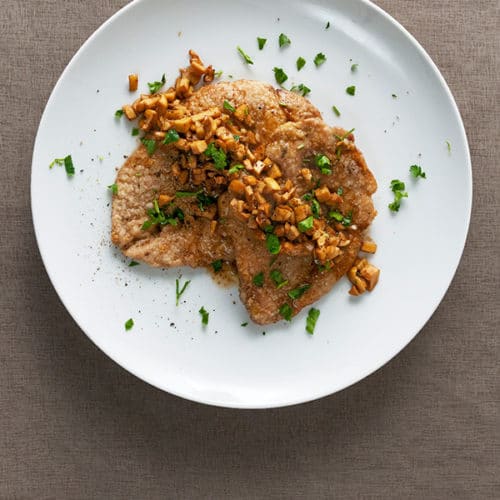 Turkey Marsala
This recipe works with any light meat cutlet: chicken, veal, pork, pheasant, you name it. Any mushroom will work, but I like to use whatever wild one is in season at that moment.
Ingredients
3/4

to 1 pound of skinless turkey breast

Salt

1

cup

flour

1

tablespoon

fresh rosemary,

finely chopped

2

smashed cloves of garlic

1

pound

chopped fresh mushrooms

any kind

2

tablespoons

butter

2

tablespoons

olive oil

1/2

cup

Marsala wine

1/2

cup

chicken,

turkey or wild game stock

Parsley for garnish
Instructions
Once the turkey or pheasant breast has been pounded, salt it well and set aside until it comes to room temperature, about 15 minutes.

In a large saute pan, heat the butter and olive oil over medium-high heat until the butter froths. Add the smashed garlic and turn the heat to medium-low. Meanwhile, dredge the turkey in flour.

By now the garlic should be browned. Do not let it burn! Remove it and add the turkey or pheasant cutlets. Turn the heat to medium and fry gently. Don't kick the spurs to it, or the breading will burn. After 2-3 minutes, depending on how thin you pounded the cutlets, flip and cook another 1-2 minutes.

When the meat is cooked, remove it to a paper towel. Turn the heat to high and add the mushrooms. Saute these until they begin to brown, about 4-5 minutes. Add the Marsala, rosemary and the stock. If there are any burned bits on the bottom of the pan, scrape them up with a wooden spoon. Let this boil down until it gets syrupy, which should take 2-4 minutes. As soon as it gets syrupy, put the cutlets back in the pan and swirl around to coat. Turn over and do the same on the other side. Serve at once.
Nutrition
Calories:
339
kcal
|
Carbohydrates:
32
g
|
Protein:
13
g
|
Fat:
15
g
|
Saturated Fat:
5
g
|
Cholesterol:
33
mg
|
Sodium:
74
mg
|
Potassium:
434
mg
|
Fiber:
2
g
|
Sugar:
5
g
|
Vitamin A:
190
IU
|
Vitamin C:
3
mg
|
Calcium:
11
mg
|
Iron:
2
mg
Nutrition information is automatically calculated, so should only be used as an approximation.