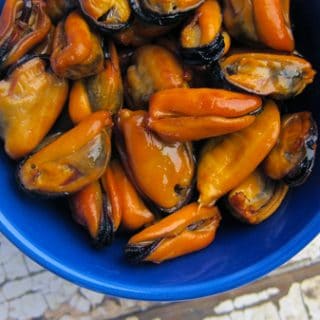 Print Recipe
Smoked Mussels
It doesn't matter whether you use wild or farmed mussels for this recipe. Just check any you have before you cook and if they are open, set them on the counter and tap them: if the mussels do not close, toss them. Sometimes mussels will gape when stored for a bit, and when they are cold they don't move very fast, so give this process a few minutes. I smoke my mussels over alder wood or a fruit wood like cherry or apple. You can try other woods to your liking. Please use a high quality oil for finishing the mussels. It makes a difference.
4

pounds

mussels

1

cup

dry vermouth or white wine

1

cup

water

1/4

cup

high quality olive oil or other oil

such as walnut or hazelnut
Make sure all the mussels are clean. You can debeard them now or do as I do and cut the beard off after I'd steamed the mussels. Bring the vermouth and water to a boil and add some mussels in a single layer. Cover and steam until they are open, which should take between a minute and 3 minutes. Move opened mussels to a bowl or baking sheet and add more fresh ones until you've steamed open all the mussels.

Strain the cooking liquid through a paper towel or cheesecloth (to remove all the debris) into a bowl. Set aside.

Use a small, sharp knife to remove the mussels from the shells, trying your best to get the little "scallop" muscle that holds the mussel in its shell -- it's tasty! Use the knife to cut off the beard if you have not done so already. When it's done, drop each mussel into the strained broth. Make sure all the mussels soak for at least 20 minutes.

Fire up the smoker. I use alder wood, and I like the temperature to be around 145°F. Keep in mind mussels are small, so you will need a pretty fine grate to prevent them from falling through. I use dehydrator grates. Smoke the mussels for 90 minutes to 2 hours -- you don't need a whole lot of time here, just enough to get a smoky flavor without overcooking the mussels. Don't let the smoker get too hot!

When they are done, toss the mussels in the oil and eat, or store in a glass jar in the fridge for up to a week. Freeze what you don't eat.
Calories:
183
kcal
|
Carbohydrates:
5
g
|
Protein:
14
g
|
Fat:
9
g
|
Saturated Fat:
1
g
|
Cholesterol:
32
mg
|
Sodium:
333
mg
|
Potassium:
370
mg
|
Vitamin A:
185
IU
|
Vitamin C:
9
mg
|
Calcium:
30
mg
|
Iron:
5
mg