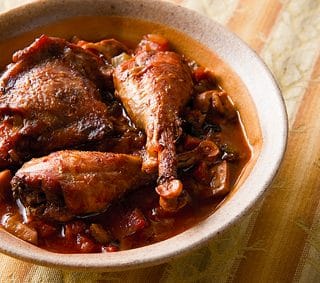 Print Recipe
Pheasant Cacciatore
This is my take on a classic: Chicken cacciatore, or cazadores, or chasseur — Italy, Spain and France all have versions of this dish. Only I am doing it with what the hunter was probably going out for: pheasant. To get the best result from this recipe, use young pheasants; if you've shot some from a game club, they are perfect here. You can buy pheasant in good grocery stores, too, such as Raley's in Sacramento where I live.
Preheat oven to 350 degrees.

If using, cut the pancetta into little batons about 1/4 inch thick. In a large braising pan or Dutch oven, heat 2 tablespoons olive oil or pheasant or chicken fat over medium heat and cook the pancetta or bacon. Remove and reserve.

Add the pheasant pieces and brown them well. Take your time and do it in batches. Remove the pheasant pieces as they brown.

Add the carrot, celery, onions and the fresh mushrooms and turn the heat up to high. Saute them until the onions are wilted and are beginning to brown. Add more oil if needed. When they begin to brown, add the garlic and cook for another 1-2 minutes, stirring occasionally.

Add the herbs and the dried mushrooms and the white wine and turn up the heat to maximum. Stir well. Let the wine cook down by half. Add the tomatoes and mix well. Add some salt if needed. Add the bacon and the pheasant pieces, skin side up. Do not submerge the pheasant, just nestle the pieces into the sauce so the skin stays out of the liquid.

Cover and cook in the oven for 45 minutes. Check to see of the meat is thinking about falling off the bone. Sometimes with a young pheasant all it takes is 45 minutes. An hour or more is typical. When the meat is as tender as you want, remove the cover from the pot and cook until the skin crisps, about 30-45 more minutes.

Move the pheasant pieces to a plate. Add the parsley to the pot and mix to combine.

To serve, ladle some of the sauce out, top with a pheasant piece and serve with either polenta or a good crusty bread. I like a dry rose or a light red like a Sangiovese for this dish.