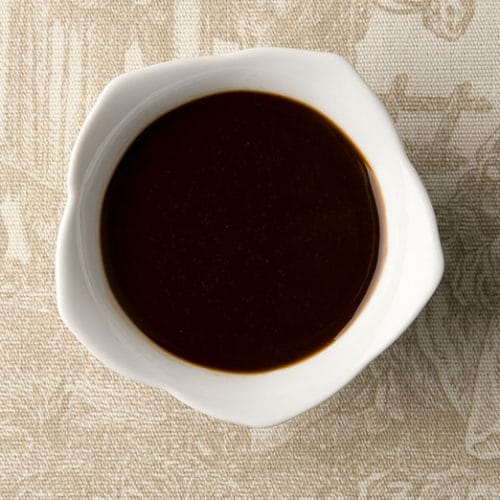 Print Recipe
Walnut Ketchup
I used unripe black walnuts for this recipe, but any unripe walnut will do. Ideally they are young enough to jam a knife all the way through, but you can even use slightly older nuts where the inner shell of the nut itself is starting to form. Keep in mind this is not as thick as tomato ketchup. It's more like a Worcestershire sauce, but it tastes more like A1. Use this as a marinade or splash it on any sort of red meat -- beef, venison, duck, goose, hare, etc.
About 50 green walnuts

3

tablespoons

kosher salt

1 12-

ounce

bottle malt vinegar

3

to 4 cups cider vinegar

2

ounces

of anchovies,

rinsed well

1

large onion,

chopped

1

cup

red wine or Port

1

teaspoon

ground nutmeg

2

teaspoons

ground black pepper

1

teaspoon

cayenne

1/4

cup

chopped or grated horseradish

A 1-inch piece of ginger,

unpeeled and sliced thin

1/2

teaspoon

xanthan gum

(optional)
Crush, chop, crack or grind your walnuts. Remember this is a messy job and the liquid will stain, so your method should reflect that. I wear gloves and a ratty long-sleeved shirt and chop my walnuts small with a stainless steel knife on a dark-stained cutting board, This minimizes the staining.

Put the walnuts in a large glass or other non-reactive container and cover with the two vinegars. I find it makes a better walnut ketchup with only malt vinegar, but as this can get expensive, you can make do with some malt vinegar balanced with some cider vinegar. Just barely cover the walnuts with the vinegar. Put the lid on the container and let this sit at room temperature for 8 days.

After 8 days, move the walnuts and vinegar into a large, non-reactive pot and add the remaining ingredients. Boil gently for 45 minutes, then strain through a fine-mesh sieve to separate the solids. As an extra step, you can wait until the sauce cools and then buzz the sauce in a blender with the xanthan gum; this will keep the very fine solids suspended in the ketchup and give you a sauce with more body.

Bottle the sauce and keep it in a cool, dark place indefinitely.