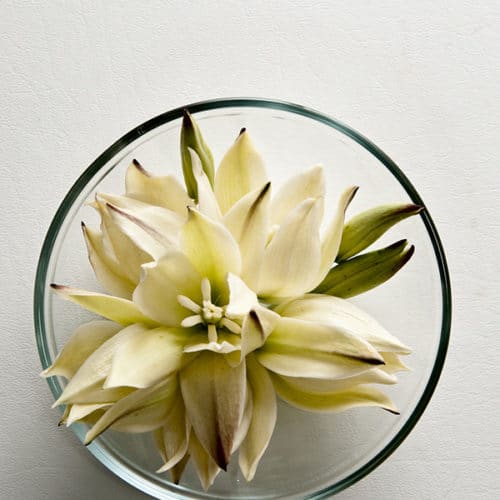 Print Recipe
Fried Yucca flowers
This recipe may sound weird, and, well, maybe it is, but the structure of it is easy: It's a tempura batter over a flower petal, fried for a couple minutes in hot oil. You can serve it with hot sauce, or by itself. The closest flavor substitute for a yucca flower would be the inner layer of leaves on an artichoke -- the yellow leaves you can eat whole. You can also use squash blossoms here, too. If you cannot get mesquite flour, which is available online or at Whole Foods, you can skip it and use regular flour instead.
Petals from 12-15 yucca flowers

1/4

cup

all-purpose flour or rice flour

1/4

cup

mesquite flour

1/4

cup

corn starch

1

cup

sparkling water,

ice cold

1

egg yolk

1/8

teaspoon

baking soda

1/2

teaspoon

salt

Oil for frying

A chopstick or wooden skewer
Set out a large wire rack with some paper towels underneath to drain the finished yucca petals.

Pull the petals from the yucca flowers and snip off any part of the green base of the petal that might still be attached.

Heat your oil in a fryer or a large, heavy pot to 360°F.

Mix all the dry ingredients for the batter together in a large bowl. When you are ready to fry, mix in the egg yolk and then the ice cold sparkling water. Mix only enough to combine the ingredients; a few lumps are fine.

Grab three yucca petals together in a stack, and dip them into the batter. Drop them into the hot oil one at a time, maybe 4-5 stacks per batch. Do not crowd the pot. Once they are all in the oil, use the chopstick to dislodge them from the bottom of the pot if the flowers have stuck there. Fry for 2-3 minutes, flipping once with the chopstick.

Drain on the rack and finish with the rest of the flowers. Serve immediately with hot sauce.