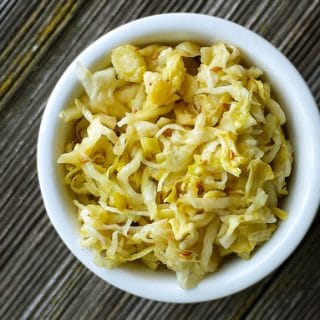 Print Recipe
Fennel Sauerkraut
The crunchiness of this kraut really shines with the fennel, but if you don't have that much fennel lying around, you can certainly use this recipe to make a standard cabbage kraut with these seasonings. You can also use wild fennel, which doesn't set much of a bulb, but does have a sort of thick part at its base in spring that you can use if you slice it thinly.
2 1/2

pounds

fennel bulbs,

sliced thin

2 1/2

pounds

shredded cabbage

1.6

ounces

kosher salt

(45 grams)

1

tablespoon

crushed juniper berries

1

tablespoon

caraway seeds

1

teaspoon

celery seed

2

teaspoons

fennel seeds

2

teaspoons

wild carrot seeds

(optional)
Mix the shredded fennel and cabbage well in a very large bowl. Put down a layer of the vegetables about an inch thick in a 3-gallon crock. Sprinkle with salt and some of the seeds. Repeat until you have everything in the crock. If you can, mix it one more time. Place a plate or somesuch on the kraut and weigh it down with a large jar of water. Put the crock in a cool, dark place.

The next day, check to see if the vegetables have given up enough brine to completely cover themselves. If not, make some brine and add it. You want the brine to be 2 percent by weight, so 19 grams (or 0.7 ounces) of salt per quart of water. Let the sauerkraut ferment at between 60°F and 73°F for at least a week, and up to a month.

To finish, remove the weight and plate and move the finished kraut to quart-sized canning jars. If there is not enough brine to completely submerge the fennel kraut in the jars, make more brine as you did in Step 2. Cover the jar with their lids and store in the refrigerator for basically ever. I've had batches of sauerkraut last 2 years in the fridge.